Visual communication has always been an essential means of conveying information and storytelling. Shoot back to our caveman days, and you'll see clear testaments to that.
Fast forward to the modern era, and visual communication remains just as important. Our preference for visual content is clear.
Just as our ancestors used paintings to communicate and pass down stories, businesses use text and visual content to connect with their audience. And it works.
Today, we'll explore the modern invention that everyone knows about but too few people use: carousel posts.
Social media carousel posts are a great way of telling your brand's story creatively and engagingly.
And here's how to do it. The right way.
What Is a Carousel Post? and Why Do They Work?
First and foremost, let's start with the basics. What is a carousel post? A carousel post is a feature that allows users to upload multiple images or videos in a single post. The user can swipe through these images or videos.
Carousels can be a powerful tool for businesses and individuals looking to showcase multiple products, highlight different aspects of a single product, or tell a story through a series of images or videos.
Now, why do these posts work so well? The magic of carousel posts lies in their interactivity. The interactive format of the presentation fuels people's reflexes for swiping through slides. A carousel post catches people's attention and makes them want to see what is included.
Which is why they bring so much engagement. The more time people spend interacting with your post, the more engagement you get. As you may have guessed, this brings exposure and makes the algorithm love you.
Benefits of Carousel Posts for Businesses
As human beings, we are wired to respond to visuals. This is why visual marketing is so powerful for businesses.
And while most folks are too busy creating reels to focus on carousel posts, you shouldn't make the same mistakes.
Carousel posts are a must for your social media strategy in 2023. Here are the benefits of carousel posts:
Carousel posts bring crazy engagement rates. If you own a small business or run an under 5K Instagram profile, you can reach an engagement rate of around 4.90%. Even larger accounts benefit more from these posts. But only if you do it right. More to that later.
Carousel posts are cheap and easy to make. Reels take more effort to create – carousels, not so much. You can use design templates and content creation solutions to make excellent posts with little effort.
Carousel posts are super-sharable, as they are catchy and filled with valuable information that people might want to share with others.
Carousel posts are rich in detail but easy to understand. The holy grail of this modern age.
Carousel posts get more saves than other types of Instagram content.
Carousel posts get more comments – especially for accounts with under 10K followers.
Carousel posts are great for repurposing content.
Carousel ads allow you to showcase multiple products or discuss your product's features and benefits. Their interactive nature and cost-effectiveness make them the perfect format for ads.
Now that you know precisely what carousel posts are suitable for – let's dive into some carousel post ideas that will make your business stand out like a lightning bolt in the dark.
How To Use Social Media Carousel Posts Effectively
Remember marketing funnels?
Well, marketing funnels are a powerful tool you can and should use to guide your marketing strategy. By clearly understanding where your customers are in the funnel, you can create targeted content that will move them into the next stage.
And this also applies to your Instagram posts. By following a funnel, you can create targeted content that will move your followers from one stage to the next.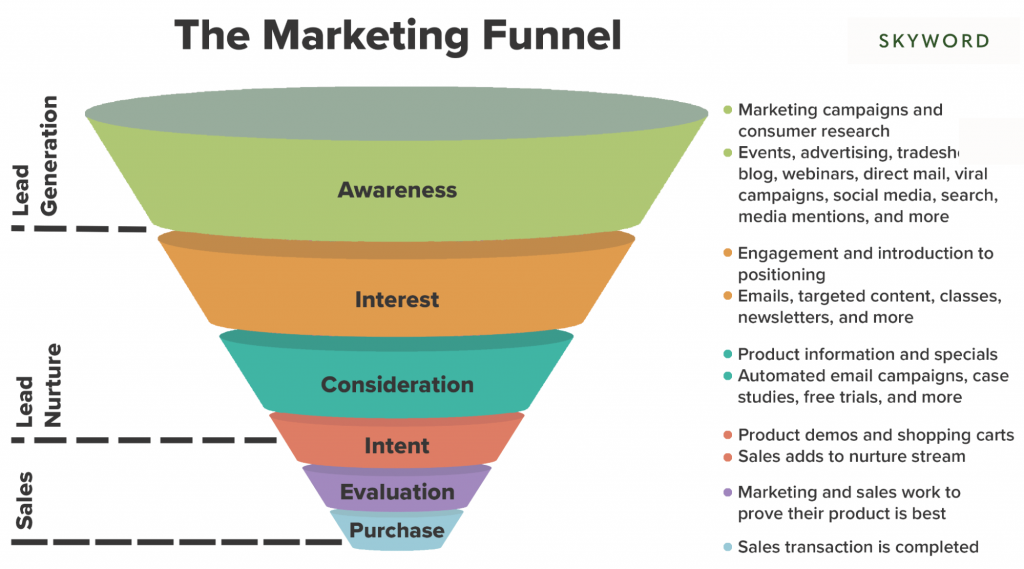 Source
Here is a quick refresher on the marketing funnel's different stages:
Awareness. This is when you and your customer first meet. You aim to introduce them to your brand, leave a good first impression, and convince them that your product or service can fulfill their needs.
Interest. This is where regular and high-value content comes in. At this stage, you want to grow your organic audience, rank first in their feeds, and catch their interest. Get more into your brand's story, show your business offering, and educate followers.
Consideration. Once your brand is top of mind – you'll want to build brand trust and assure them that you are the best choice for them. Case studies, testimonials, and frequently asked questions type of carousel post might do the trick.
Conversion. This is the decision phase, where leads get converted into customers!
If you want carousel posts to be compelling, you need to understand your target audience and where they are in the marketing funnel. Then, you can use this information to create targeted content that will speak to them and move them further down the funnel.
5 Tips For Top Performing Carousel Posts
Now that you know what a carousel post is and why it works so damn well, let me share with you 5 tips for creating killer carousel posts:
1. Start With an Irresistible Hook.
The best carousel posts start with an irresistible hook, whether a joke, a thought-provoking quote, a question, or a shocking statistic.
After all, the ultimate goal of your first slide is to stop people in their tracks and make them want to swipe right.
It's not just the copy that matters here. The images and graphics you use in your first slide also play a massive role in whether your post will be successful or not.
So think of what would attract the audience's attention. If you're posting a real estate listing, start with the most eye-catching photo of the bunch.
2. Don't Overcrowd The Slides.
Minimalism is crucial when it comes to creating killer carousel posts. Too much information will bore your audience, leading them to scroll down.
For top-performing posts, keep them as short and sweet as possible. If you feel all the content is essential, consider splitting it into two carousel posts. This might even leave people wanting more!
3. Use a Customer-first Approach
What does your audience need? That's the 10 million dollar question.
And that's precisely what you have to provide. If you only create carousel posts that sound interesting or focus on what you like without considering your target audience's pain points and needs – you'll lose them.
To come up with content ideas, you can study your top-performing posts, ask your audience, or use Reddit, Quora or Buzzsumo.
4. Use Brand Consistent Imagery and Colors
Consistency is vital with carousel posts. Sure – each slide has to stand alone. But that doesn't mean that each slide has an entirely different vibe or design.
Consistency will keep people engaged and will make your post memorable.
Here's how to keep brand consistency alive:
Use the same color palette throughout the slides.
Use your brand's fonts.
Add your logo to each slide.
Use the same template for every slide.
Use thematically similar images and graphics throughout the carousel post.
5. Encourage the Swipe.
Killer carousel posts encourage the swipe. The caption should include a phrase that reminds people to swipe. Believe it or not – telling people to swipe actually boosts engagement.
You can also add an arrow on each slide to prompt readers.
Either way, each slide should keep them wanting more.
6. Make Each Slide Sharable
While carousel posts allow you to share multiple images or videos simultaneously, each of these slides should make sense on its own.
This will stimulate people to share them, bringing you more engagement down the line.
Social Media Carousel Post Size Requirements
One of the key factors to always keep in mind is the size of the images or videos you will be using. Each platform has its own set of size requirements that must be met in order for to be displayed correctly.
For example, on Instagram, the recommended size for carousel images is 1080 pixels wide by 1080 pixels tall. This ensures that the image will be displayed at the highest possible resolution on all devices, from smartphones to desktop computers.
On Facebook, the recommended size for carousel images is also 1080 pixels wide by 1080 pixels tall. LinkedIn also recommends the same size specification.
Try These Fresh 12 Carousel Post Ideas To Shake Things Up
1. Use Carousel Posts to Showcase Products in All Their Glory
LinkedIn, Facebook or Instagram carousel posts are a powerful tool for any e-commerce brand looking to show off its products in all their glory.
You can share up to 10 images or videos at once, making them the perfect tool up your sleeve to showcase your product from different angles.
High-quality photos are mandatory for whichever post you choose to include in your marketing strategy. You might as well not post anything than to end up with poorly-lit and unflattering photos of your products.
To get the best results, try to:
Style and arrange your products in an aesthetically pleasing way. Pinterest and Instagram will be your best friends for inspiration.
Use natural light or a professional lighting kit to make your products shine! You can find affordable light kits on Amazon.
Use photo editing software to enhance color.
Take photos from multiple angles to provide a detailed look.
Add brand colors, and logos, and create exciting collages with a visual communication platform.
Facebook Carousel Post Example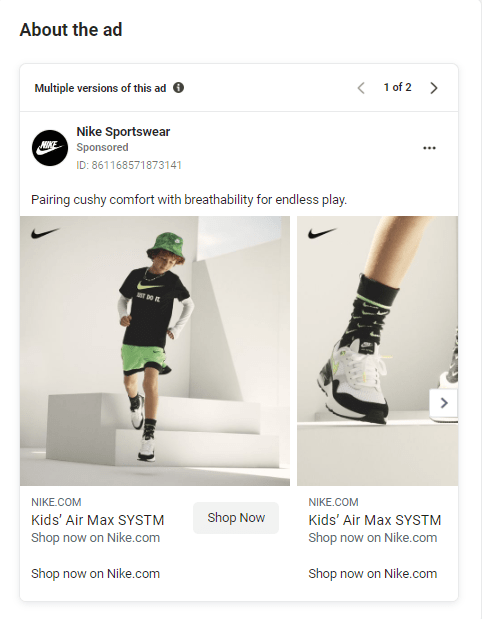 Source
Instagram Carousel Examples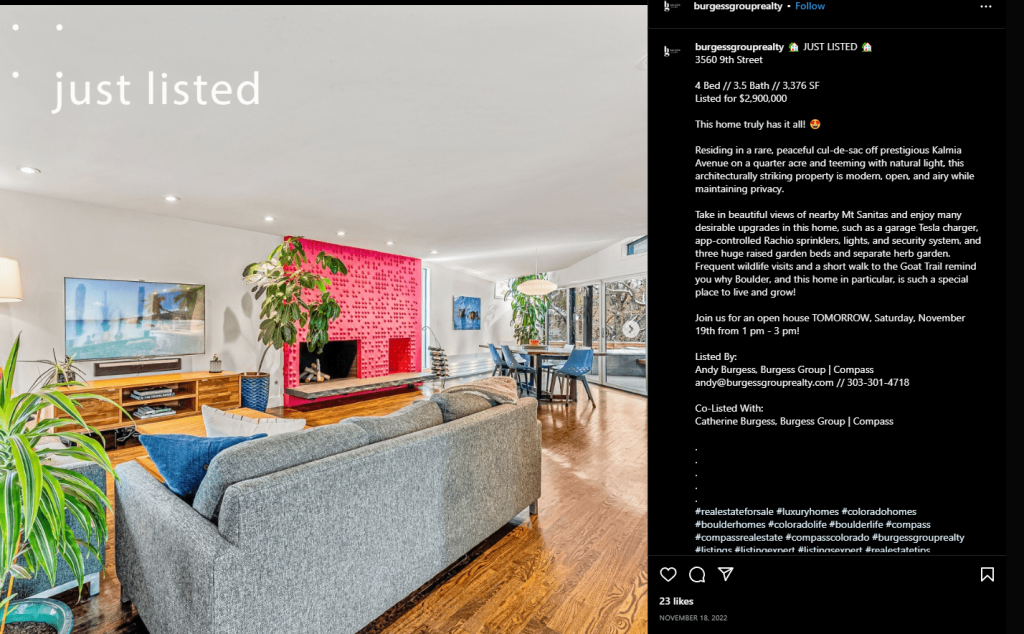 Source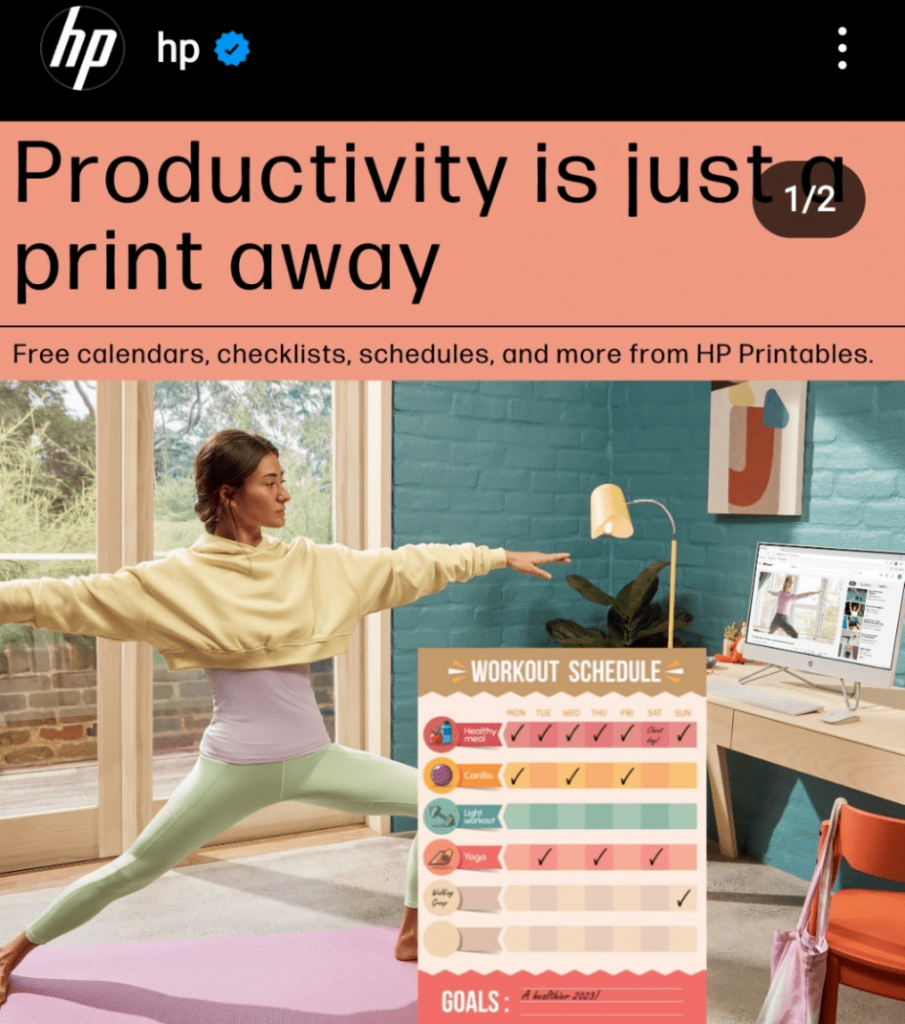 Source
This carousel post by HP is also a great way of showcasing features – especially if you provide digital assets or software. doesn't give too much away, which motivates interested people to access their links. Also, the header starts strongly with the main benefit of these HP printables.
2. Use Step-by-Step Tutorials To Create Engagement and Desire
Have you ever considered investing in a product or service but weren't exactly sure what results it would deliver? Or maybe you were worried that you wouldn't know how to use it.
Well, here is where step-by-step tutorials come in.
These posts may be suitable for the intent and evaluation phase of the marketing funnel. A step-by-step tutorial is just what customers need to add your product to their cart. Breaking down a process or technique into manageable steps will help the audience understand how to use your product and what's in it for them. More so, these posts clearly showcase the results of using your product or service.
Step-by-step tutorials can also be a great way of sharing your knowledge and expertise with your audience. Practical posts like these can motivate customers to eventually book a consultation with you (if you provide services).
And carousel posts are an excellent medium for tutorials – they are easy to understand, catchy, and visible in Instagram's explore and feed sections.
Now, how do you create step-by-step carousel posts that make people want to click that "add to cart" button?
Always break down the tutorial into clear and easy-to-follow steps. This is not the time for fancy language – clear and concise wins the game.
If need be, include images and videos to help illustrate every step of the way!
Don't overcrowd your posts. You will lose your audience.
Use before and after images to showcase the results of your product.
Step-by-step Carousel Post Example
This step-by-step tutorial by Ahrefs is the perfect example to illustrate how you can educate and help your audience while promoting your product. The graphics and fonts also have the advantage of being catchy and engaging for their audience.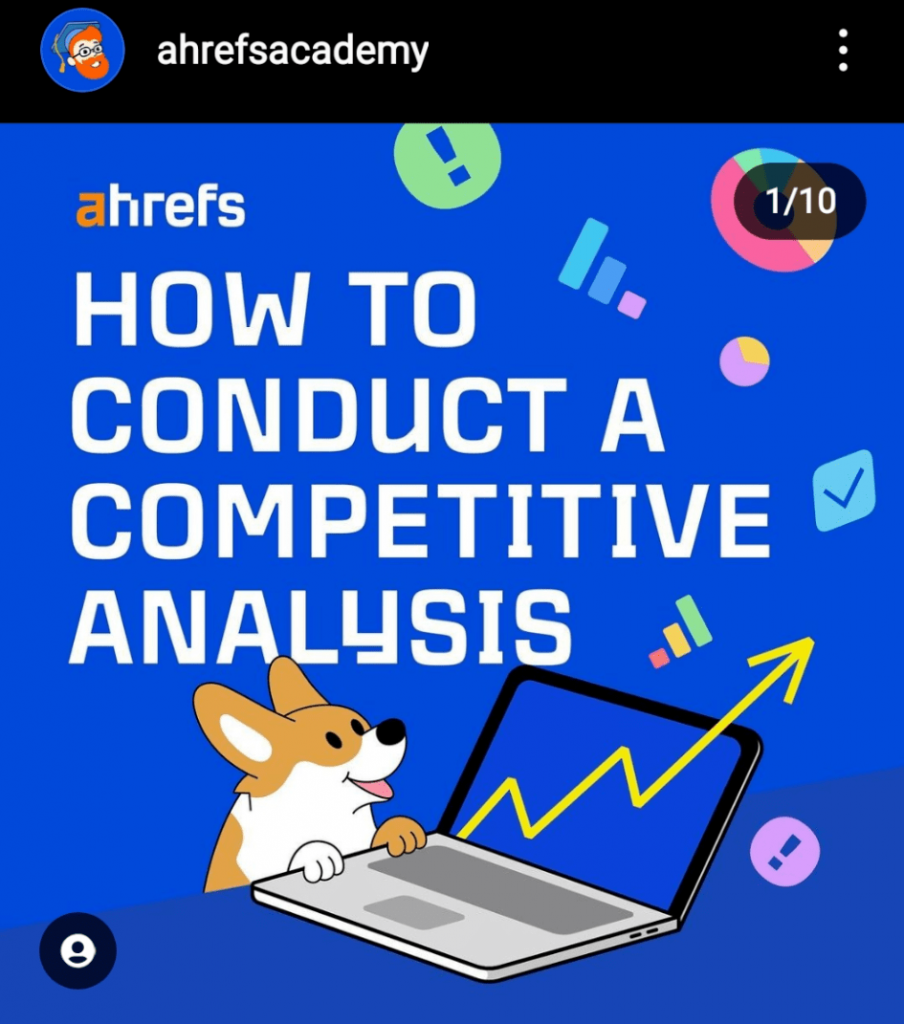 3. Carousel Posts to Share Industry News and Trends
Sharing industry news, trends or updates will help build trust in your brand's expertise. These posts will help establish you as a leader in the industry, creating interest and consideration among your target audience.
These types of social media posts are valuable for most businesses. Whether you provide your services, a product, or software – educating your audience on the latest news in the business is key. Bonus if you can provide valuable insights that reflect your golden nuggets.
How do you make these posts worthwhile?
Start the first slide with a hook.
Keep it visually appealing.
Be selective with your information. Nobody likes overcrowded slides.
Provide valuable insights. Do you have a unique point of view on a certain topic? Are there any strategies your customers should know to overcome challenges in your industry? Share them!
Instagram Carousel Post Example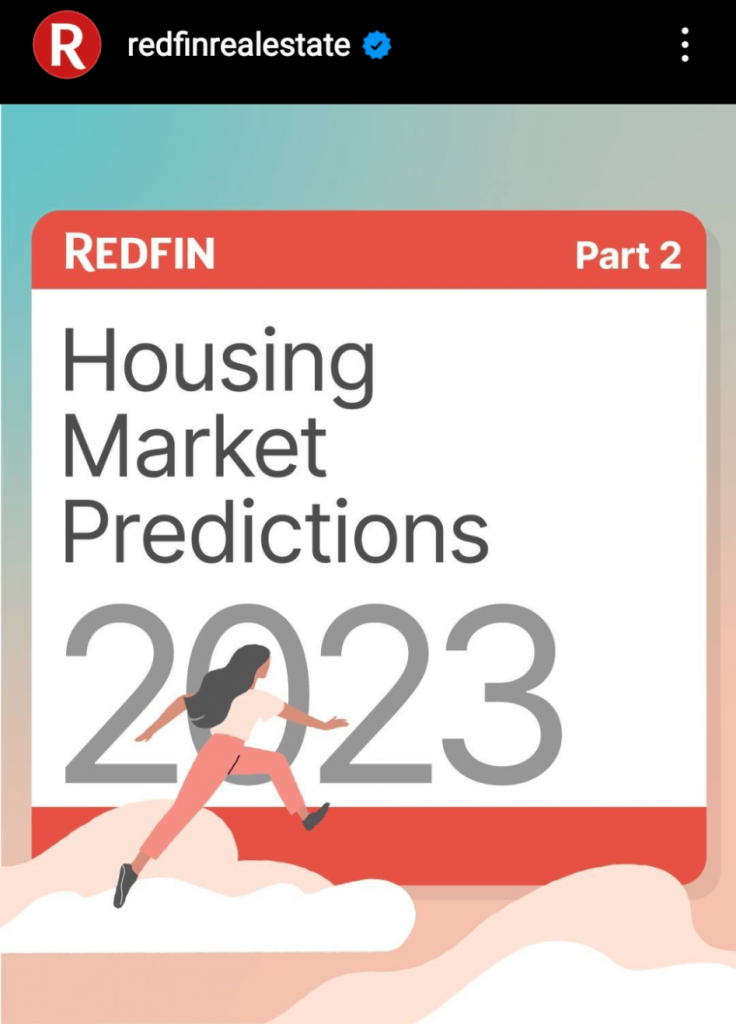 Source
For instance, if you're a real estate agent, you can create carousel posts to set yourself as a thought leader in real estate and convince your audience that you are the best agent to book. A great Carousel post idea, for instance, is to showcase the real estate challenges of 2023. I bet most home buyers and sellers would benefit from that.
4. Use Carousel Posts To Promote Events
You can also use carousel posts to announce events on your Facebook or Instagram page. These can be webinars, open house events, conferences, product launches – you name it.
Remember marketing funnels? Well, you can organize events such as webinars to create brand awareness. In the consideration phase of the funnel, you can opt for online case study presentations – as these clearly showcase your product's results, benefits, and features.
For software-as-service business owners, tutorials on how to use their software and a free trial or demo announcements are great for creating intention. For real estate agents, open house event announcements posted on social media platforms will boost exposure and attendance!
LinkedIn Carousel Post Example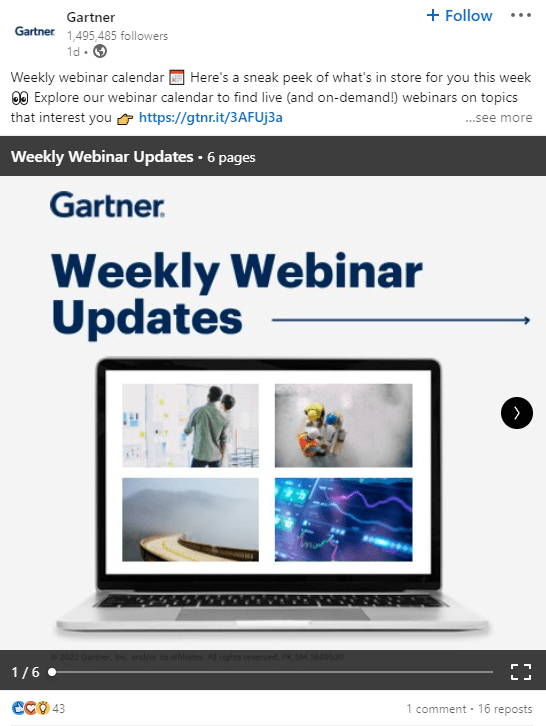 Source
Instagram Carousel Post Example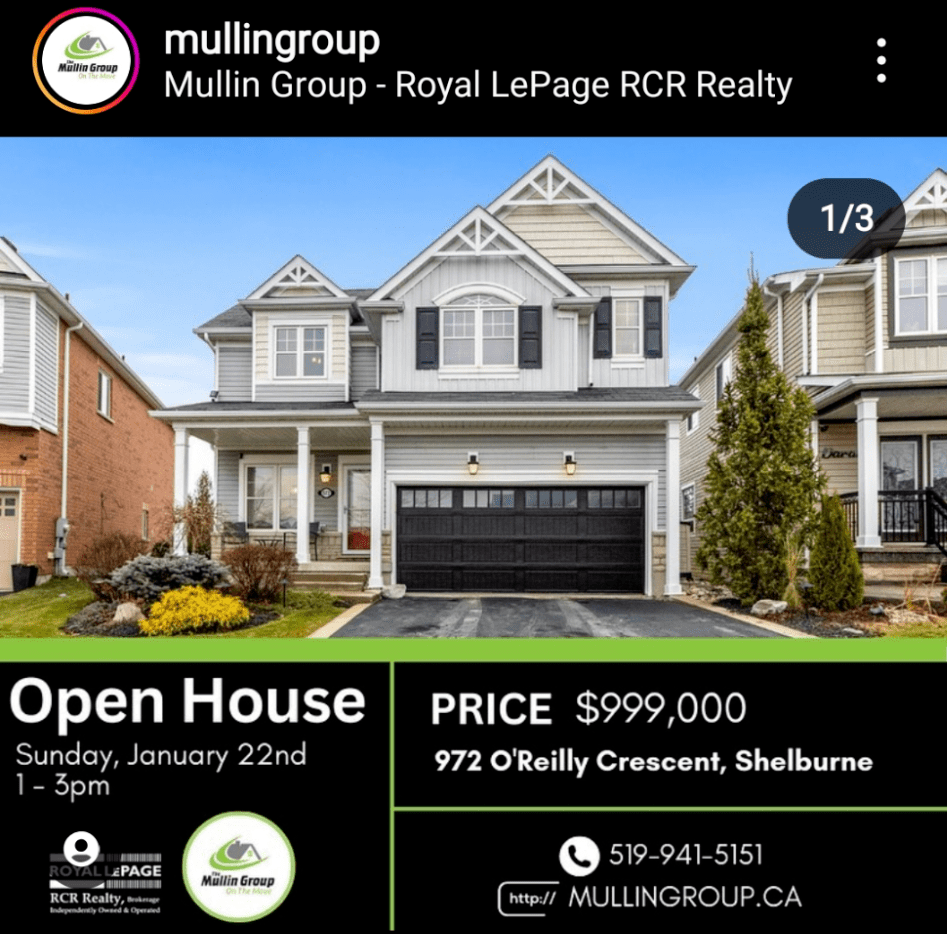 Source
Check out this open house event announcement on Instagram. Carousel posts allow estate agents to show the property in its full glory. More so, you can include key information such as square footage or features without overcrowding your posts.
5. Show Off Your Awards With Instagram Carousel Posts
Let's assume I'm looking for a cybersecurity solution for my business. I find two solutions that suit my needs.
Two cybersecurity solutions, same features. But when scrolling through Instagram, I noticed that one of these had been awarded by experts.
Which one will I invest in? The choice is clear – that one awarded and vetted by experts or reviews.
You see – showing awards and certifications doesn't make you vain. Award-winning products make potential customers more likely to trust your brand and less anxious about trying out your business offering.
So – if you want to bring valuable social proof to your feed, try a carousel post with your awards. They will increase trust and credibility with your audience.
Here are some tips and tricks to make them stand out:
Use a consistent aesthetic throughout the posts. To do this, you can use your brand colors and fonts for each slide.
Include a good copy in the caption explaining the significance of this award!
Tag the company that presented the award for extra exposure.
Social Media Carousel Post Examples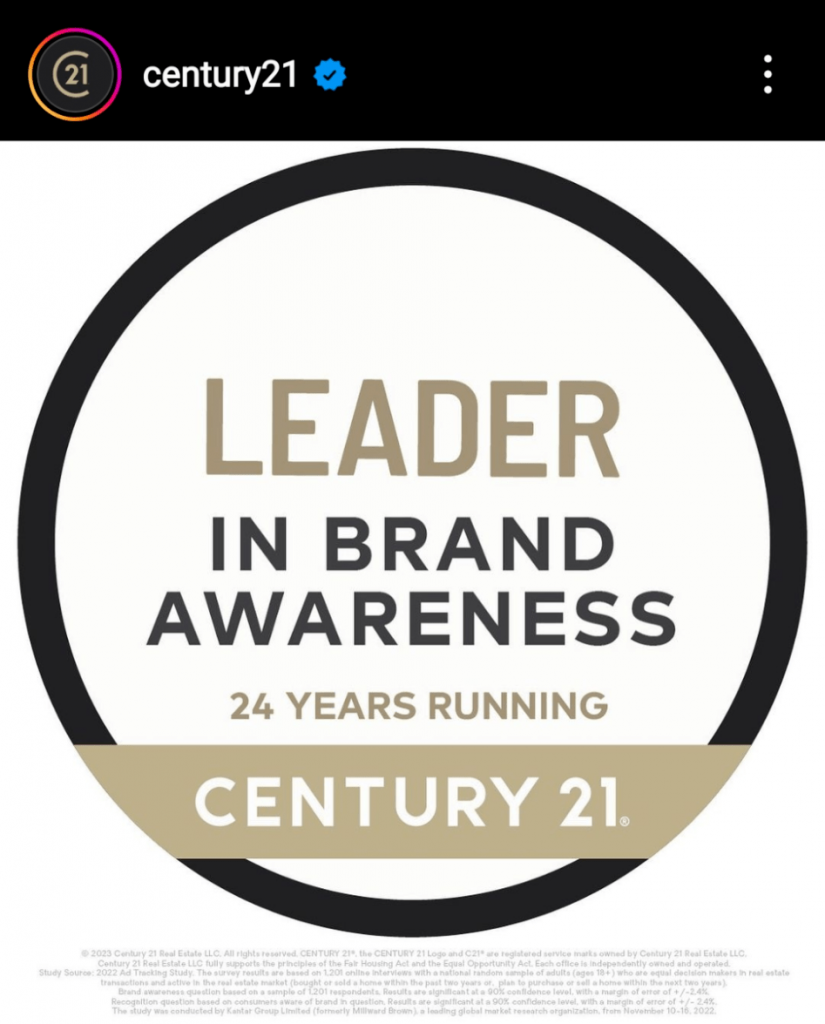 Source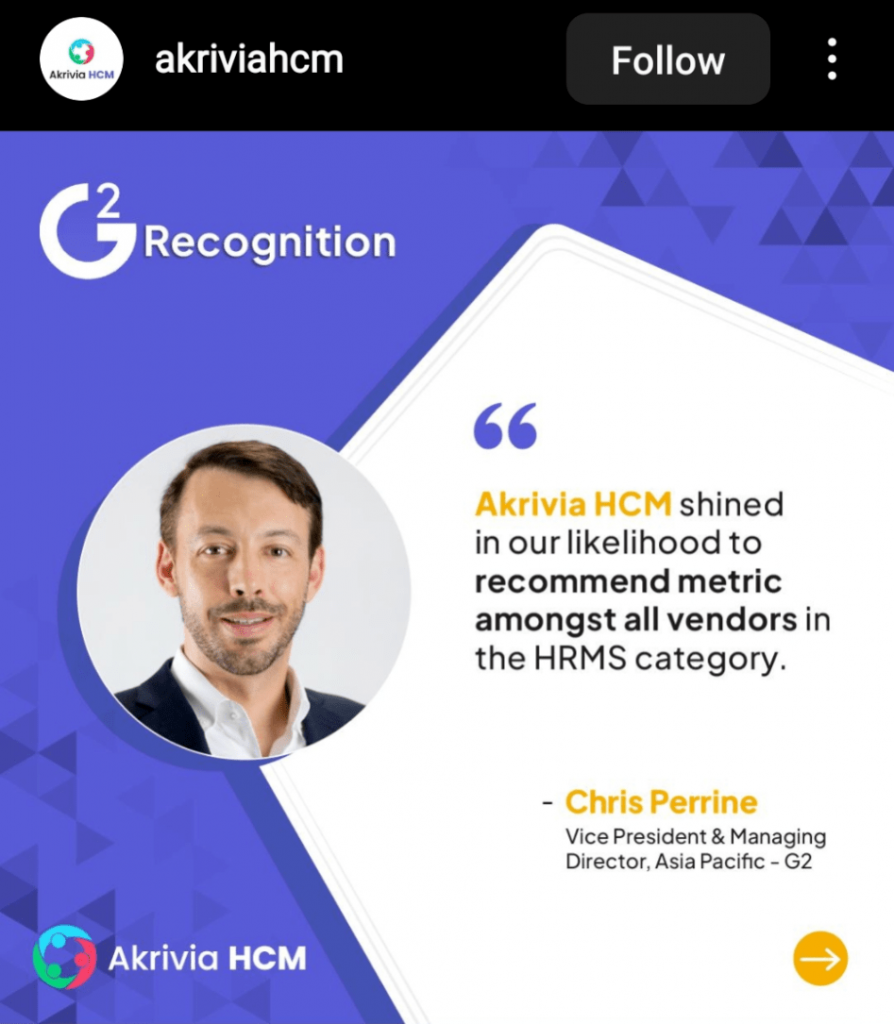 Source
These are great examples of how you can share awards on your Instagram page!
6. Create Funny Carousel Posts to Boost Engagement
Laughter brightens our mood and brings us together. So why not use it in your marketing strategy?
You can talk business, but you can also talk funny, and your audience will love you for it.
But how do you create engaging and humorous carousel posts?
Study your target audience. Knowing your target audience's likes and dislikes is key.
Use humor that aligns with your brand. You wouldn't expect the same comedic approach from a deodorant line as you would expect from cybersecurity software, am I right?
Use relatable memes, gifs, and images. After you're up to speed with what your audience loves – you can dig deep in the pop culture archives to find some gems!
Review your copy! Your copy has to be reviewed. And not just by you but also by your team members.
Funny Instagram Carousel Post Example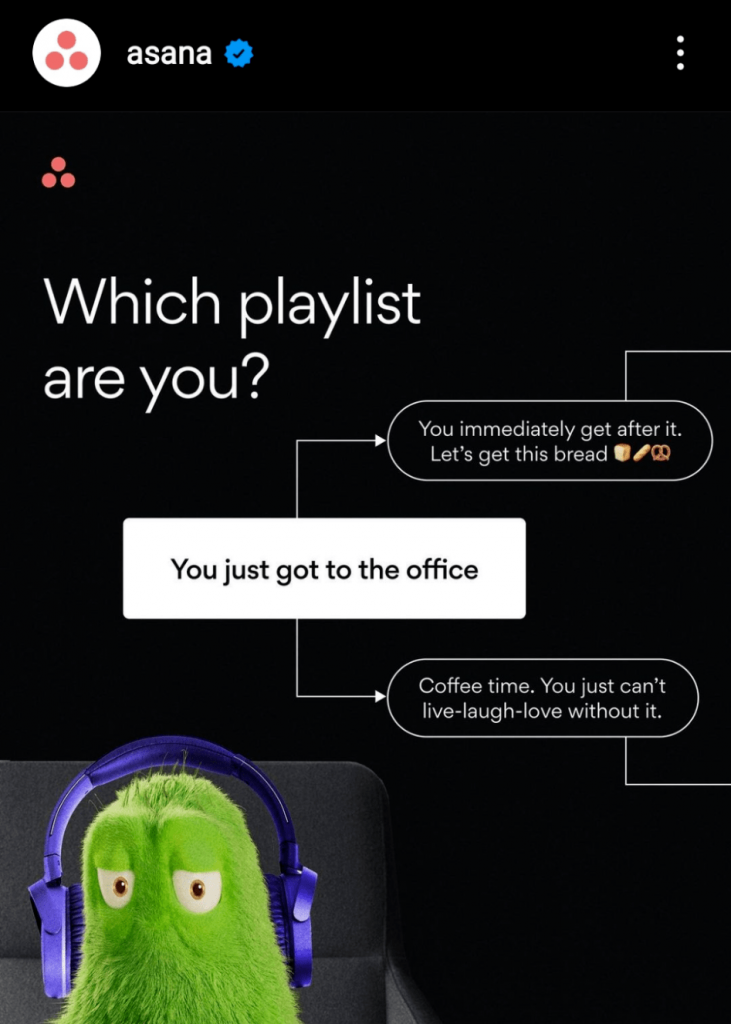 Source
7. Educate Your Audience With Valuable Insights
Educational content tends to perform really well on Instagram. But I'm talking about educational content coming from your personal experience.
That's what people are looking for. These types of carousel posts will get more saves.
To stand out, here are a few tips:
Start with an irresistible hook. People are used to seeing the same headlines on social media. On and on. How to [insert topic] or 10 ways to [insert topic] are the norm here. Break away from the mold and create a memorable hook that intrigues your audience.
Don't overcrowd your slides.
Make it easy to digest – ain't nobody got time for boring content.
Use brand-consistent visuals to stay top of mind.
Catchy Social Media Carousel Post Example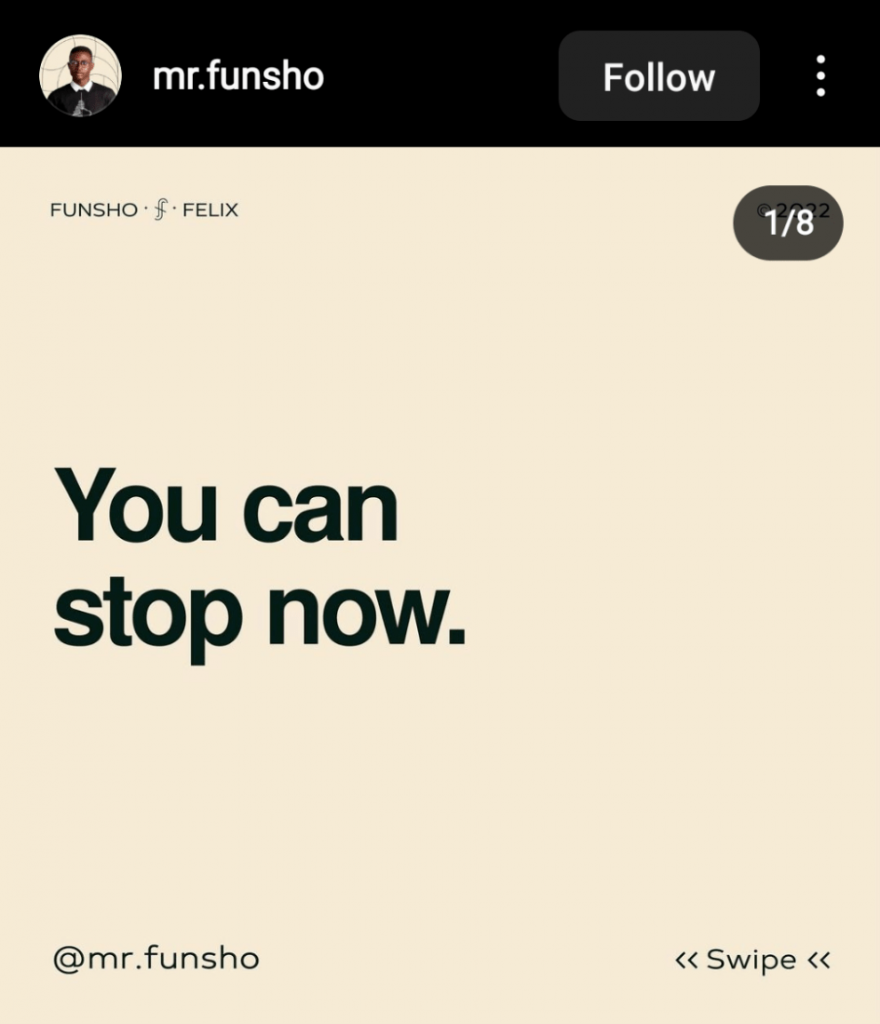 Source
Mr Funsho's carousel posts on Instagram are brilliant. Their tips and tricks on brand strategy are golden. And the hooks are enticing.
8. Share Social Proof
Word of mouth is one of the most powerful forms of advertising.
There's nothing quite like a satisfied customer singing your praises to their friends and family. But what if you could amplify that effect and reach a wider audience? That's where carousel posts come in.
Imagine scrolling through your social media feed and coming across a post filled with glowing reviews from happy customers. Not only does it grab your attention, but it also instills trust and credibility in a brand.
This is why sharing client testimonials as a carousel post on social media can be a powerful tool for building trust and credibility with potential customers.
Tips and tricks:
Include quotes from customers.
Include the client's logos or name to add credibility.
Include your brand's colors or logo.
Include a snappy call-to-action in the caption or the last slide!
Social Proof Carousel Post Example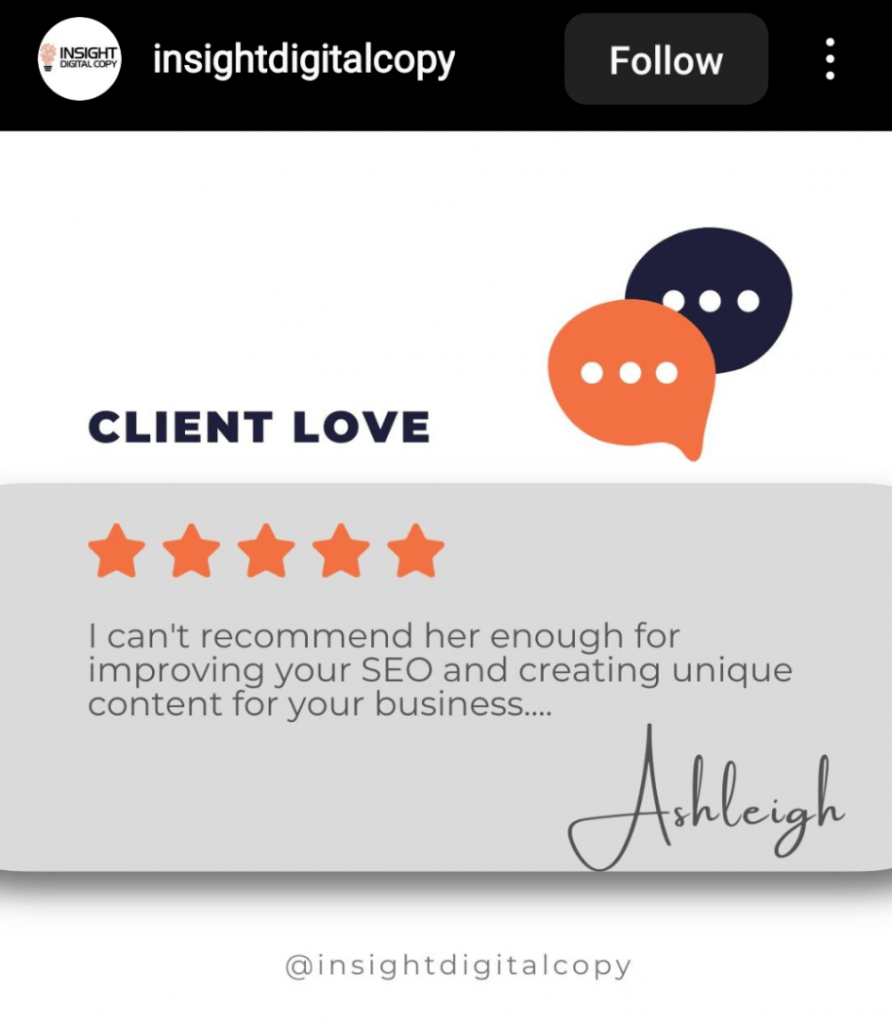 Source
9. Share Case Studies To Make a Compelling Case
If you ask me, carousel posts are ideal for sharing case studies on social media. Sure – adding case studies on your website is super important.
Why not use that information to promote your services on social media? Case studies work well – especially if you're marketing in the B2B sector, service sector, or technical fields.
Their detailed nature makes them perfect for showing off your work process, results, and client testimonials. And carousel posts are definitely the most suitable for the job.
Case Study Social Media Post Example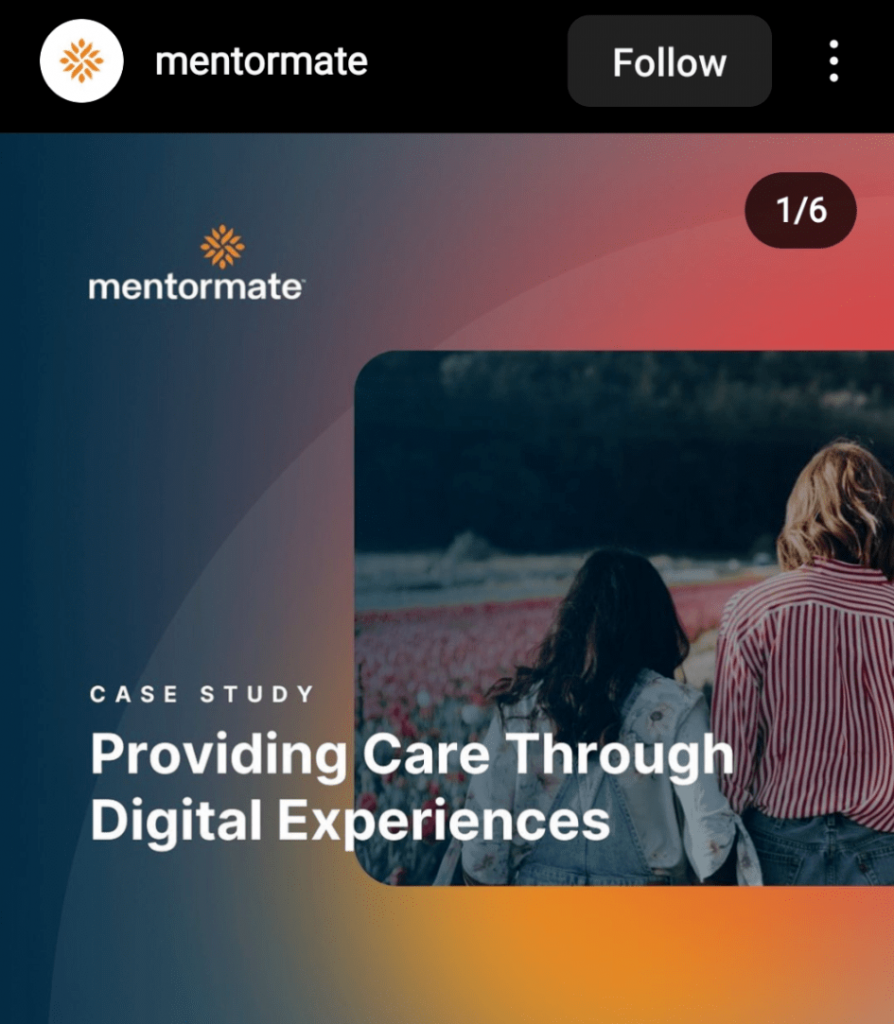 Source
10. Before and After Carousel Posts
People want to see results. That makes them click that "add to cart" button.
So if you want skyrocketing sales – post some before and after carousels. They will convince customers to try out your products.
Especially if you use high-quality images to showcase the transformation that can be achieved by using your product or service.
Social Media Carousel Post Example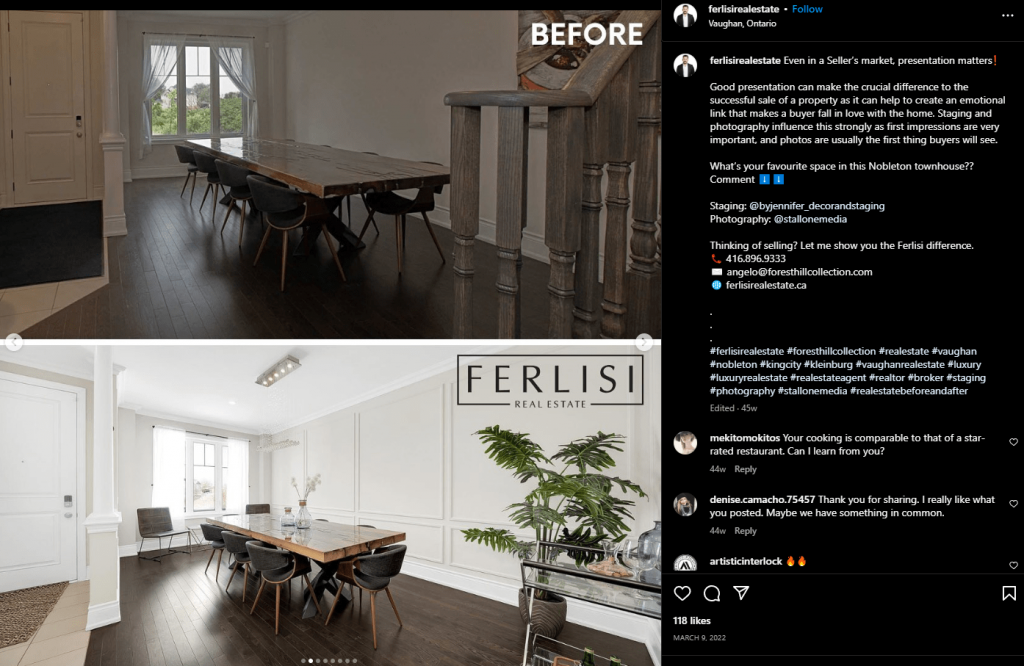 Source
11. Post a Service Offering That People Can Save
How do you expect people to choose your services if you don't clarify your business offering?
So – here's another social media carousel post idea for you: the service offering one.
With a carousel post, you can provide a detailed description of your business offering. Plus, potential customers can save these posts and return to your profile once they are ready to seal the deal!
Social Media Carousel Post Ideas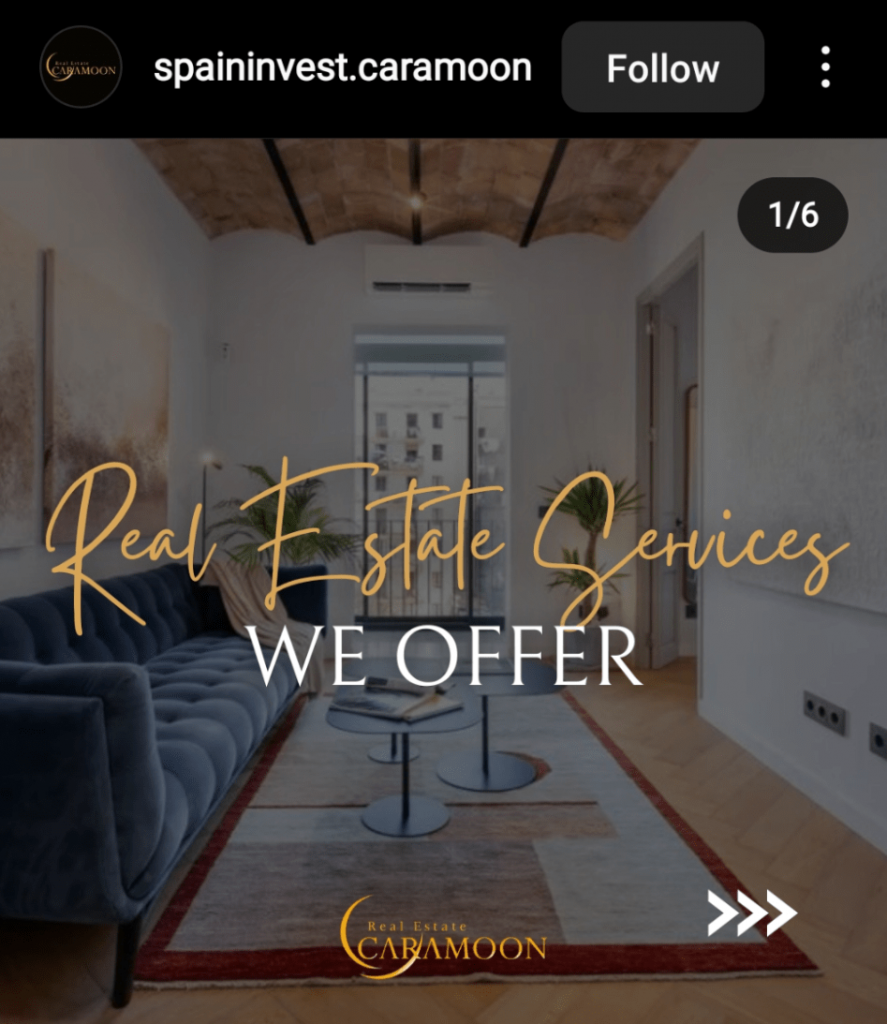 Source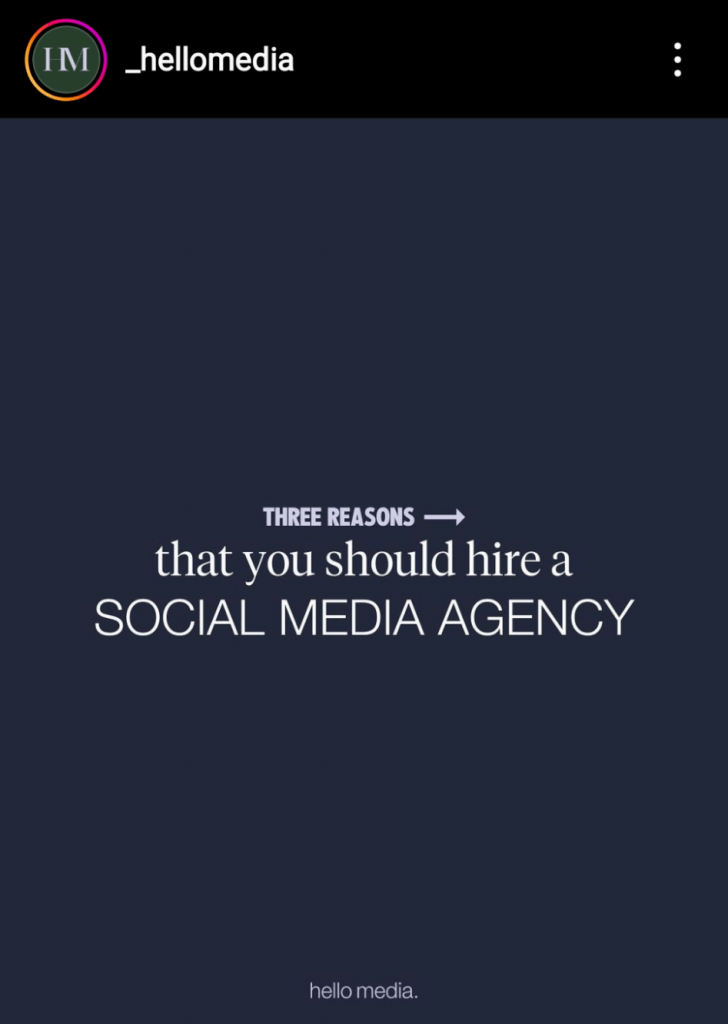 Source
Posts that showcase the reasons why somebody should hire you for the job or use your service/product generate interest and make people consider choosing your brand.
12. Hook Them With Some Games
Interactivity wins the social media game. That's no secret.
Commenting, swiping, or sharing means that people actively interact with your content. Which, yep, you guessed it, makes the algorithm love you.
So if you want to pop up in people's explore pages and make your brand memorable, guessing games or fun series might make for a good carousel post idea. They're fun and interactive – what's not to love?
Instagram Carousel Post Example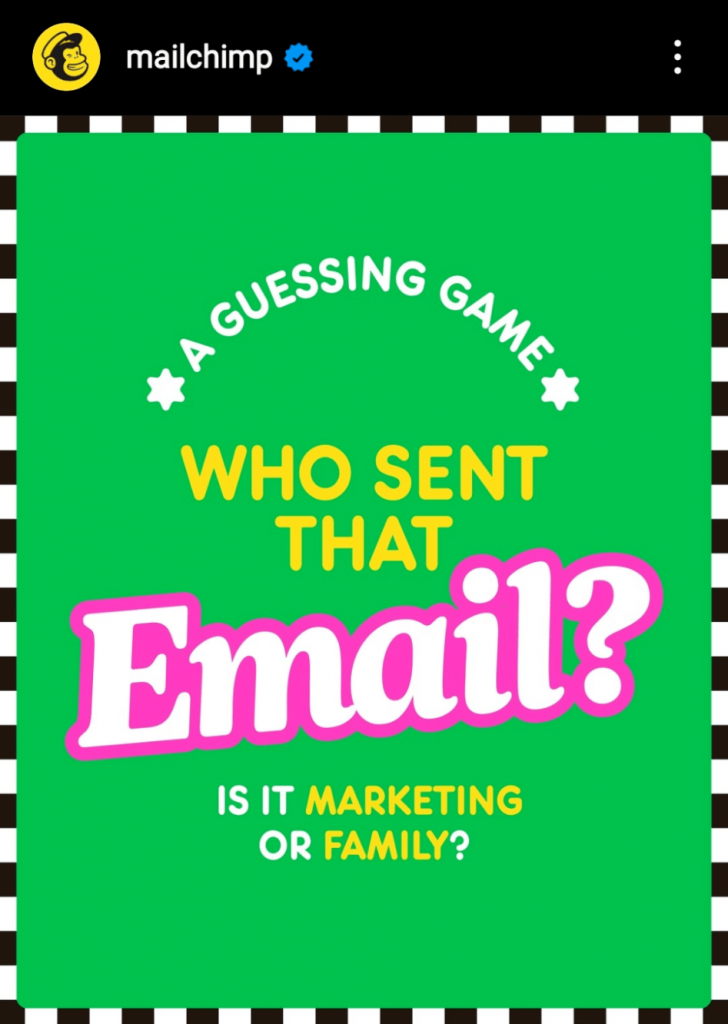 Source
LinkedIn Carousel Post Example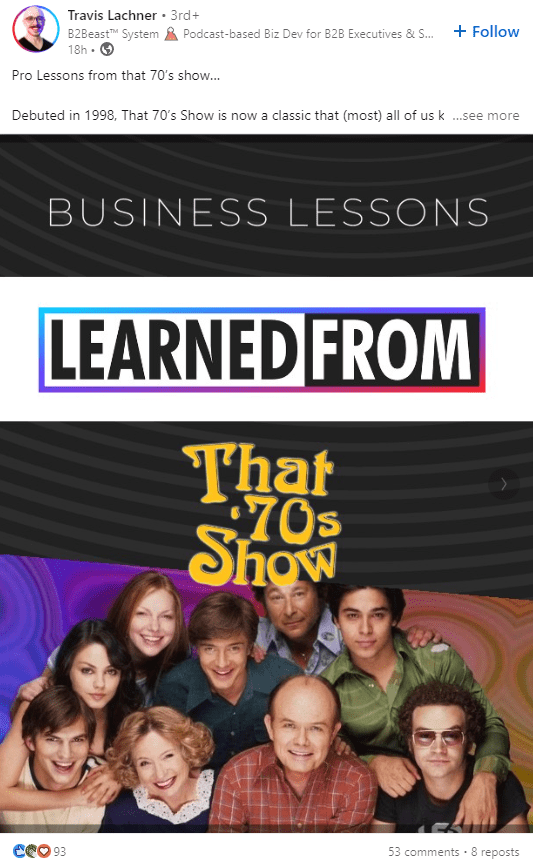 Source
Social Media Carousel Post Templates Make Work a Breeze
Standing out on social media can be a challenge. Especially with the constant influx of new features and trends.
While most people are caught in the reels frenzy, you can get smart and use carousel posts to attract your audience.
But don't just take my word for it. Try it out for yourself and see the results. Bonus? You can do it super fast with Xara Cloud. Our carousel post templates will help you create click-worthy posts in no time! Here are a few social media carousel post templates that you can customize by using our platform.