In today's competitive market, social proofing is the one B2B marketing tool you can use to stand out from the crowd.
After all, what better way to convince people to buy from you than by showing them that others love your products or services?
However, adapting the tactics is essential if you want your business to reap the benefits of social proofing.
What works for e-commerce fashion brands might not work for tech companies. In this article, we'll discuss all the details you need to know about social proofing your tech company.
Ready to take social proofing to the next level? Read on.
How to Use Social Proofing To Skyrocket Your Tech Business
B2B marketing is a different animal than B2C marketing. The strategies you use should be adapted to your business to ensure you get a return on your investment.
If you provide B2B or software solutions, your social proofing strategies might differ from other industries. Here's how to use social proofing efficiently to boost sales for your tech company.
1. Choose a Suitable Review Platform
Customer reviews are sacred no matter what industry you're in. However, the review platform will vary according to your industry.
You cannot use Yelp to collect reviews for your SaaS or B2B company. However, you can use software review sites to list your solution. Capterra, G2, GetApp, and Trust Radius are among the most popular software review sites.
To request reviews and testimonials, there are plenty of social proof tools you can choose from.
2. Show Off Your Reviews and Awards
The cool thing about software review sites such as G2 or Trust Radius is that they offer review-based badges and awards for vendors.
If your software or tool is a crowd favorite, site visitors must be aware of that. Believe it or not, these badges create trust in your business.

Source
Pipedrive, the leading CRM platform, displays TrustRadius awards for social proof. Sure, features and pricing are essential when choosing a software solution, but social proof gives people the confidence they need to make a safe investment.

Source
Hubspot also features G2 awards. Since these awards are based on the feedback of many happy customers, visitors are more inclined to take into consideration their marketing software.
With Xara's social proof templates, you can show off your badges and awards on your website or LinkedIn profile! Just choose a template, brand it up, and share it with your audience! Start creating for free!
3. Use Expert Social Proof
For B2B or software solutions, expert social proof works best.
These businesses provide complex tools that directly affect business operations. It makes sense that people would want to see testimonials from experts or other business owners that have tried these products.
It's not the same as choosing a coffee maker. When I research coffee makers, I trust the opinion of everyone who owns one. That's a big sample. When I research digital asset management systems, I want to hear from experts, business owners who implemented this solution, or specialized review sites.
Thus, expert social proof is a surefire way of generating leads and boosting sales.
You can leverage its power to reach out to experts and have them test and review your products. Then, just show off their testimonials on your website! Or use social media listening tools to monitor if you get any shoutouts from experts!
Once people see that your products have been tried and tested by industry leaders, your sales will skyrocket!
4. Show Off Famous Brands That You Collaborate With
Got any well-known happy customers?
You shouldn't be modest about it! Show off their brand logo on your website or LinkedIn profile. When other businesses see that you've been vetted by big brands in the industry, they will be more eager to work with you.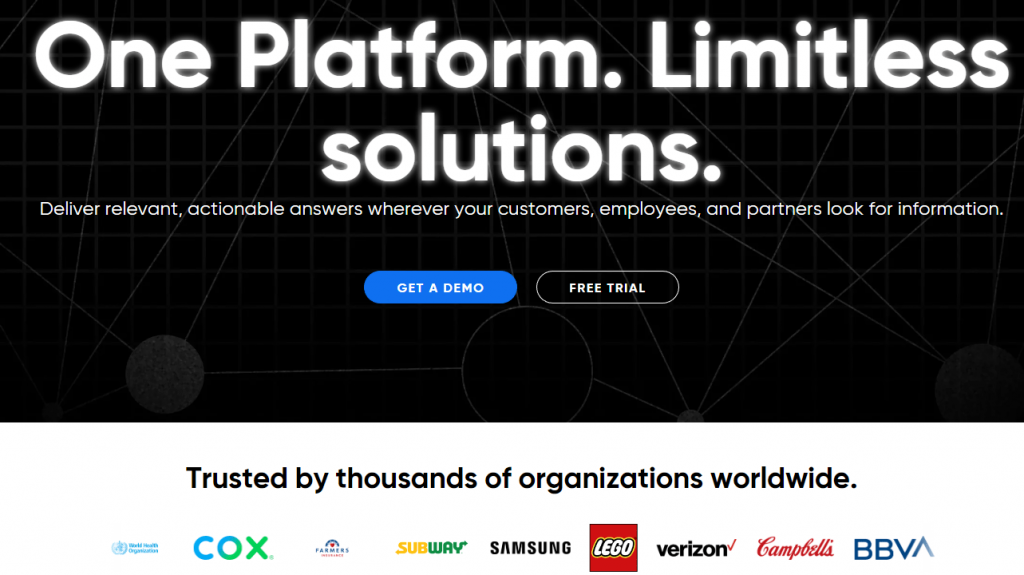 Source
For instance, Yext showcases its most prestigious customers on the website's homepage. Seeing that Yext has helped companies like Samsung or Lego might entice visitors to get a demo or try out the platform for free!
5. Case Studies For the Win
In B2B marketing, case studies are essential.
The detailed nature of case studies makes them great for showcasing the journey from the client's pain point to the solution. More so, they help people visualize what success would look like in their company.
If you wish to display case studies on your website, you can create a case study section, which leads can access at all stages of the acquisition process.
To get an idea of how that might look, here is a snippet of Hubspot's case studies page.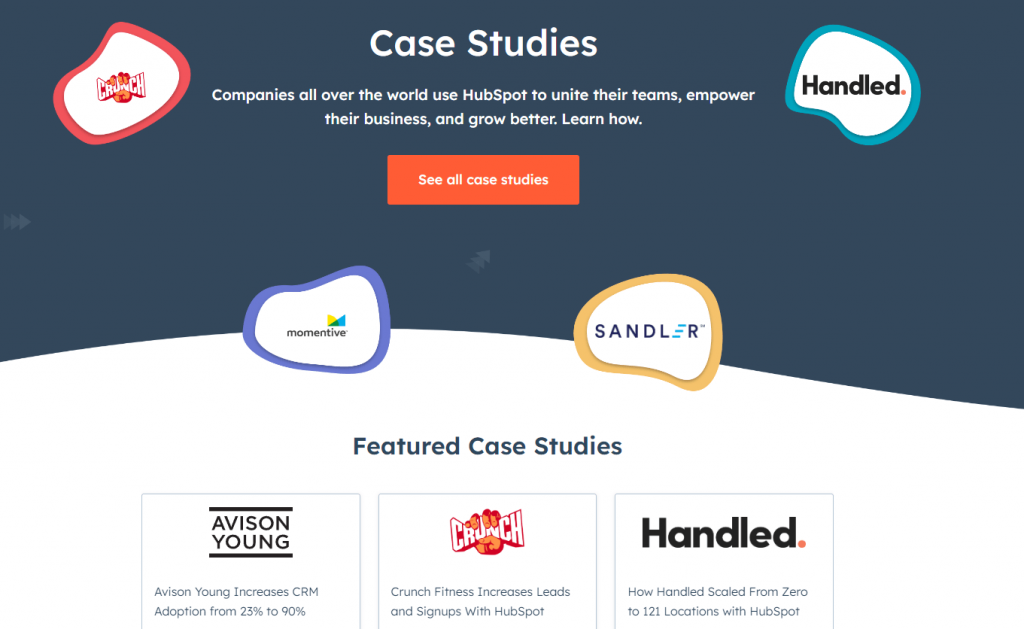 Source
Here is another example from Quantcast, a digital advertisement solution. On their dedicated case studies page, readers can filter case studies by the industry they are interested in.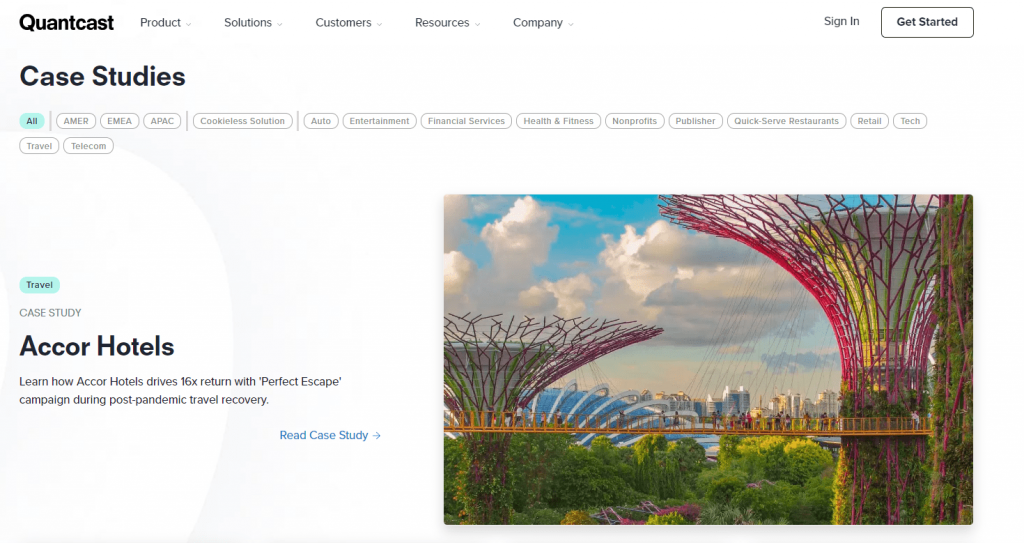 Source
To present your case study, you can opt for long-form written pieces, visual presentations, infographics, or even social media posts.
Returning to Quantcast's example, they start their case study by highlighting the biggest gain that Tesco has had since using its services. They also provide a two-page PDF for those who want to read or share the case study.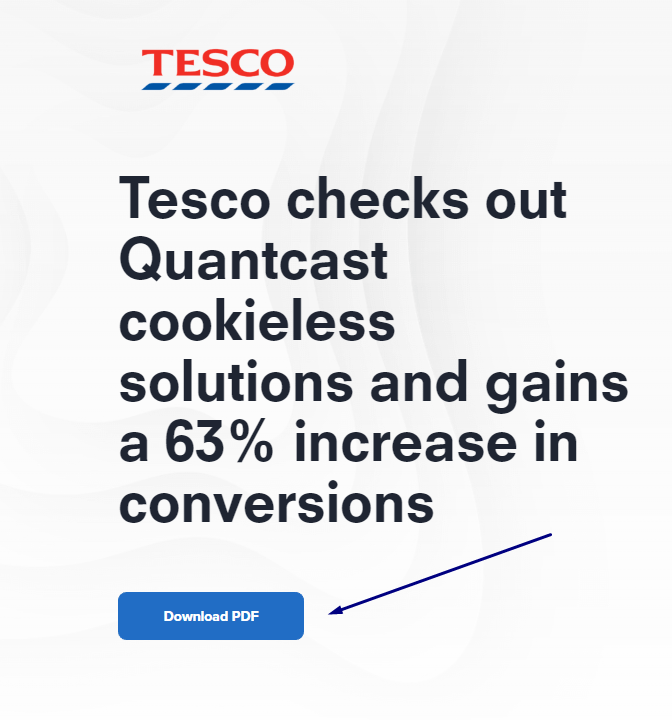 Source
6. Offer Free Trials and Demos
Free trials and demos trigger FOMO amongst site visitors – it gives them the option of taking your product out for a spin, all for free.
Who would want to miss out on that?
This is especially useful when visitors are unfamiliar with your brand or are uncertain about investing in the long run.
Free trial options work best when they are risk-free – meaning customers don't have to use their credit card until they decide that they want to upgrade to a paid plan.
7. Host Free Webinars
Free webinars are great for triggering FOMO and getting people accustomed to your solution. During these webinars, you can address frequently asked questions that keep people on the fence about choosing your product. Or you can host experts in the field.
These webinars could transform leads into happy customers! Keep in mind that a webinar serves an informational purpose. While it's okay to mention your service, don't make it a sales pitch.
To leverage FOMO, use a countdown timer. Nothing creates urgency like feeling like you'll run out of time.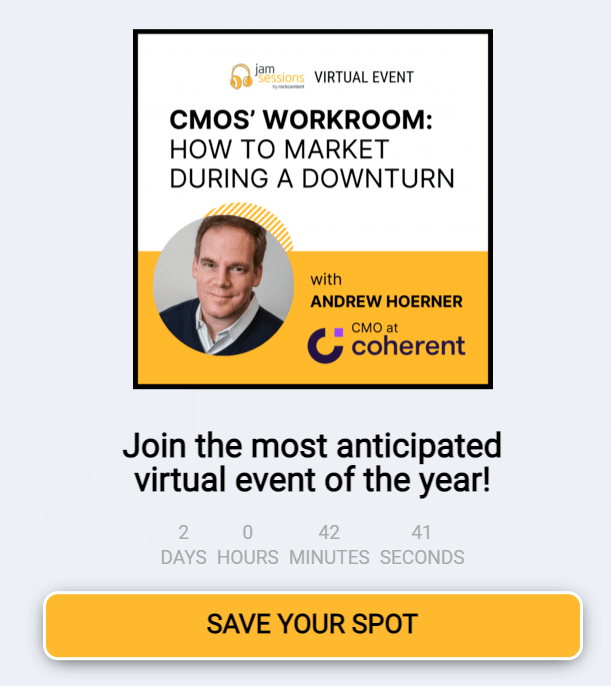 Source
Or make it a limited-seats event. To fill out your seats, add a pop-up notification on your website, create LinkedIn posts, or promote the webinar by email.
8. Display Your Crazy Good Results
Another way of leveraging social proof is through numbers and statistics. Rock those results and display them right on your homepage to show prospective customers that you are up to the task!
There are multiple ways you could go about this.
Here is an example from Semrush. They show off the number of people who tried the platform but also provide some statistics regarding their database. Digital marketers will find the impressive keyword database pretty convincing.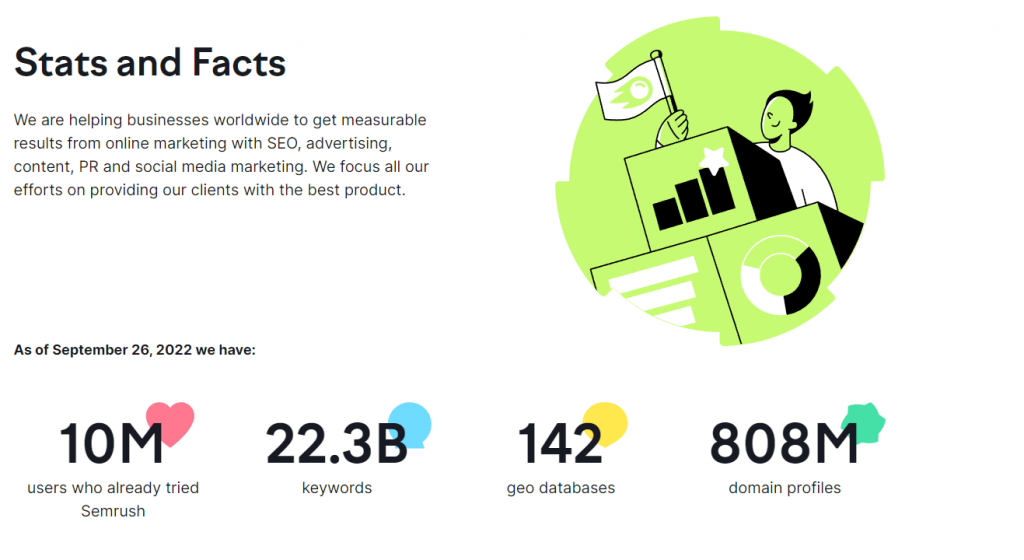 Source
Another great example is Manatal's approach. Not only do they display top companies they've helped, but they also share their impressive number of customers: over 10,000 recruitment teams from all over the world!

Source
Zoho showcases performance metrics, and this is a great way of attracting customers – especially if your software or service has top-of-the-range performance metrics.

Source
9. Add User Testimonials to Your Website and Social Media Platforms
Do you have any favorite customers? Send them a testimonial request! Happy customers are happy to provide feedback.
And user social proof is essential in B2B marketing. Why?
Well, if a CEO is looking to scale their business through your software or platform – they'd want to hear from other CEOs who have had impressive results using your software.
So don't be shy about testimonials! Show them off on your website and even on your social media channels.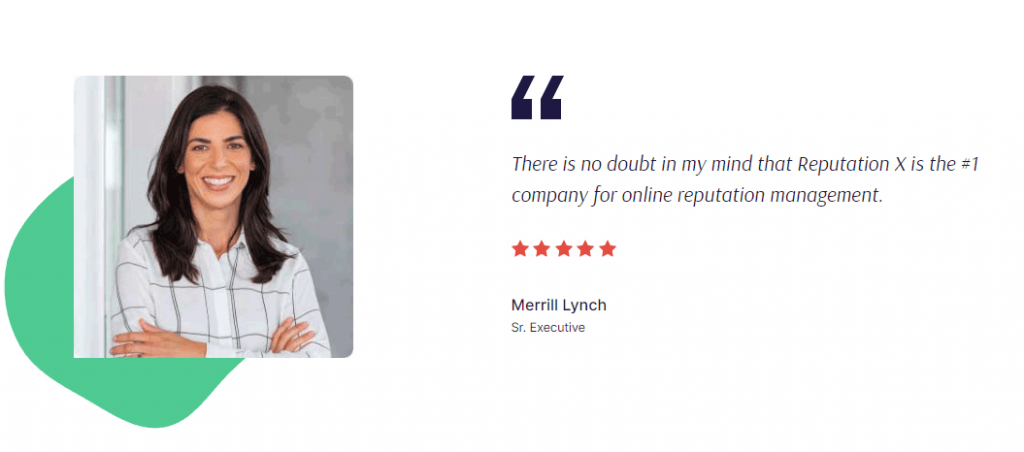 Source
Did you know that you can use Xara's social proof templates to show off customer testimonials? It's easy to design, edit, and share marketing materials with Xara's smart features. Ready to show off your stellar reviews? Start creating with Xara!
10. Use LinkedIn In Your B2B Marketing
When it comes to B2B businesses or software solutions, LinkedIn is the go-to social media platform.
To add social proof on LinkedIn, you can use templates to create catchy posts that feature testimonials, case studies, or badges and awards.
You can also redirect readers to any long-form case studies on your website. Linkedin is an excellent tool for displaying and collecting social proof. Here is an example by Visual Domain.
Source
Create Eye-Catching Content To Display Social Proof
Social proofing is an essential component of any B2B marketing strategy. But the way you display social proof matters.
Simple blocks of text won't spark anyone's interest – even if you have impressive results. Show-stopping, brand-consistent content is what you need to show off those stellar reviews, testimonials, and case studies on LinkedIn.
And Xara Cloud allows you to create eye-catching content without any hassle. Using our social proof templates, you can create branded content to gather or display social proof from users. Want to see if it's for you?
The Nitty Gritty Details of Social Proofing Your Tech Company appeared first on Xara Cloud.