The internet is filled with irrelevant and self-serving content. We are not pointing fingers because there was a time even we tried to get away with mediocre content when we had nothing to post.
But soon, we realized how bad content would hurt our brand. That's why we decided to invest our time and resources into learning how to write content that provides value to the readers. Today, we are sharing everything we have learned over the years about writing good content.
How to Write Content for Blog
Get to The Point Quickly
Format Properly
Write Like a Human
Study the Reader's Intent
Make an Outline (Always have the end in mind)
Use Tools Only When Necessary
Show the Worth of Your CTA
Let's discuss each of these content writing tips in a little more detail…
1. Get to The Point Quickly
No one likes to listen to a long explanation full of backstories and catchphrases. You need to get to the point quickly. Even if you're going by the storytelling approach of writing content, you need to show your value to the audience.
If this isn't your strongest suit and you tend to get carried away with a topic, try to double down your efforts in editing and proofreading. This is a stage where you can significantly reduce the noise and remove unnecessary details around your main idea.
Let's understand this with the help of an example. Here's a long message that includes too many details:
In this era of fast communication, the attention span of consumers is very short. Your company may only have a short span of 8 seconds to convince the potential customer why your product is worth buying. In this case, a short video on your landing page might be just the thing that attracts your audience's attention and also show the features of your product.
We can make the core message of this paragraph more impactful by editing out just a few details:
You only get 8 seconds to convince your website visitor that your product is worth buying. Make sure you make the most of this time by adding a short and engaging demo video of your product on your landing page.
2. Format Properly
The overall "look" of your content is just as important as the written words. A well-formatted piece of content with the key points laid out is always more attractive and engaging for your audience.
There are many ways to format your content; for example, in an email, you can keep the body concise and focused by using short sentences, and in a long blog article, you can use subheadings, lists, and bullet points to organize the content.
3. Write Like a Human
How do you feel about this paragraph written by one of our job applicants in a test assignment:
A logo is a visual signifier utilized by an association or entity to signify its brand. It might include typography, a sign, or some grouping thereof in communicating the brand's essence in a distinctive and outstanding manner. But keep in mind that the most effective logos are those that verbalize volumes without saying much at all.
It sounds like Joey used a thesaurus ON EVERY WORD.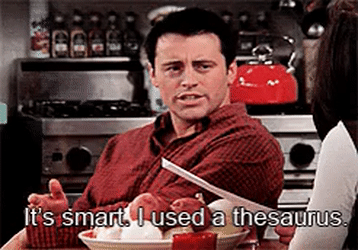 People prefer to write like this because they think it makes them sound smart. In reality, these complex and technical words feel like they're overcompensating for their lack of knowledge on the subject.
You need to embrace simplicity and write content like you talk every day, i.e., write like a human.
4. Study the Reader's Intent
An article about "iPhone 13 hidden features" won't include a section about "what is an iPhone" because that information is useless for the audience. This is the basic idea behind the reader's intent. You need to provide information that's relevant and valuable for your readers.
A simple way to understand the reader's intent behind a keyword is by looking it up on Google or any other search engine. You can review the top-ranking pages to see what kind of content aligns with the reader's intent and use that information to create content for your business.
5. Make an Outline (Always have the end in mind)
Everyone has their own unique way of writing. Some prefer to start dumping ideas on a doc, while some prefer to write a structured body before writing the introduction. You don't have to change the way you write, but I'd recommend you to start by making a small outline.
It doesn't have to be perfect, but it should give you an idea about how you'll approach the content. This way, when you start writing the first draft, you'd know where to focus without getting distracted by irrelevant information.
6. Use Tools Only When Necessary
There's a tool for everything, but that doesn't mean you have to use a tool for everything. What I mean is that you can write an entire article or email with an AI tool like ChatGPT. But that piece of content would lack the personalization and credibility of a human. You'll also miss out on the specific and real-world examples that come from real-world experience.
You can, of course, use tools like Grammarly and Small SEO Tools to optimize your content. But it's best not to rely on these tools 100% of the time.
7. Show the Worth of Your CTA
Every piece of content should have a call to action. For example, if you're writing an email, you might want people to click on a link; if you're writing a blog, you might want people to subscribe to your newsletter; and if you're writing a sales copy, you might want your readers to buy your product.
These kinds of CTAs are important as they encourage readers to take action. But that would happen only if you can prove the worth of your CTA to the readers. Making a bland claim after claim without any proof won't make the user click on a button.
So, for example, if you're using a CTA like "Get Started Now" or "Click Here to Learn More," you need to add your value proposition and show the reader why they should "get started" or why they'd be interested in "learning more."
Summing Up: How to Write Content for Blog
There's so much to learn about how to write content for blog. We tried to explain a few important things that we feel aren't discussed as much as they should be in the content writing industry. If you have anything else to add, feel free to leave a comment below.
Also, if you need more help in creating content for your website or blog, you can always opt for our content writing services that'll instantly connect you with a talented writer from your niche.
Learn How to Write Content for Blog Without Blowing Your Heads Off first appeared on Digifloat