Are you trying to make an ebook and don't know where to start? Maybe you've tried other software, but they are too limiting. Maybe you are trying to save money by avoiding hiring a professional designer.
Either way, you should take a look at Xara Cloud's free ebook creator. Follow our step-by-step guide and make an ebook for free with Xara Cloud. Say goodbye to frustration and wasted time, and hello to leads and revenue.
Our simple online ebook creator will allow you to create lead-generation ebooks in minutes. Ready?
Let's begin.
How Do I Make an Ebook for Free With Xara Cloud?
1. Write Your Ebook
Before we show you how to use our online ebook creator to make an ebook that dazzles your readers, you have to actually write it.
Writing an ebook is no walk in the park. However, with the right tips and tricks, it's actually easier than you might think. If you're feeling queasy about writing it, check out our guide on how to create an ebook that attracts leads like a magnet.
2. Create New Ebook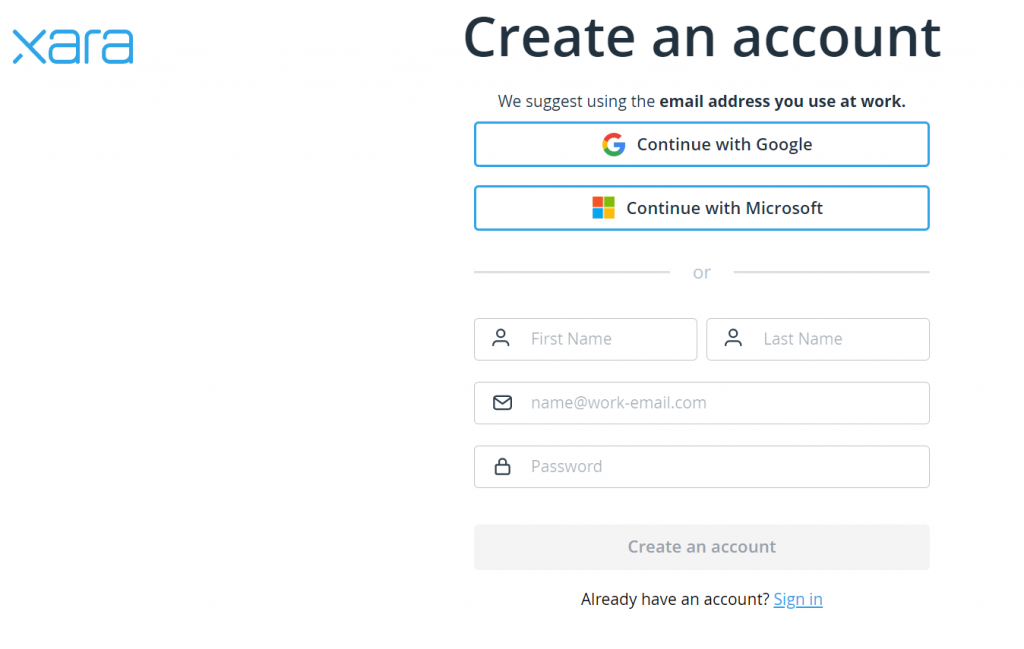 First things first, go to Xara Cloud and create an account — if you don't have one already. Once the trial expires, you'll be left with our "free forever plan" — this will still allow you to create stunning ebooks using our design templates.
Alright — your account is all set up. What now? It's time to create your ebook. Click on the "Create new" button in the top right of your dashboard.
Next, choose the e-book option.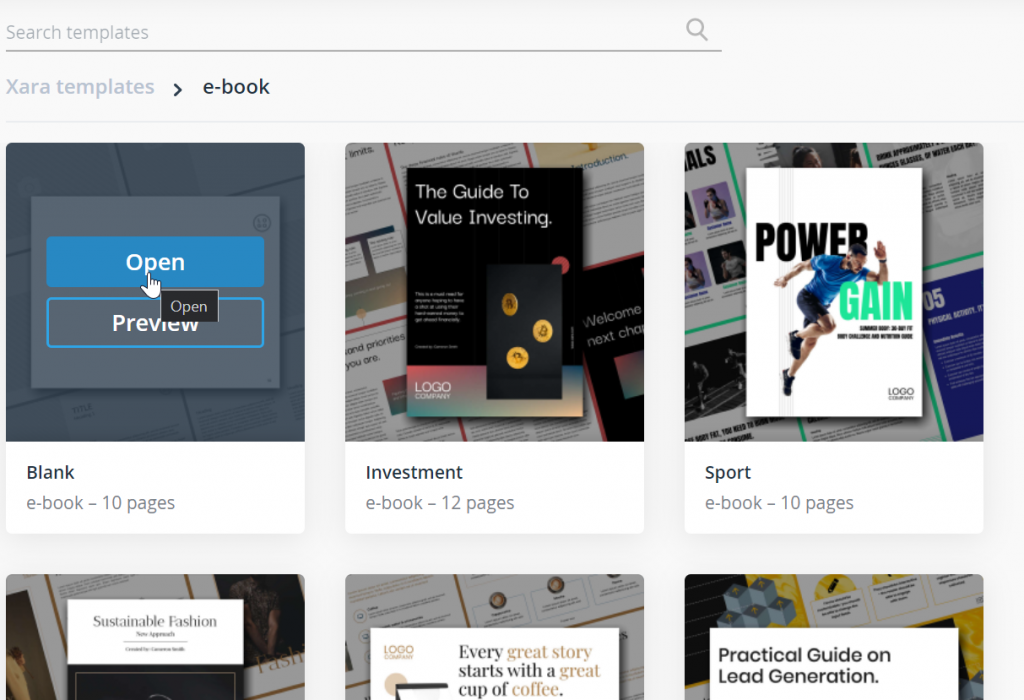 Hover over an ebook template to open or preview it. We have a variety of templates to suit multiple topics and target audiences.
3. Set up Your Brand Portal
When making an ebook, brand consistency is crucial. No matter what materials you produce, be they internal reports or ebooks, they must look like your brand. This is brand strategy 101.
And with Xara Cloud, you can create a brand style guide without spending hours on the task. Simply insert your website's URL, and the software automatically extracts your brand logo, fonts, and colors.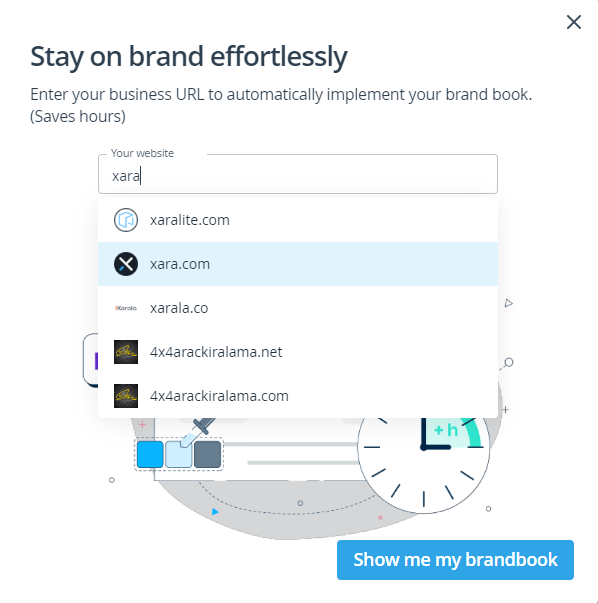 Let's give it a go with Xara — our very own website. As you can see, you can upload your logo and change fonts or colors. Save your brand, and off you go. All brand elements will be automatically loaded into the template you choose.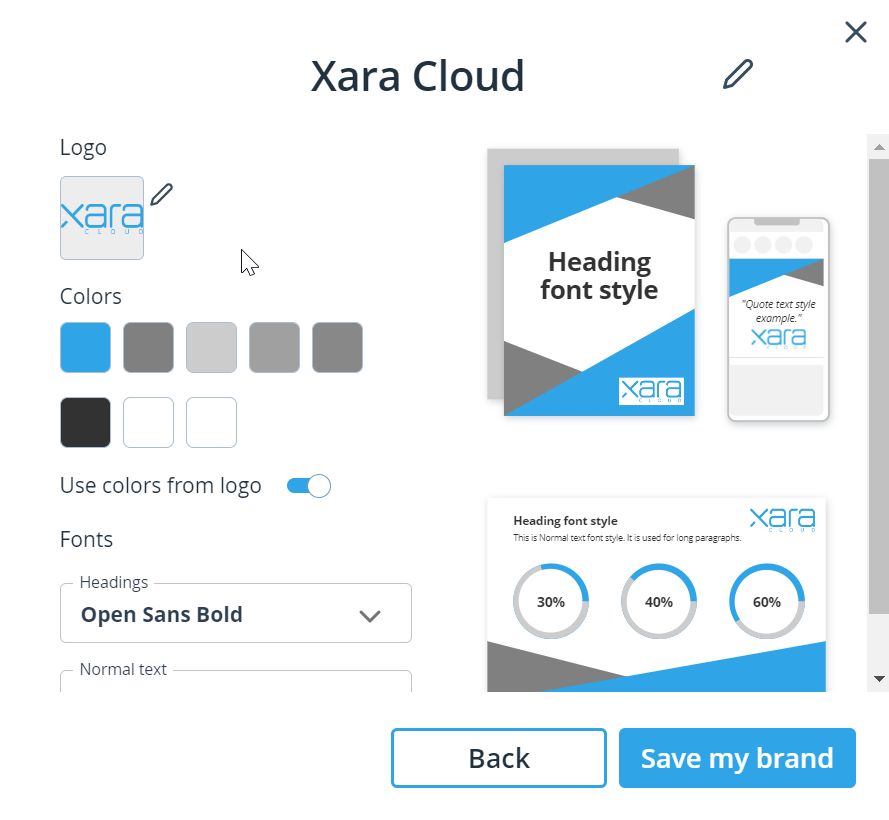 But you can also go more in-depth about brand elements — we'll show you in a bit what we mean.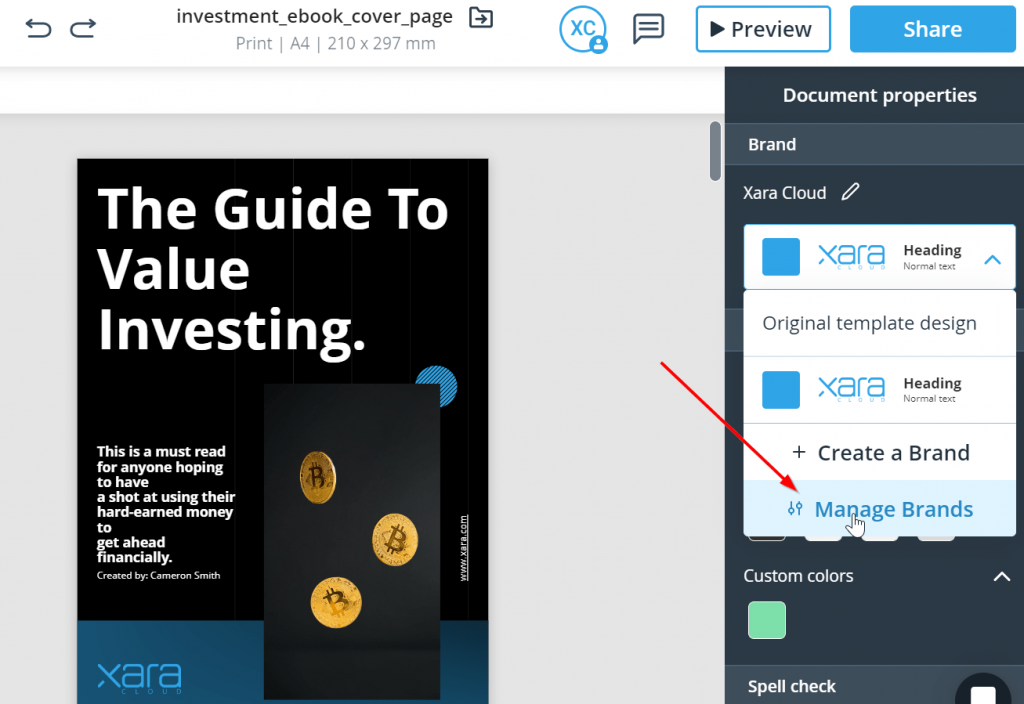 If you want to modify brand elements or add a new brand, click on "Manage Brands".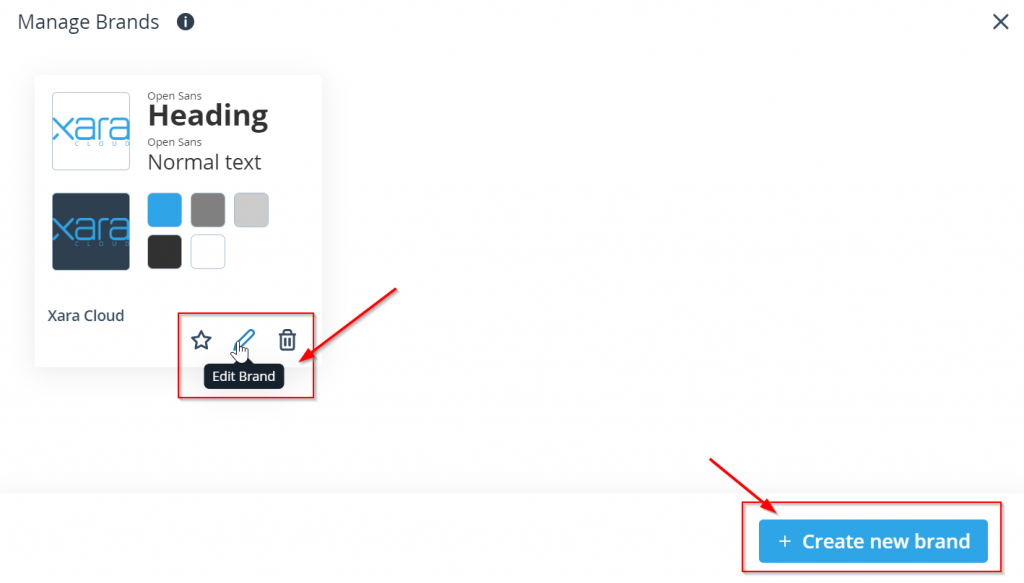 And if you want to upload any team assets, such as icons, fonts, shapes, or images, go to Xara Cloud Home → Team Assets, and upload your brand assets.

4. Choose One of Our Free Ebook Templates and Customize
Alright, your brand is all set up. You're now ready to bring your ebook design to life. Don't worry if design isn't your strong suit — all you have to do is choose one of our free ebook templates to get started.
Every template can be customized to suit your needs. More so, your brand's elements will automatically load into the template. We cured a selection of your free ebook templates to give you a feel of the templates you can choose from.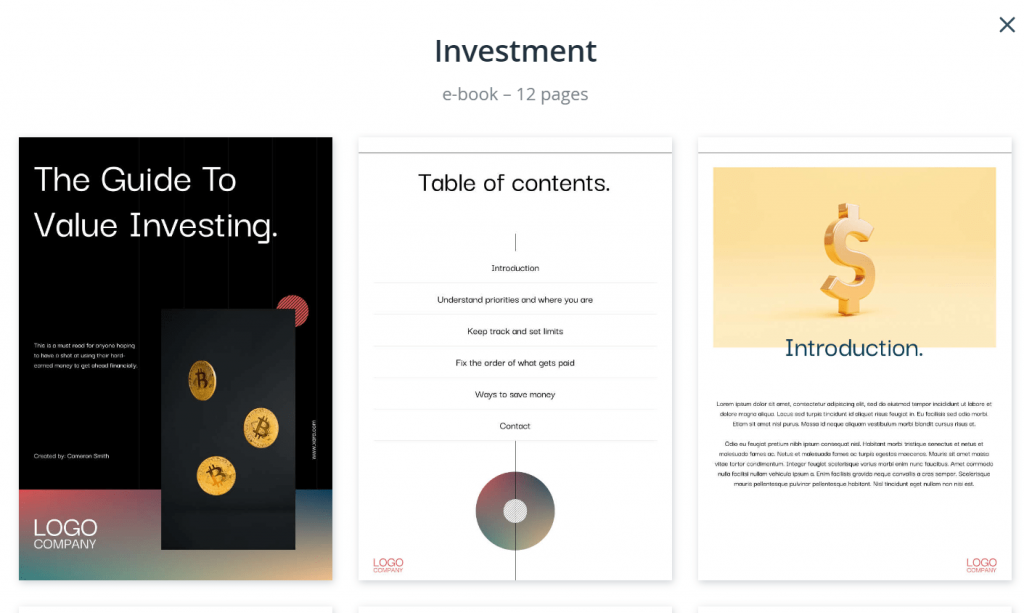 Source
Source
Source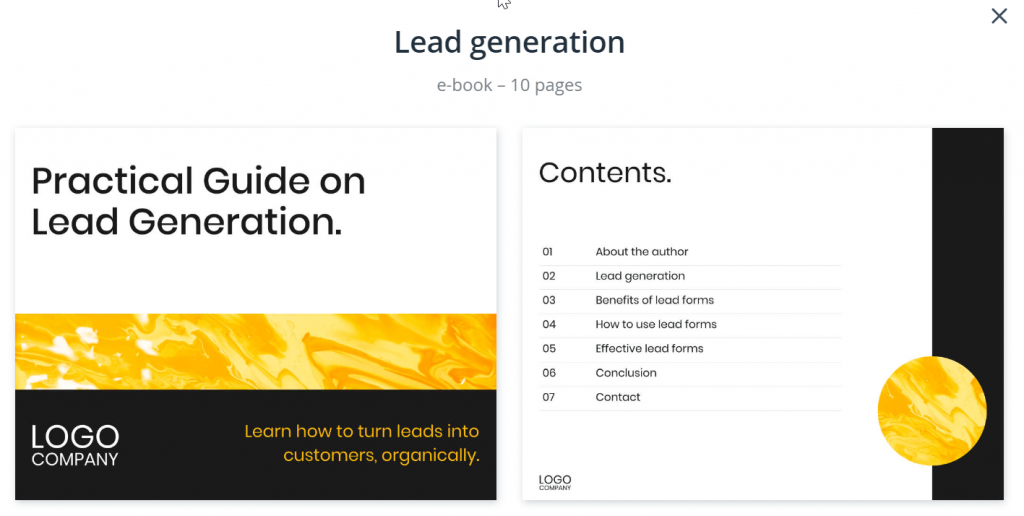 Source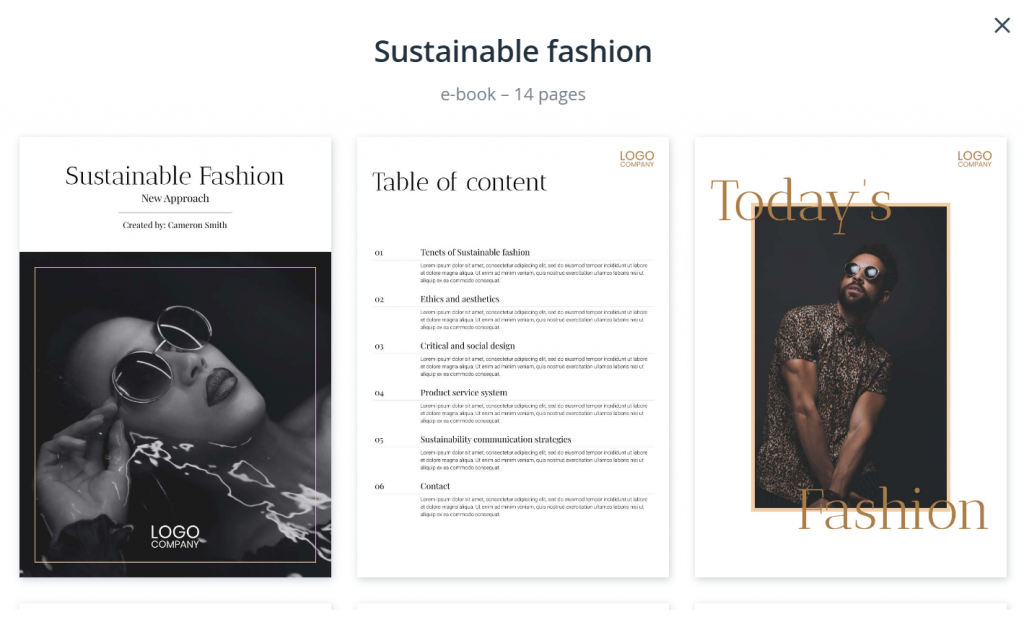 Source
Source
Start making an ebook with Xara Cloud → Sign up now!
This is where the fun begins!
Choose your template and start customizing. For this e-book, we chose the user persona template above. We added another background photo, changed the font, and voila.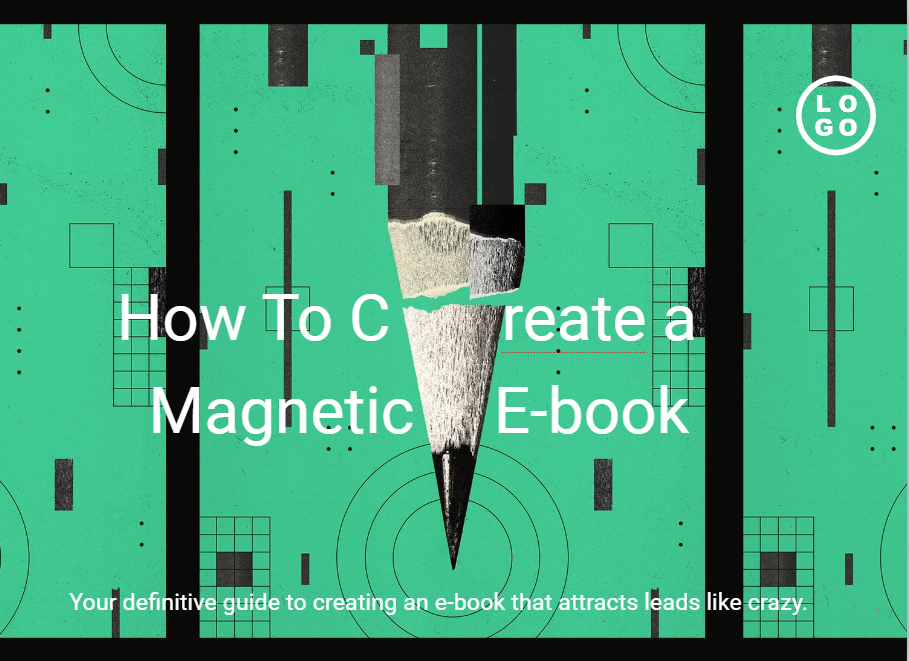 The background image is taken from Dribble.
To add another background photo, choose from our stock photos from Pixabay or upload your own photos.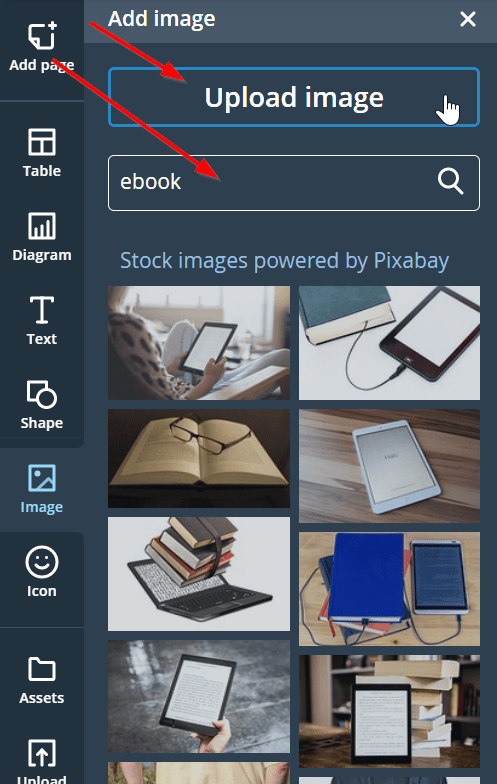 To edit the fonts, simply select the text you wish to edit and change the font type, size, or colors. Drag and drop to add shapes, diagrams, icons, and more.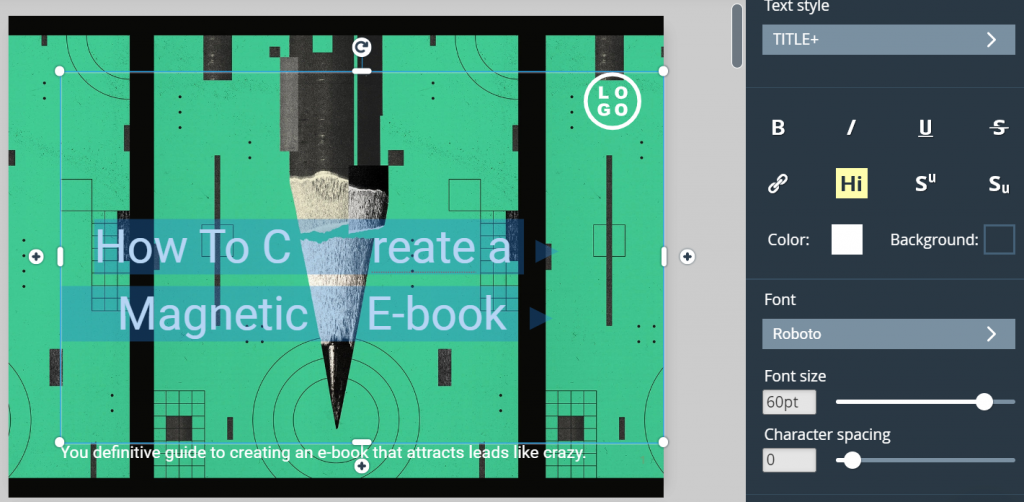 5. Convert Your Ebook to PDF
After you customize your ebook as you see fit, it's time to choose the format.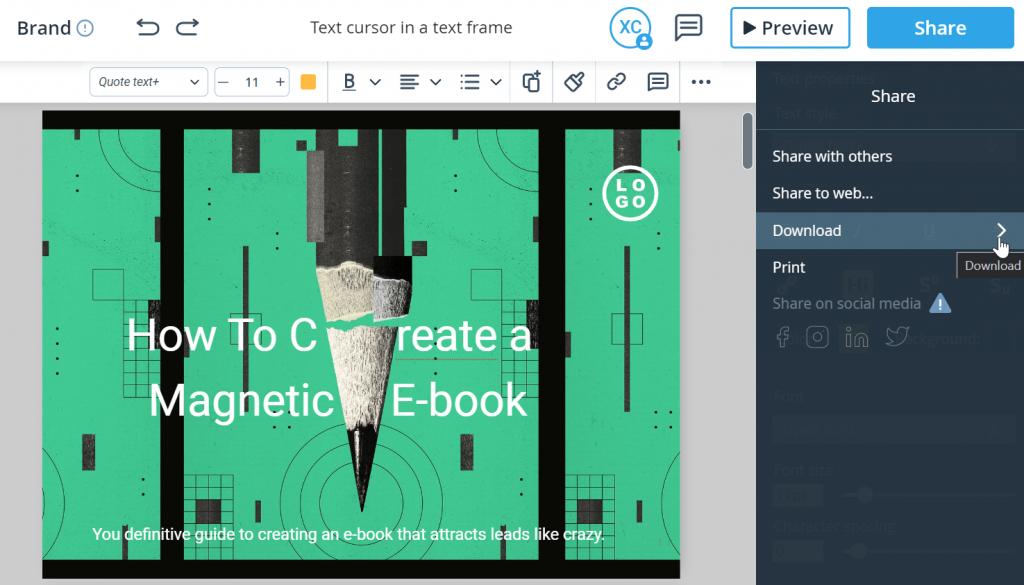 As you can see, you can download your file in several formats. However, for an ebook, we would recommend the PDF format. It's safer and easy to upload anywhere.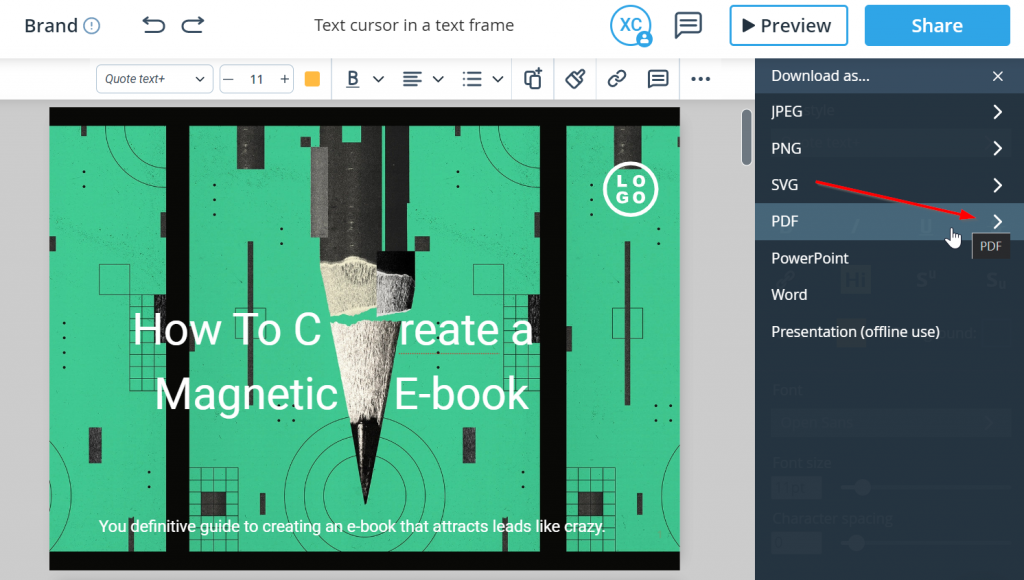 Alternatively, you can share it as a read-only link with others. This way, you can also track the performance of the ebook — all within the Xara Cloud platform.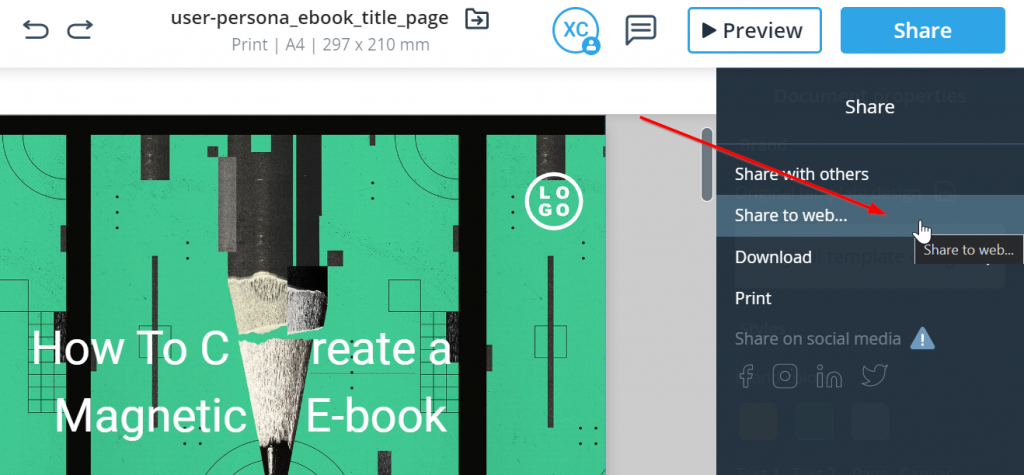 Now that you're all caught up with how to make an ebook that will dazzle your audience — it's time to spread the word. There are endless ebook marketing opportunities out there — it all depends on your target audience and budget.
Post your ebook online, and think of the best marketing strategies to get it out there.
Ebook Topic Ideas
You might be scratching your head at the idea of ebook topic ideas. If you look closely enough, however, you'll find topics all around you. Here are some topic ideas bound to generate leads and traffic:
Write a how-to guide. How-to guides are always sought after, so you can't really miss with this one. Just choose a topic that will allow your expertise to shine through.
Repurpose blog posts. If you have a bunch of blog posts on a specific topic, you can bundle them up into a comprehensive ebook.
Repurpose Youtube videos.
Interviews. If you're looking to establish yourself as a thought leader in your industry – book and interview with experts and explore a topic from your niche in depth.
Ebook Marketing Tips
Marketing your ebook correctly is crucial if you are to reach your goals. But how do you do that?
Here are some marketing strategies to boost your ebook's visibility and attract leads like a magnet.
1. Choose Your Target Audience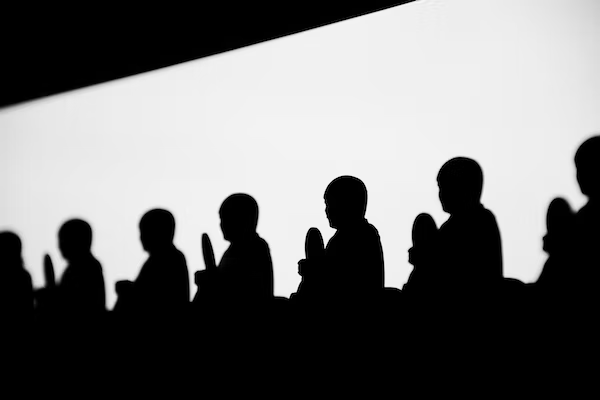 Source
Although it seems like marketing your ebook to everyone might be a good idea – hold your horses. It's hard to reach everyone AND meet their needs. It's too good to be true.
Therefore, marketing to a smaller audience is a better idea. To find your audience, create buyer personas. Find out what they like, what pain points they have, and what social media platforms they prefer.
This effort will ensure that you pick the right strategies to move forward.
2. Create a Landing Page for Your Ebook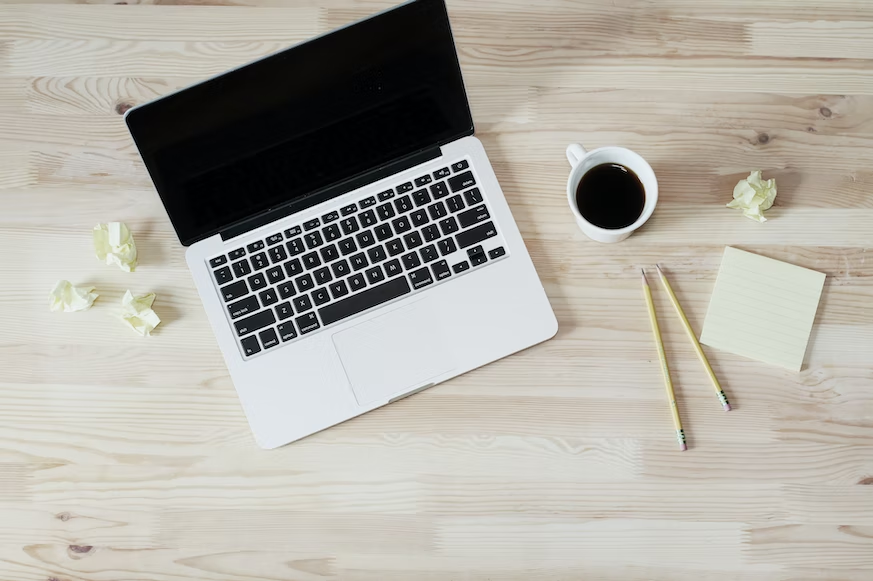 Source
If your marketing goal is to generate leads or revenue, creating a landing page is a must. Infuse the landing page with calls to action in the top fold to get people to opt-in to your mailing list or to buy the book.
Whatever your goal is, calls to action are easy to spot and easy to access.
More so, to entice the audience to take action – enlist the possible benefits of reading your ebook. For instance, if you wrote an ebook on how to generate leads, enlist the benefits of using your strategy.
Lastly, you can also include a table of contents to set expectations right.
3. Promote Your Ebook on Social Media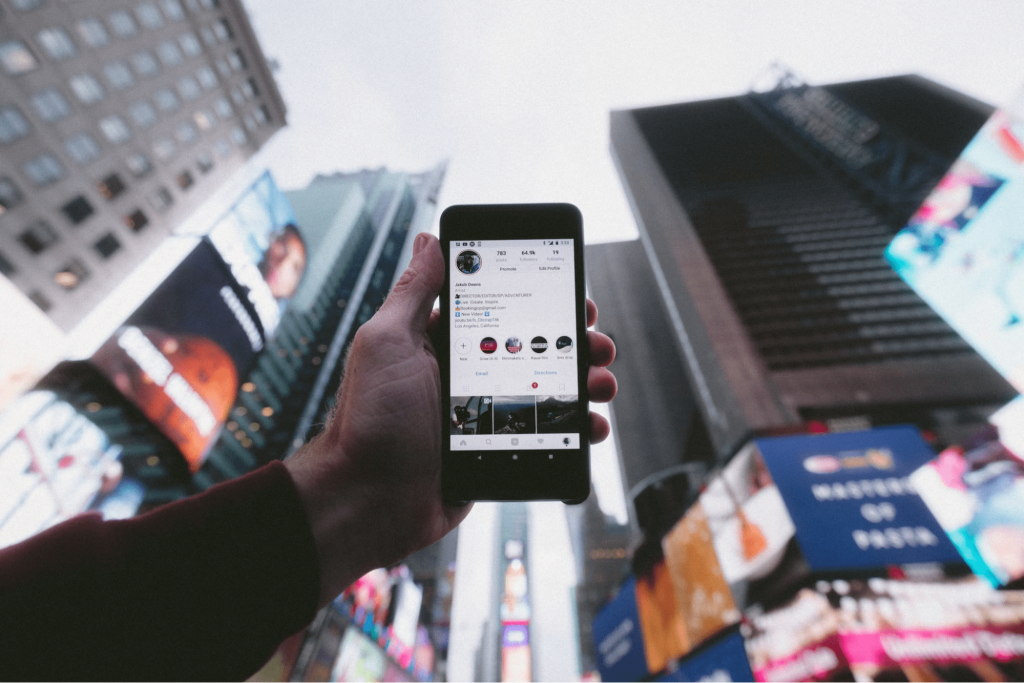 Source
Social media marketing is a must – whether you're promoting a new product, blog, or ebook. That being said, here is where the buyer persona comes in.
Knowing which social media platforms are preferred by the audience will determine which platforms to post on. In specific industries, LinkedIn might be the first option. In other businesses, Instagram might reach more people.
The trick is to go where your audience is.
Want to create catchy social media posts that lead people to your ebook? We've got the right tool for you. With Xara Cloud, you can add illustrations, photos, catchy text and brand elements in minutes. Automatically resize social media posts to suit any platform. Try our social media templates now!
4. Print Out The Ebook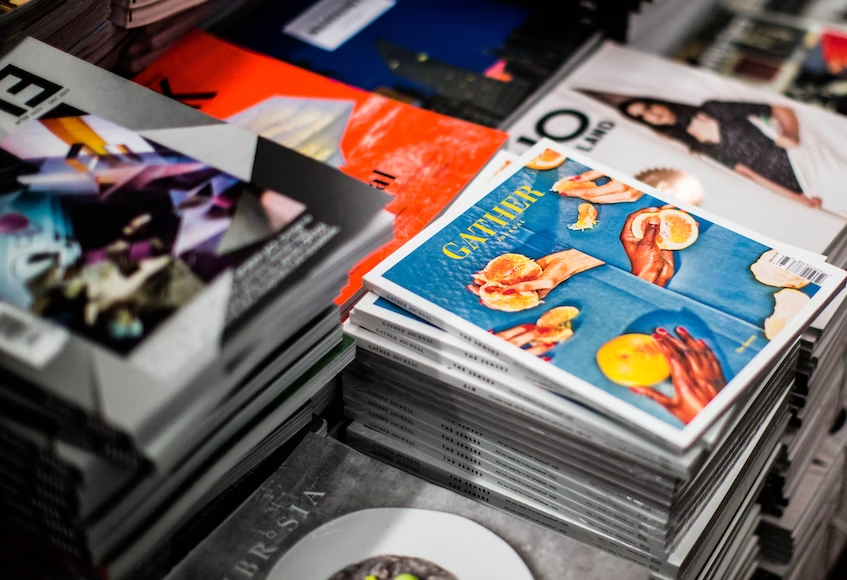 Source
If you want to get the word out about your business in your local community – you can also opt for printing out your ebook.
Depending on your business – this might help you reach a wider audience. Some folks might not spend their time on social media as much. However, you can find them at local events or coffee shops.
Handing out a physical copy of the ebook might lead them to your website and spark interest in your business offering.
5. Publish It On Amazon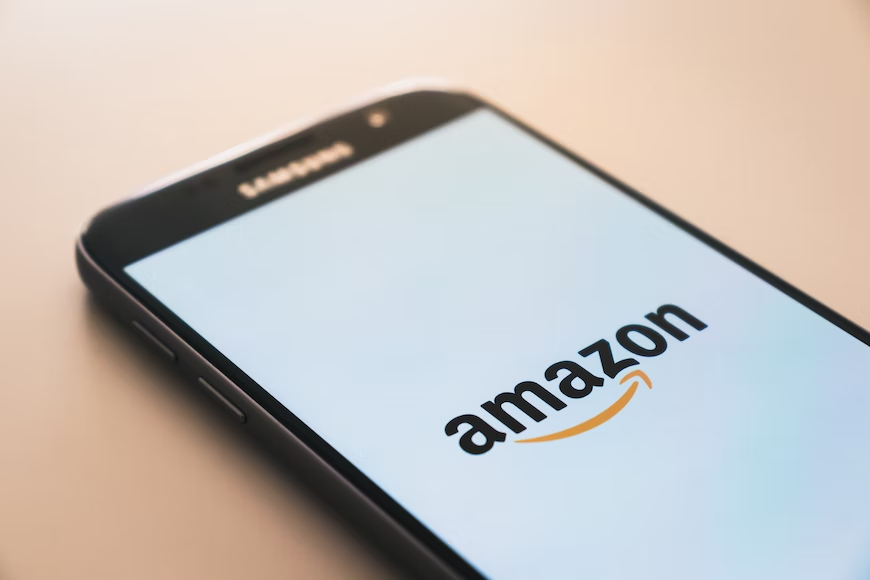 Source
Even if you don't want to price the ebook, it's still worth putting it on Amazon and giving it out for free.
Amazon offers great exposure and can help you gain brand awareness and increase your lead game.
6. Add Client Testimonials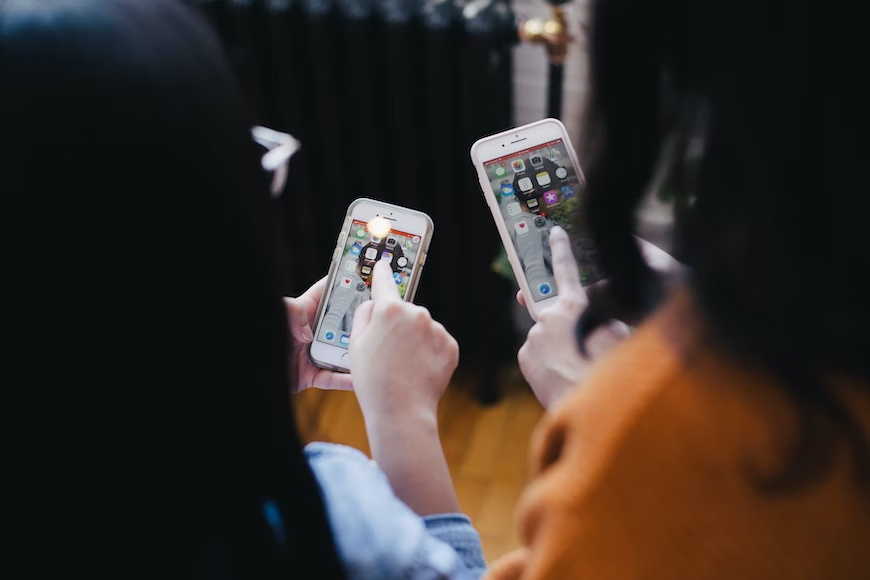 Source
Social proof will always work. Other people help us make decisions about which product to buy, which professional to reach out to, or what books to read. And client testimonials and reviews are a great way of showing the value of your content.
You can sprinkle it on the landing page, create social media posts with customer quotes, or add it to the ebook cover or back cover.
Frequently Asked Questions
Is Writing an Ebook Worth The Struggle?
As long as you choose a relevant topic, deliver on your promise, and market the ebook correctly – yes. An ebook can increase leads like crazy. And it can also bring some revenue your way – should you choose to price it.
What Is the Size of an Ebook Cover?
The size of an ebook cover is usually around 1,600 x 2,650 pixels. That's big enough to be crisp and clear on any screen but not so big that it wouldn't be easy to download.
How to Make an Ebook That Generates Leads?
If you want to make an ebook that brings leads your way, writing and designing with your target audience in mind is key. For a more step-by-step approach, check out our foolproof guide on the topic.
Can I Upload Brand Assets To My Xara Cloud Library?
Sure! You can upload logos, icons, fonts, vectors, images, and illustrations! This way, you can customize your ebook to suit your brand and goals!
How Can I Make My Ebook Look Good?
Even with the right tools, there's an art to creating materials that please the eyes. And to nail it, you have to stick to a few principles. First, use the right font size. You don't want readers to struggle reading the content, nor do you want the text to be unnecessarily big.
Secondly, make use of the color wheel and pick colors that go well with your brand's colors to invoke harmony. Stick to a certain vibe or theme. There is a time and place for kitsch, but this is not it.
Lastly, simplicity is key. Your ebook can stand out without containing an overwhelming amount of illustrations or photos. Stick to what's necessary and consult with team members to choose a final version.
If you stick to these steps, you'll most likely create a winning ebook.
With Xara Cloud, ebook creation doesn't have to be a hassle.