Writing a book is an accomplishment. But that's not even the hardest part because even though you have an interesting story, you need to attract the readers. You have to stand out from millions of books that get published every year.
One thing that can help you make or break the deal is your book cover design.
Think about it – every time someone enters a bookstore, they scan the shelves, and often pick a book with the most intriguing graphics, colors, and design.
If you want that to be your book, you'll have to invest your time and resources to learn how to design a book cover or simply hire a book designer.
In this article, we'll help you DIY your book cover design, but if at any point you feel like you need expert help then sign up for our unlimited graphic design services. Our professional designers will be happy to help you design your dream book cover.
How to Design a Book Cover
Browse for Inspiration
Pick the Right Dimensions
Choose Your Style
Pick Fonts & Colors
Design the Cover
Get Feedback
Let's discuss how to design a book cover in a little more detail…

1. Browse for Inspiration
Here's the thing – designs don't magically appear, they are created from inspiration. You need to find your inspiration from your story or try the internet.
Pinterest and Dribbble are two of our favorite design inspiration websites but you can also try looking on Amazon to find books from your niche.
While browsing, try to observe the various elements of a book cover design. What typeface is being used? What colors work in your niche? Do you want to use a stock image or an illustration on the cover?
You can save the book cover ideas you like or create a mood board.
2. Pick the Right Dimensions
You might have noticed that books often come in various sizes. There are some standard sizes you can follow but mostly the end results vary on various factors. For example, some publishers decide the size of the book depending on the word count. They feel that a thick book might not appeal to the audience, so they opt to publish a longer book to fit more words per page.
The best option to decide the right dimensions for your book is to talk to the people you are working with. If you're self-publishing you can talk to your printer and work with them to understand what dimensions will be ideal for your book.
To give you a general idea, below are some standard book sizes:
Fiction Books
Mass Market Paperbacks: 4.25″ by 6.87″
Trade Paperbacks: 5″ by 8″
Hardcover: 6″ by 9″
Non-Fiction Books
Paperbacks: 5.25″ by 8″ or 5.5″ x 8.5″
Hardcover: 6″ by 9″
3. Choose Your Style
The most crucial job of your book cover is to attract the attention of the readers. But it also needs to convey other important details like the genre of the book, the subject matter, and the general tone of the book.
To achieve all this, you need to start by choosing any one of the following styles for your book cover.
Stock Images-Based Cover
Using real-life images and stock photos is a cost-effective way to design your book cover. You can get a Shutterstock image license to download and use the images from their website.
Who Should Choose Stock Images-Based Cover?
Stock images are generally great options for people who are publishing non-fiction books like memoirs or biography. They aren't popular in the fiction world.
How to Use Stock Images-Based Cover?
Try to avoid cliché images and look for pictures that can help convey the message of your book. You can obviously tweak and customize these images using design tools. For example, you can add visual effects and compelling text around your images to make them stand out and look more professional.
Example of Stock Images-Based Cover from Our Portfolio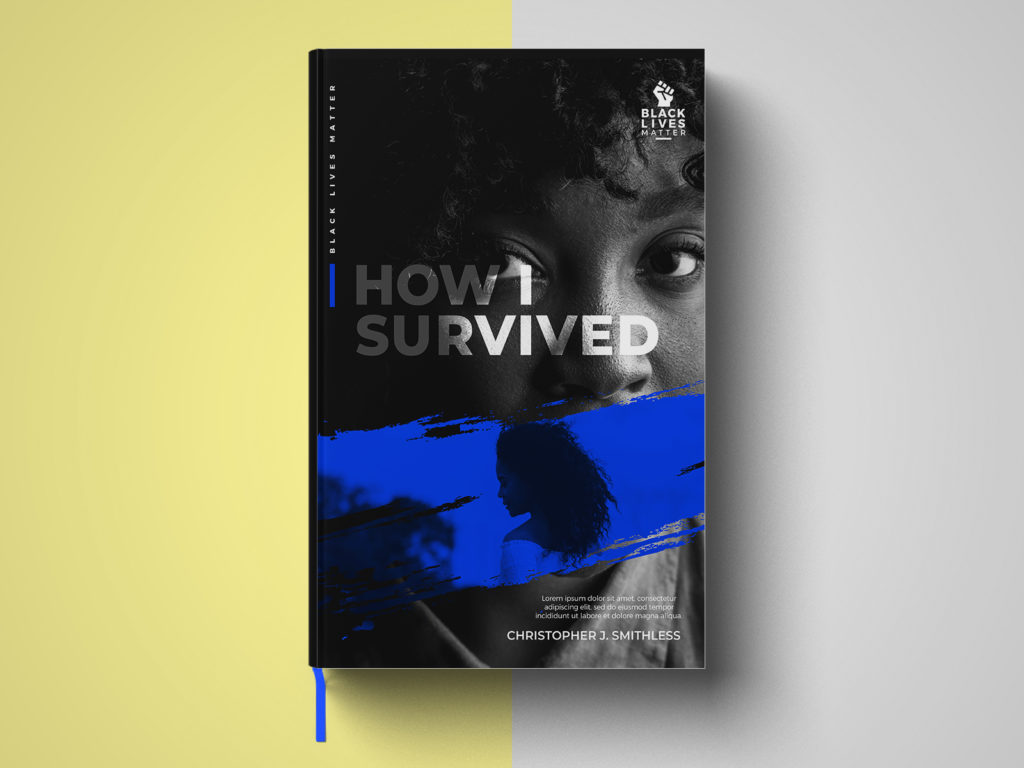 Illustrations-Based Cover
Illustrations give you more creative freedom as you can design exactly what you want for your story. You can get dragons, flowers, flying objects, haunted houses, and basically anything that suits your story and genre.
There are many websites that sell illustrations like Freepik and Blush. But make sure you read the copyright policy of every website before using their images.
Who Should Choose an Illustrations-Based Cover?
Illustration images are great for the fiction genre. You can visually describe your story, its plot, or your main character on the book cover using illustrations.
How to Use Illustrations-Based Cover?
A perfectly designed illustration has the potential to go viral on the internet. But while you try to paint a picture of your story, you can easily go overboard. And cluttered designs are the biggest turn-offs for most readers.
Try to choose a focal point for your cover and incorporate white space into the design. You can use an illustration to describe the plot of your story like Killers of a Certain Age or play with words like a downward spiral illustration on the cover of Turtles All the Way Down.
Example of Illustrations-Based Cover from Our Portfolio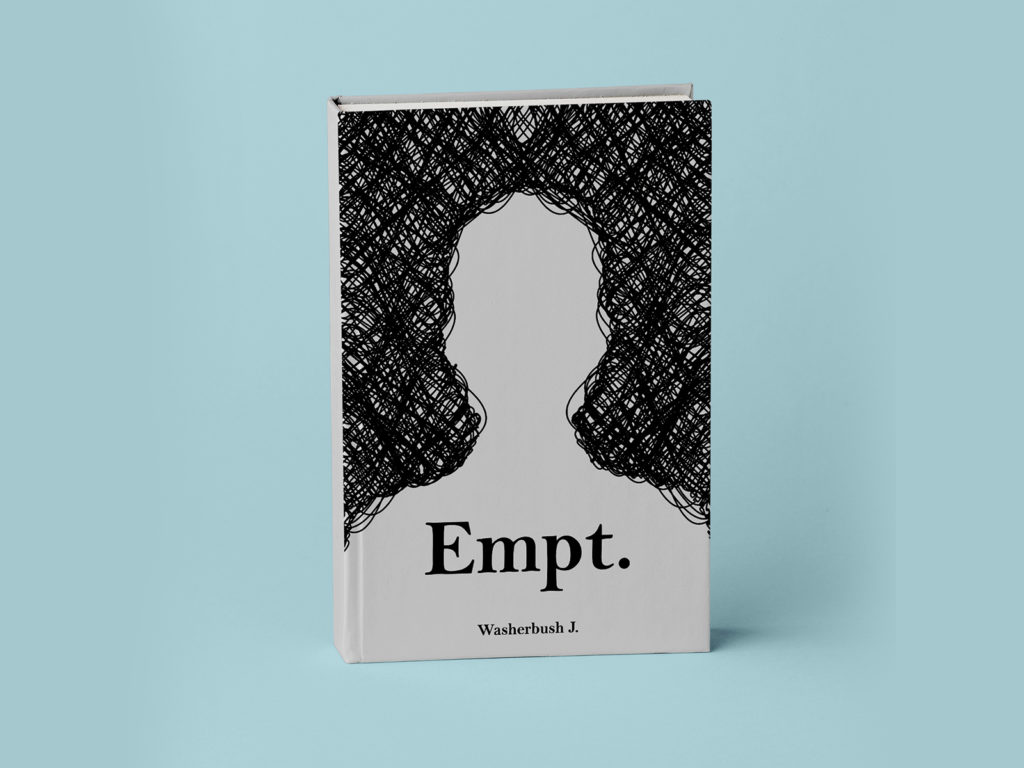 Typography-Based Cover
Many modern book cover designs focus on big bold typography only. For example, book covers of Atomic Habits and The Subtle Art of Not Giving a F*ck are popular and rememberable even though they don't have any images or illustrations. They focus on the book title written in a specific way that grabs the attention and stands out from the rest.
Similarly, you can customize and play with different typefaces to create a unique cover for your book.
Who Should Choose Typography-Based Covers?
Typography-based covers can work for almost every kind of book genre including thriller, historical, sci-fi, comic, romance, and even self-help.
How to Use Typography-Based Cover?
This style of book covers requires skill and knowledge of design and typefaces. If you want your book cover to focus solely on the typography you'll have to get help from a designer who knows how to thoughtfully customize typefaces.
Example of Typography-Based Cover from Our Portfolio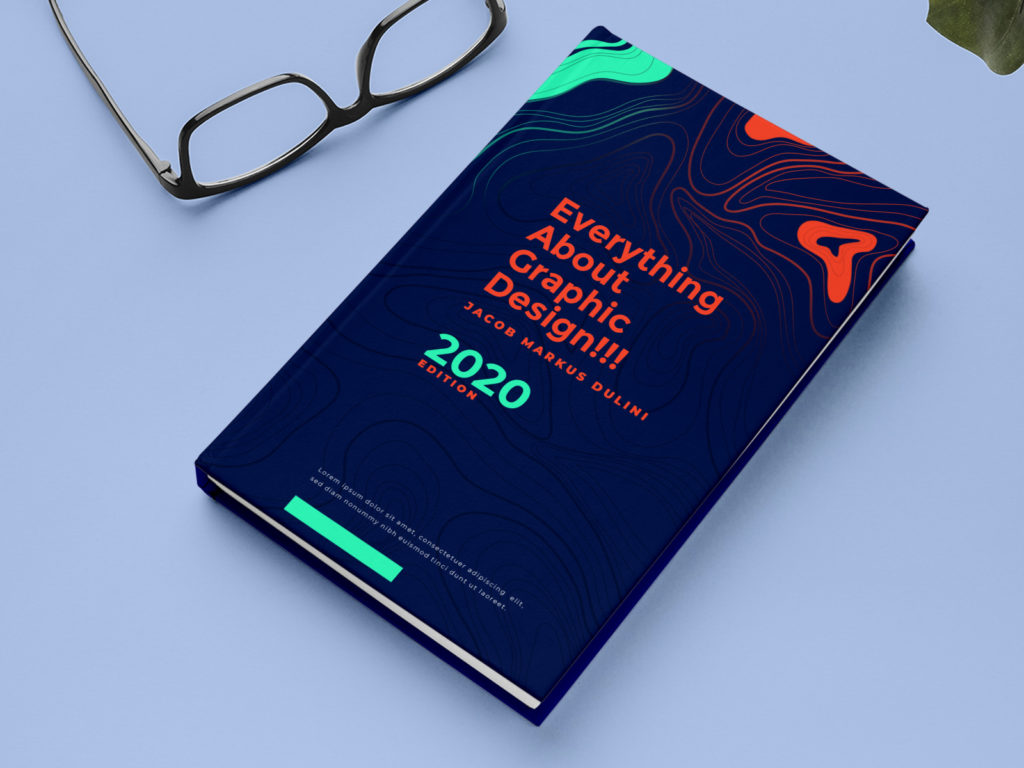 4. Pick Fonts & Colors
As a non-designer fonts and colors might be the last thing you think about when it comes to book cover design. But these are two very important elements that will help you engage with your audience.
First, let's talk about the colors. There is an entire color psychology theory that you can read about in this article. But in short, it states that different colors have different effects on human behavior.
For example, the color red is associated with power, excitement, and danger. That's why it's often used to design the covers of thriller and horror books. Yellow, on the other hand, symbolizes happiness and positivity and is often seen on the cover of self-help books.
You can leverage color psychology to design a book cover that evokes the right emotional responses from your readers.
Now about the fonts! Ideally, you'll need at least two typefaces, one for the main title and one for other information like your name and book summary at the back.
A few things you need to know while choosing a typeface for your book cover are:
Fonts also need "commercial use rights" just like images. Make sure what you're using has an "open-source license" or is "free for commercial use".
Google Fonts & FontSquirrel are the best places to get free fonts.
It's not just about finding a "good font". You'll have to understand elements of typography like contrast, consistency, alignment, and various other aspects like line spacing and letter spacing.
The priority should be legibility as the reader shouldn't struggle to understand what's written on the cover.
Furthermore, you should learn about what fonts work in your genre and what are some of the most commonly used book cover fonts. While you want to stand out from the crowd, choosing a very unusual font like Comic Sans or Papyrus can hurt your book sales.
Try and stick to sans serif or serif typefaces. They have many options like Hoefler, Bodoni, Addington CF, and Gotham. You can use different font weights, effects, and shading to customize these fonts as per your requirements.

5. Design the Cover
A book cover consists of a front cover, a back cover, and a spine. Before designing these pages in a design tool, try to sketch them out with a pencil in a notebook.
The front cover will consist of the book title and the author's name. You can also add a compelling sentence or a tagline to attract and engage your audience.
The back cover, however, consists of a lot more information like a small summary, publisher's name, barcode with ISBN number, and the price. You can also add reviews and words of praise on the back cover.
Lastly, the spine of the book will consist of only the book title, the author's name, and the publisher's name.
Sketching these things out on paper will help you visualize the entire book cover. Then you can move on to designing the cover with a design tool.
Below are 3 of our favorite design tools to design a book cover:
Canva
If you're a complete beginner to designing then Canva will be one of the easiest-to-use design tools. It has a simple drag-and-drop interface with many basic design features that will allow you to edit images, typography, and other design elements.
They even offer a wide collection of book cover designs that you can browse and edit to get a good feel of how to design a book cover.
This is what the interface of Canva looks like: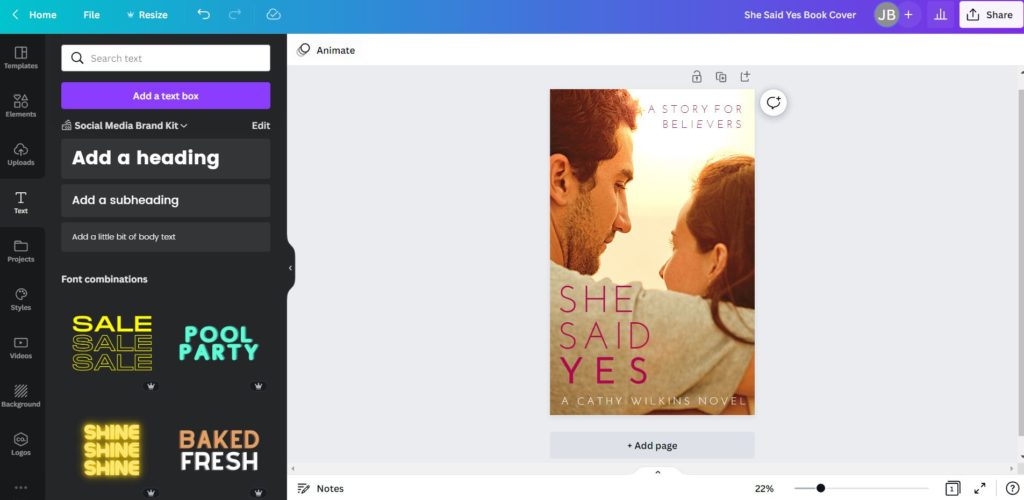 Adobe Photoshop
If you have experience with Photoshop, then you should definitely use this tool to design your book cover. You can also learn a few tricks from online tutorials and guides like this and this.
Adobe InDesign
Adobe InDesign is a popular design software that's also used by many professional book cover designers. It offers many advanced features and better control over image placements and layouts. You even get an in-built spell checker for the content.
6. Get Feedback
Once you get the hang of a design tool, try to design 2-3 versions of your book cover. Also, ensure that the cover looks good on small thumbnail sizes and various devices like mobile phones and tablets.
Then you can share these drafts with your friends and family to ask for their feedback. You can also share a copy with your printer to know if they want any changes that might affect the final print.
Take notes of what everyone says about the cover and adapt the design accordingly.
Summing Up: How to Design a Book Cover
You pour your heart and soul into writing a book. Make sure you don't compromise the quality of your cover design which ultimately affects the visibility of your book.
If the entire process seems overwhelming, then it's okay to ask for help from experts. Consider signing up for our unlimited graphic design services that'll enable you to collaborate with experienced designers. We'll help bring your dream book cover to life!

How to Design a Book Cover That'll 10x Your Sales first appeared on Digifloat