Everyone's publishing ebooks these days. How do they do it, though? How to create an ebook without having years and years of writing and design experience?
What if I told you that writing an ebook is a lot easier than you might think? We're here to give you the formula for writing an ebook that will attract leads like crazy.
We promise — you don't have to be the next Oscar Wilde to get it right. And by using ebook templates, you can cut your creation time in half.
Let's begin.
How To Create an Ebook That Leaves Your Leads Asking For More – 14 Steps
Step 1: Choose a Topic that's Actually Interesting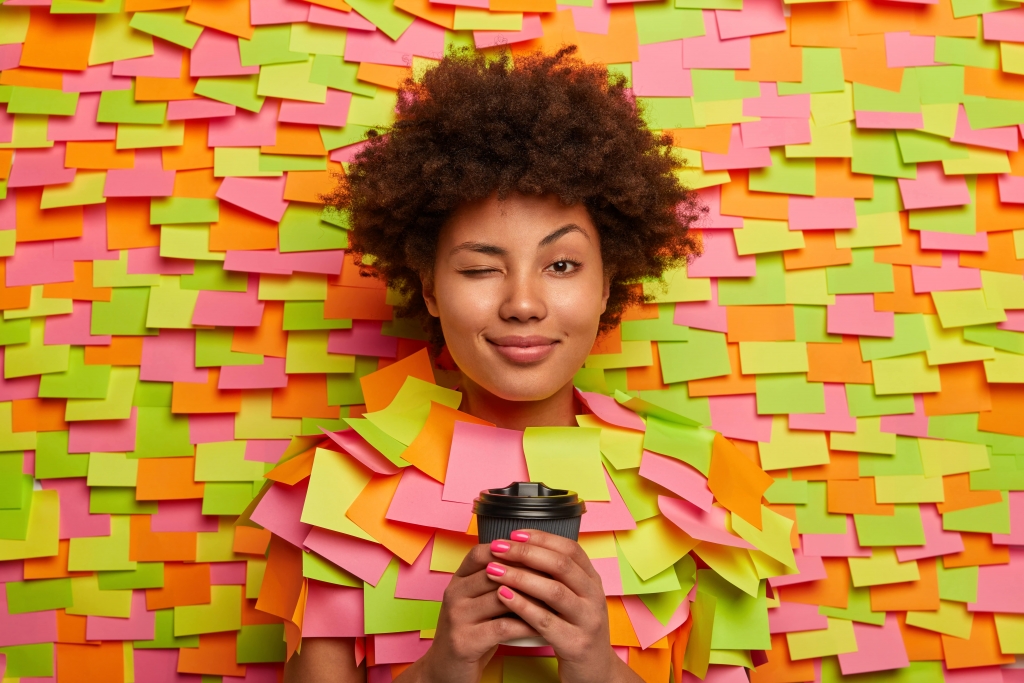 Source
When it comes to choosing a topic for your ebook, consider what you're passionate about, what the audience would be interested in, and where your expertise is. To help you narrow down your options, here are a few questions to ask yourself:
– What topics do you enjoy writing about?
– What topics do you have a lot of knowledge about?
– What topics do you think people would be interested in?
-What topics haven't been covered by thousands already?
Answering these questions should help you zero in on a topic for your ebook.
Step 2: Put Your Research Goggles On


Source
Before you start typing away, research the topic.
Having a handle on the latest research or updates on the topic will ensure that your ebook is worth reading. You wouldn't want to include outdated or disproved information – as it would misinform readers and blow a hit at the brand's reputation.
Further, conducting thorough research helps you come up with interesting stories and write your ebook faster.
Let's discuss how you conduct your research. Start by gathering relevant materials.
Depending on your niche, you can access several sources. Let's say I'm looking to make an ebook about the power of language in branding.
1. Google Scholar
Google Scholar is a great tool to use for finding out the latest news in the research world.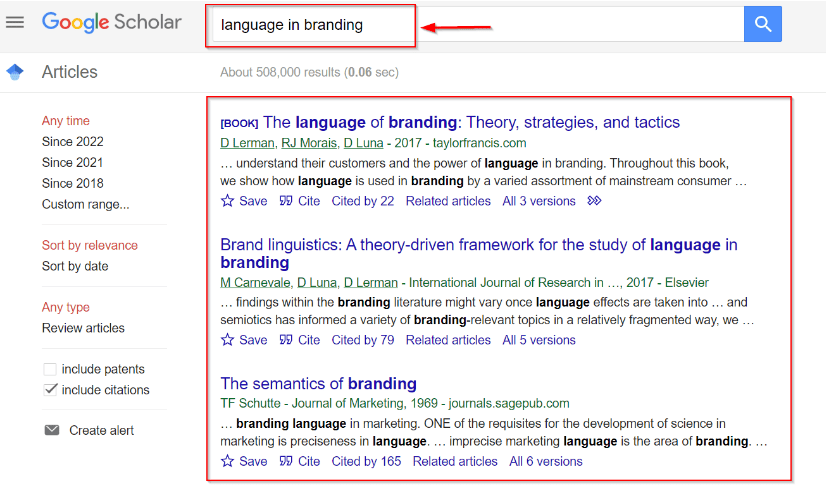 Source
The query "language in branding" returned a lot of results. As you can see, you can find the most reputable research books and articles on the topic. You can also set your time range. If you're looking for the latest research on the topic, you can look at sources since 2018, for example.
Google Scholar can also alert you if any new articles come up with this keyword. This is handy when you're writing on a topic such as psychology or health, where the latest research can dismantle previous theories and practices.
2. Books
Landmark books on the topic are a must. For one, they help you gather useful information that you can include. Plus, you can get an idea of your unique angle on the topic.
Amazon, Goodreads, Barns & Noble, and the always reliable Google are all viable options.
3. Journalistic articles
Want to include catchy stories in your ebook? Or are you just looking for different angles? Well, sources such as The New York Times or The Guardian are great for this. Plus, they also feature expert opinions and relevant statistics that might come in handy.
4. Your Own Notes
If you're embarking on this ebook writing journey, I bet you have a unique angle, solution, or strategy to talk about. Consult your physical (or mental notes) on the topic.
Next up, evaluate your sources. What should you read more in-depth, and what should be eliminated from the list? There's no point in analyzing each source in depth if it doesn't cover your specific topic of interest.
Make notes of your materials. Note-taking is crucial to critical analysis, memory, and overall structure. You can use the old-school way of taking notes or appeal to note-taking apps such as Notion or Milanote. Notion offers free and paid note-taking templates that you can use to smooth out the process.
Step 3: Lay Down The Foundation of Your Ebook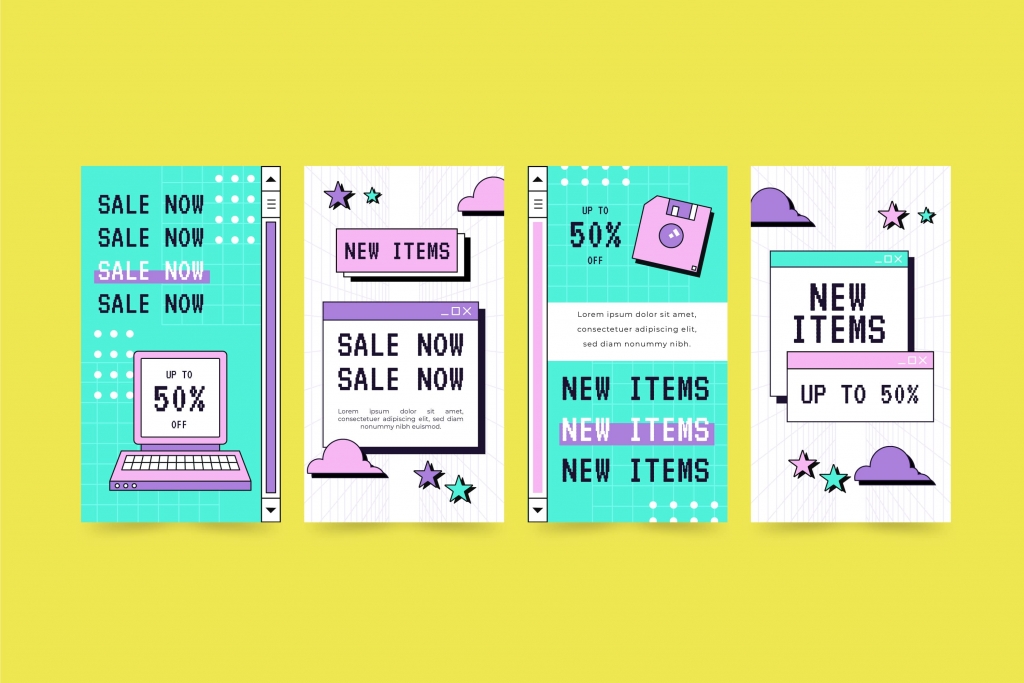 Source
The structure is critical whether you create an ebook or a blog post. A well-thought-out outline will shorten your writing process, eliminate confusion and overwhelm, and help you make an ebook worth reading.
The key to creating an ebook outline is taking it one by one. Here's what you could do:
Set up the main goal – what do you want readers to take away from your ebook? Write on a post-it note or at the top of your document.
Plan your introduction – what would you like to start with? A punchy, interesting introduction will keep readers engaged and eager to find out more. We'll discuss this in depth below.
Jot down every question that you plan on answering in your ebook
Arrange the chapters, and create headers, sub-headers, and bullet points to help structure your thoughts when writing.
Insert stories, statistics, quotes, and sources in each section.
Write a sentence about each section – to help guide your writing process.
Write the ebook title.
Creating an outline should guide you through writing the ebook content – that means less frustration and more creative juice!
Step 4: Write That First Ugly Draft
Source
Ah, the dreaded first ugly draft. Sometimes, writers avoid it like the plague. However, if you stop every time you notice that your writing doesn't sound good, you'll end up with writer's block.
And that's not a fun place to land on.
If you want to create an ebook in a reasonable time frame, write that ugly first draft. Otherwise, it may take you an eternity to finish your ebook.
Here are some ebook writing tips that might come in handy during the process:
You probably run a business or have a job on the side. To actually finish creating an ebook, blocking out time in your calendar for this specific activity is a must.
Blocking out distractions is also necessary. Some writers prefer to work in the early morning for a quiet and distraction-less experience. Others use apps that block out websites and apps – the world wide web is often the biggest distraction.
Set deadlines. This will keep you disciplined and focused on your project. If that's hard to follow through, think of all the benefits your business will reap from this ebook.
Does pressure boost productivity for you? Well, there's a special app for you out there: The Most Dangerous Writing App. The gist is simple: stop typing, and you lose all progress.
Use split-screen to have access to your writing document and other windows. Whether it's your research document, a dictionary, or a Google search, this step smooths out the workflow.
Ready-set-go. Start writing as if your life depends on it.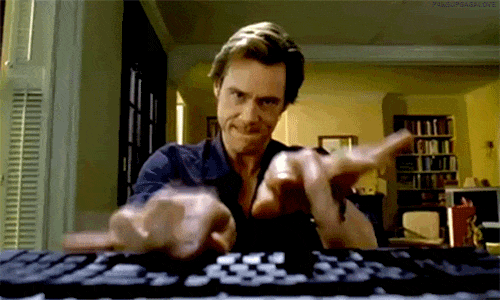 Source
Step 5: Write an Enticing Ebook Intro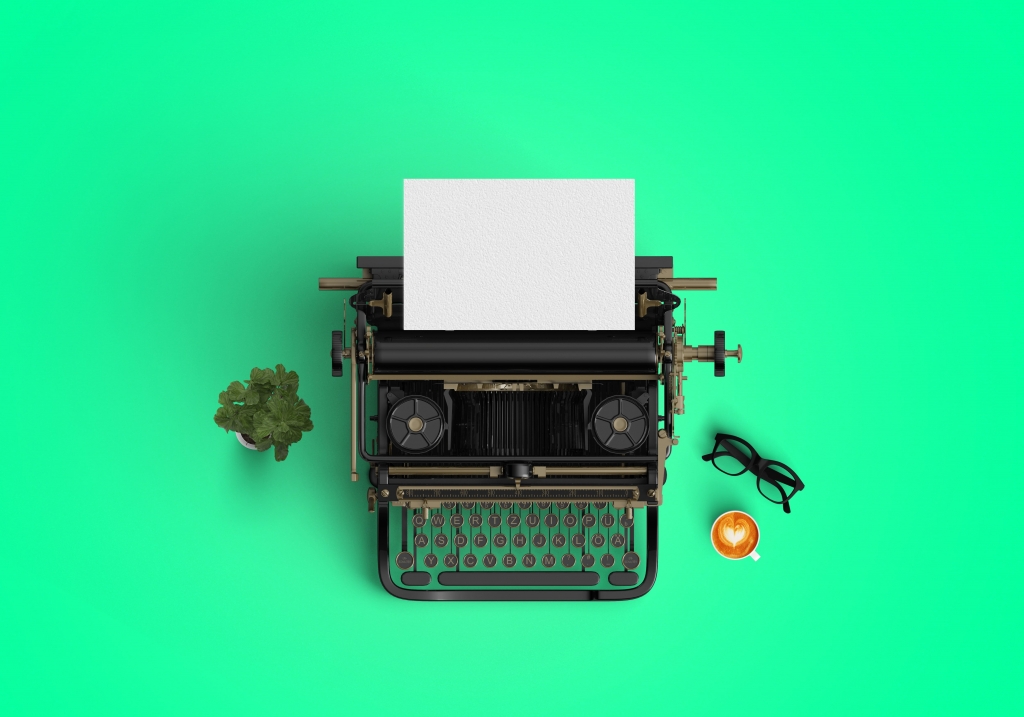 Source
Have you ever given up on an article or book because the title or introduction was dull?
Well, you're not alone. We all do it.
That's why the ebook intro has to captivate, to make readers crave for more. How do you succeed in doing that, you ask?
There are a few formulas to get it right:
Address your audience from the get-go. Remember, this is about them, not about you.
Start with an interesting story.
Describe an emotion or pain point they are dealing with. What made them open your ebook? What pain point are they facing? Describe it. Make them feel understood.
Start with a statistic.
Step 6: Come Up With a Sticky Headline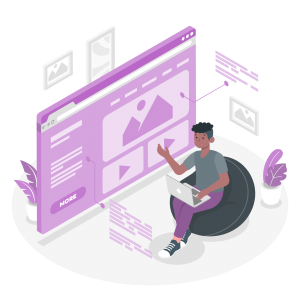 Source
As much as we'd like not to judge books by their covers ( or headlines), we do. So much so that a boring ebook title will disengage readers in a second.
If you want your ebook to attract leads, creating an attention-grabbing headline is a must.
Keyword Research
First up, the ebook headline has to be keyword optimized.
Not only will this help Google rank it, but it will also help your readers find what they are looking for. For keyword research, you can use the Ahrefs Keyword Explorer tool. Aim for keywords with a lower KD (keyword difficulty). Especially if your domain authority is low and you don't have that many backlinks.
Here's an example. The query "ebook marketing" returned these results. It looks like ebook marketing might be a good candidate for my headline.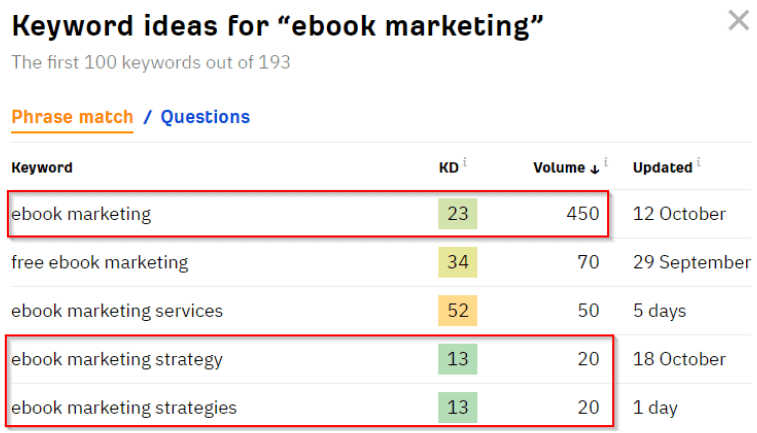 Source
Taking it further, I checked the keyword's difficulty with the Ahrefs Keyword Difficulty tool. This tool shows you how many backlinks you need to rank in the top 10 for a keyword. More so, it shows the SERP results for said keyword.
The DR stands for Domain Rating. It's a super important metric, as it shows the domain authority of websites leading the ranks in SERP. If your website has a domain authority of 10, competing with leaders in an industry with an authority of over 70 might be very hard without a long-term SEO strategy.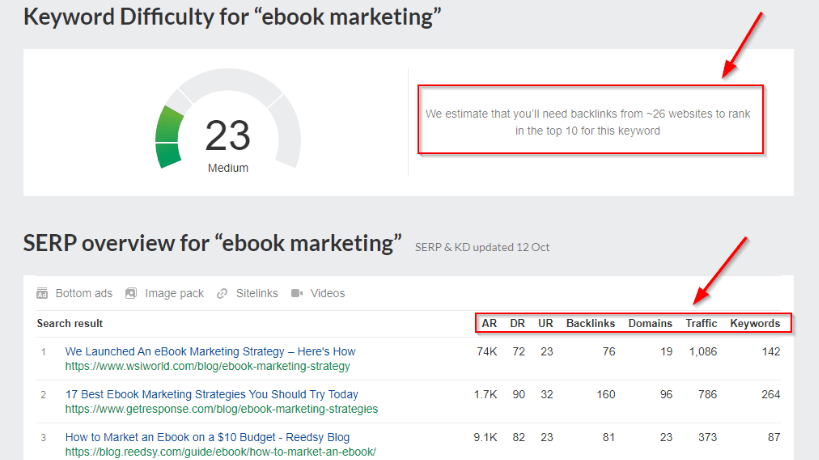 Source
Tone and Voice
Once you choose your keyword, you can start crafting the headline.
Think of your brand's identity. Are you daring and casual? Professional and calculate? The brand's tone of voice and personality should be reflected in the title.
Unique Selling Proposition
The headline should also point at what readers will get out of this.
Let's say you want to make an ebook about email marketing strategies.
So what?
Why should anyone choose your book over some other guide, blog, or book on the internet?
Did this ebook marketing strategy increase your leads by 40%? Mention it. Is it an easy-to-implement strategy for non-marketers? Include that in the title. My point is – don't use a generic title. Make it original, specific, and clear.
Write and Evaluate
Next, write as many headlines as you can.
This will heat up your creativity muscle. After you are done brainstorming headline ideas, make a list of the top 5 headlines and evaluate them with a tool like Coschedule Headline Analyzer. Then, choose the catchiest headline out of the bunch.
Step 7: Add Calls to Action
Source
If your goal with this ebook is to generate leads, then adding an opt-in is essential. This opens the door for email marketing.
But besides the quintessential opt-in, you also want to prompt readers to take action. That is if the goal of this ebook is to also promote your business and products.
You could add a final CTA or sprinkle these calls to action contextually. To craft CTAs that hook your readers, there are a few ground rules to follow:
Start with a strong, clear verb that guides the readers to take the action you intend them to. If you want them to contact you for your services, simply say "Contact me" and add a hyperlink to your email. If your goal is to get more organic traffic, you could say something like, "Check out our blog for more tips on [insert topic]."
Using FOMO marketing can also prompt readers to take action.
Tell them why they should take that action. Why should anyone contact your company? Why would they give the trial a go? This is where your unique value proposition gets sprinkled in.
Step 8: Proofread and Edit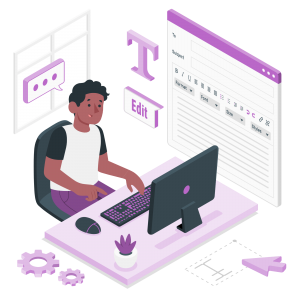 Source
Most writers know that writing and editing are two separate tasks. Ideally, you'll let your ebook sit for a couple of days before proofreading it.
This will give your brain time to reset. It will be way easier to come up with fresh ideas, put yourself in your reader's shoes, and spot mistakes. Use Grammarly for a quick grammar and spell check. And Wordtune to tweak your articles.
Alternatively, you can hire an editor to get the job done for you. Two sets of eyes might bring something fresh to the table.
Step 9: Colors, fonts, and shapes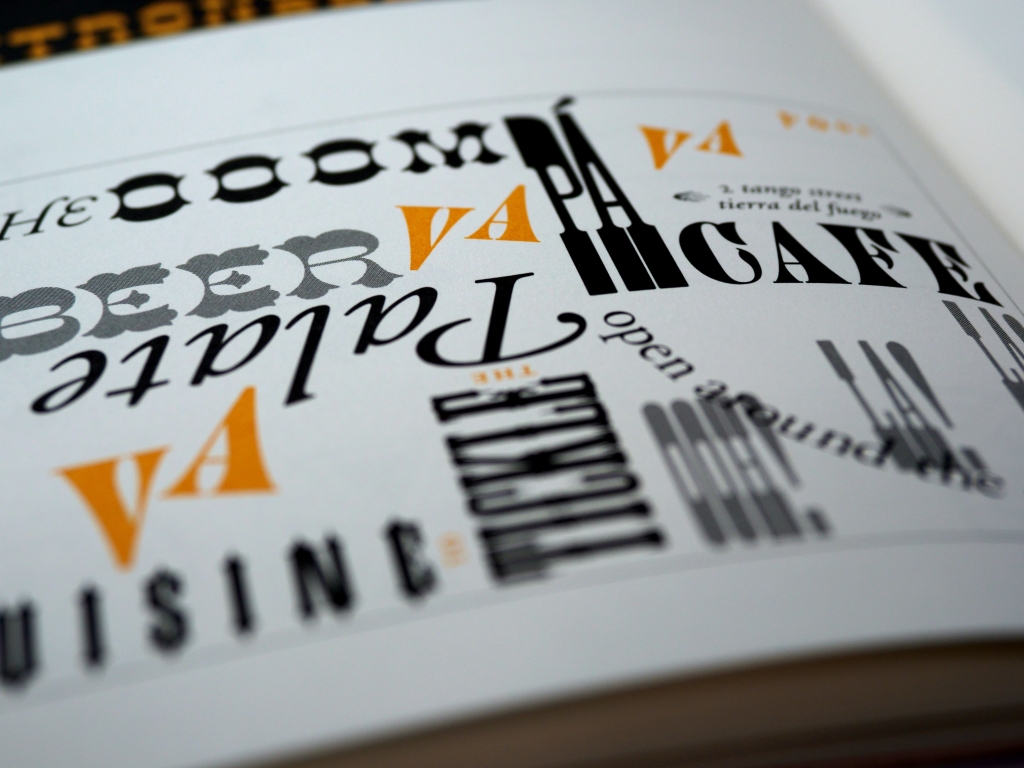 Source
If you want to create an ebook, especially a marketing ebook, you need to carefully choose your colors, fonts, and shapes. All these design elements can make or break the reading experience.
First, think about what kind of mood you want to set with your design. Do you want something playful and fun? Or more serious and professional? Once you have a general idea, you can start picking out specific colors, fonts, and shapes that will help you achieve that goal. However, your brand elements have to be top of mind when choosing colors, fonts, and shapes. These must align with your brand if you want people to remember it.
For colors, try to stick to a limited palette so that your ebook doesn't look too busy or chaotic. Two or three colors should be plenty. As for fonts, again, less is more. Choose one or two fonts that complement each other and are easy to read. And finally, when it comes to shapes, use them sparingly and only when they add something to your design. Too many shapes can make your ebook look cluttered and confusing.
Not a design wizard? Don't worry. Use Xara's free ebook templates to get started on your ebook design. Customize everything – colors, fonts, or shapes. Add logos, graphs, and images. Design an awesome ebook in minutes.
Step 10: Add Visuals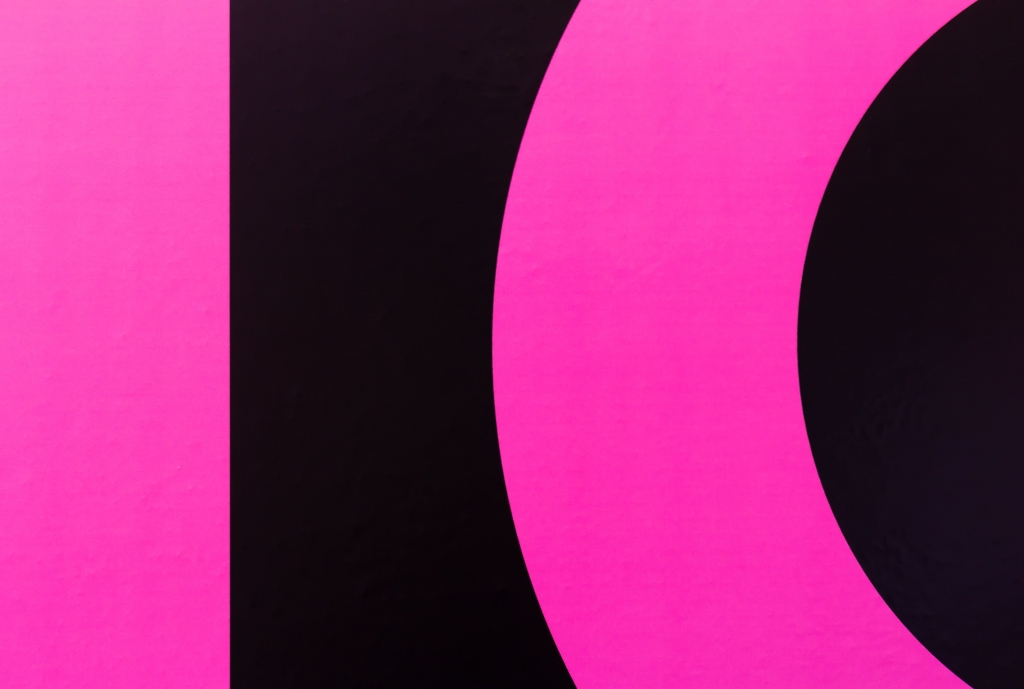 Source
Adding visuals to your ebook is an important step in the creation process. Not only do they make your book more visually appealing, but they can also help to break up the text and add interest.
If you are writing a data-heavy piece, data visualization tools such as tables, diagrams, or plots can come in handy.
If you want to add interest to blocks of text, choose a relevant image or illustration. Unsplash, Pexels, and Freepik are great options for finding images and vectors to add to your ebook.
Choose images that complement your book's theme and content, and be sure to add alt text so that readers who are using screen readers can still enjoy your ebook. Pro tip: always match your visuals to your audience.
Here's a list of free graphic design resources that help you create powerful and stunning designs, curated by Xara's design team, and fully compatible with Xara.
Step 11: Design The Ebook Cover
A book cover is like a bridge that allows the reader and the book to connect. It's the first impression one gets regarding the book's quality and what it's about.
So you better nail this. For best results, aim for simplicity.
Look at ebook cover examples for your niche. Use Google to find them and ask yourself – What do these have in common? How can I do better? What would be suitable for my audience?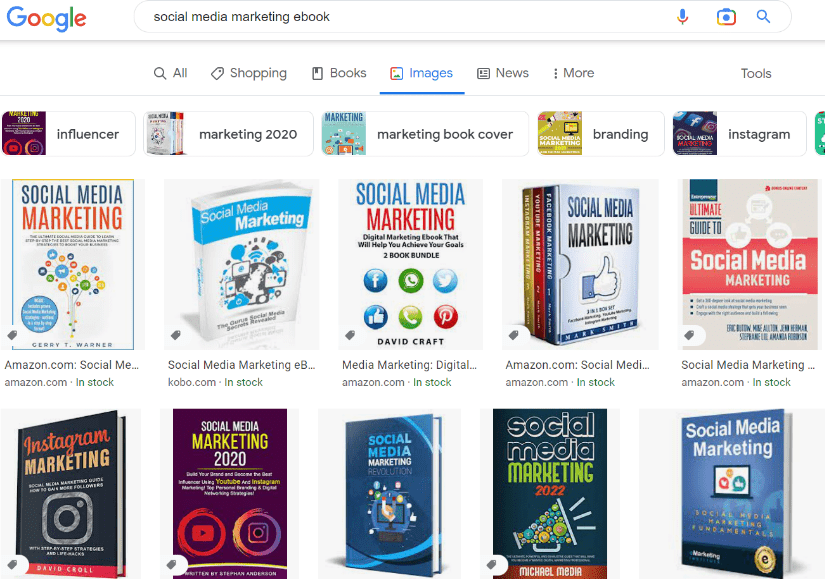 Another source of inspiration is Amazon. This is especially important if you'll be selling ebooks on their platform.
Find the right image, illustration, or elements – but never forget about brand consistency. Don't overcrowd the ebook cover with elements, colors, or shapes. Keep it simple and pleasurable to the eye.
Step 12: Settle On an Ebook File Format
Once you're done creating your ebook, it's time to choose the ebook format. PDF, or the portable document format, is the perfect format, as it can't be corrupted and doesn't modify its format depending on which software version someone uses.
More so, you can add a watermark to protect your ebook from being copied.
Did you know that with Xara, you can convert your ebook into a PDF in seconds? Convert, publish, and track your ebook's performance. Say goodbye to guessing work and see what actually works. Try Xara Cloud now!
Step 13: Promote Your Ebook
Source
Creating an ebook is one thing. After you are all done with the research, creation, and design process – there's one last step you need to take.
Marketing your ebook.
With all of the different ways to promote an ebook these days, it can be tough to know where to start.
But never fear – we're here to help! Here are some of the best ways to get the word out about your ebook:
Paid ads – a great option if you want to reach a wide audience and you have the wallet for it.
Dedicated landing page – quick, cheap, and effective way of promoting an ebook.
Reddit, Quora, and online forums – a super easy way of getting the word out there about your ebooks.
Website pop-up – free and effective way of getting clients and readers.
Social media marketing – a must if you want to generate as many leads as possible.
Step 14: Create a Dedicated Landing Page For Your Marketing Ebook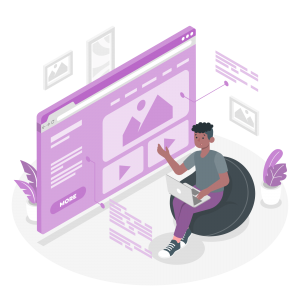 Source
Now that you have your ebook, you need to make it easy for people to find. Before you launch your book, you should create a dedicated landing page for it. This will help you to get more traffic and convert those visitors into leads.
Landing pages are designed specifically for one goal – getting people who visit the page to take action. In this case, it's opting in for your ebook.
When creating a landing page for your marketing ebook, there are two things that are important: the copy, keyword optimization, and the design of the page.
Landing Page Copy Tips
Lay down your unique selling proposition. Here's a simple formula to help you figure out your USP: "We help [target audience] achieve [goal] by/without/with [method/action].
Craft a compelling headline.
Keep it short and simple.
Highlight benefits.
Include customer reviews and testimonials.
Landing Page Keyword Research Tips
Make a list of keywords.
Check the keyword difficulty and choose accordingly.
Keep search intent in mind when choosing keywords. For instance, people looking for a real estate brokerage will be searching for things such as "real estate brokerage near me" or "best real estate brokerage in [insert location]". However, brokers looking to market their business will be looking for something like "real estate brokerage marketing tips".
Don't forget to add the main keyword to your URL slug, title tag, and meta description.
Landing Page Design Tips
Keep the important things above the fold.
Choose font combinations that please the eyes and improve readability.
Use the brand style guide to choose colors, shapes, illustrations, and imagery for your landing page.
Don't overcrowd it.
Use contrasty colors for CTA buttons and benefits to make them pop.
Create a laser-focused CTA that's accessible to click at all times.
A Selection Of Our Best Free Ebook Templates
Marketing ebooks need to stand out. The ebook design is about appealing to the target audience and attracting attention.
That's why we created a selection of high-quality ebook templates that will help you get started.
Check them out below.
Source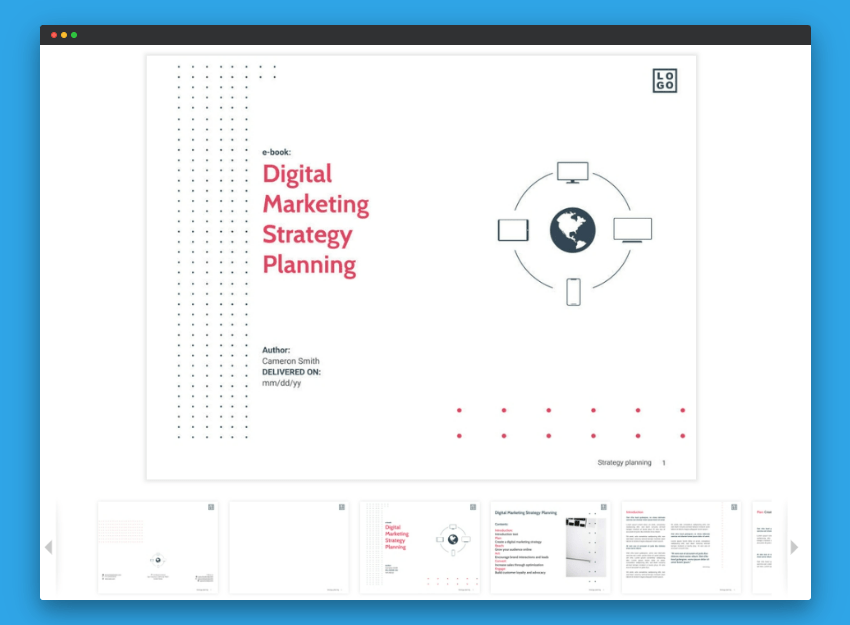 Source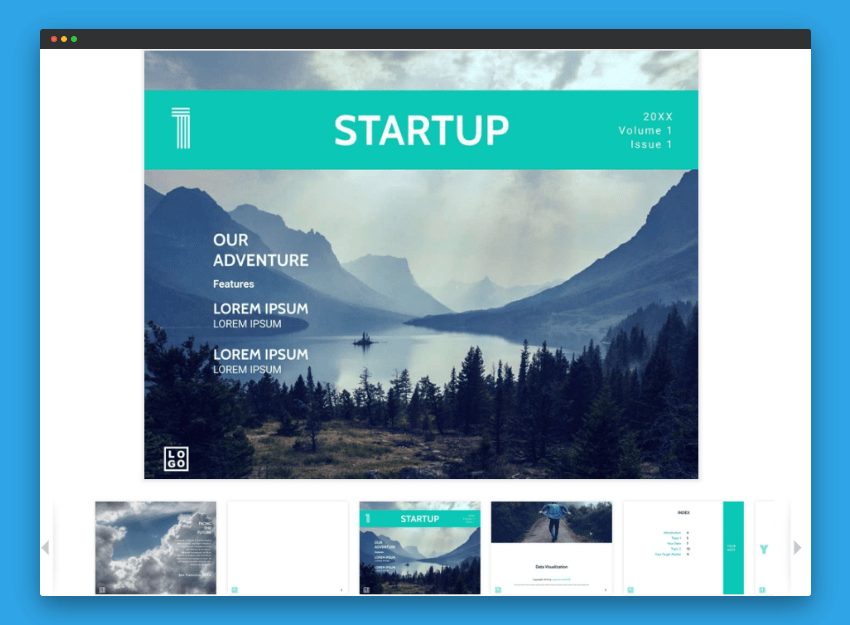 Source
Create an Ebook In Minutes with Xara Cloud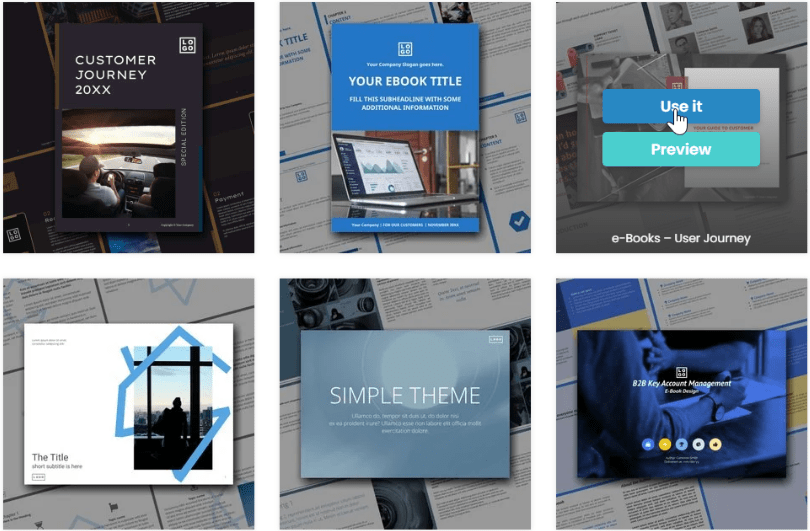 Source
If you want to create an ebook that attracts leads like a magnet, Xara Cloud's free ebook templates are a great place to start. With a little effort and creativity, you can create an ebook that is both informative and visually appealing.
Use strong headlines, clear call-to-actions, and high-quality images to make your ebook stand out. Most importantly, make sure your ebook provides value to your readers. If you do all of these things, you'll be well on your way to generating leads with your ebook.
Ready to create your own ebook?
How to Create an Ebook that Attracts Leads Like a Magnet [+Free Ebook Templates] appeared first on Xara Cloud.