The phrase "there's an app for everything" is not a hypothetical statement anymore. There is literally a mobile app for every utility, business, or activity. However, creating a mobile app and then getting more downloads for it seems like quite a daunting task for someone who has no prior knowledge of app development and marketing.
Well, through this post, I can solve this issue for all those who want to create and sell their mobile app without any knowledge in app development – that too, for free. Here are the eight best services to build and sell your mobile app. Let's check the list after the jump.
30 Books For Web Designers and Developers
Glide
Glide helps you in creating an app using your business data. Without prior knowledge in coding or programming, you can create powerful tools from data in any format.
The tool enables you to design your app through an intuitive editor. You can add different elements to your design like color and layout etc., create computed columns, and turn different actions into workflows.
Glide lets you publish your app privately that you can share with your team or publicly with anyone. Plus, your app and data can stay synced so anything you modify in your data reflects in your app.
Bubble.io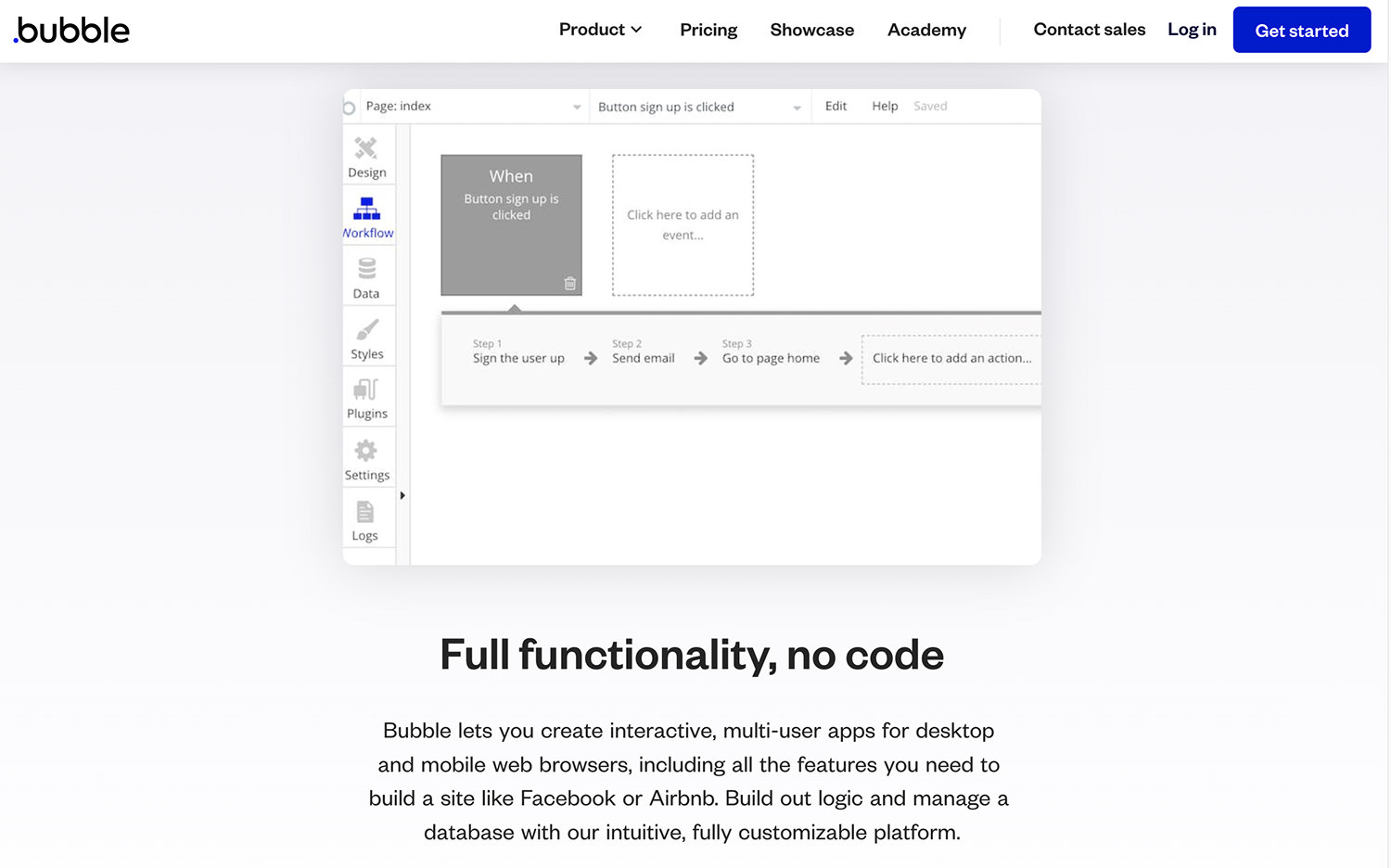 Bubble lets you create dashboards, apps, marketplaces, social media platforms, and CRMs quickly and easily. You can create efficient prototypes of your digital products without writing a single line of code.
It offers an intuitive editor that helps you design your digital product. You can add styles, workflow, plugins, and data, and customize styles as your requirements.
The apps created by Bubble are fully scalable without any limits. Plus, you can expand your app's functionalities with various integrations and API connections.
Adalo
Aldo is a versatile no-code app builder. Anyone can develop a professional and fully-functional web, desktop, or mobile app using this tool.
There are many customization options to add your branding details to the app. The tool also offers a built-in database to manage content. You can also get an analytics dashboard to measure and manage the growth of your digital products.
Mobincube
Mobincube is a great solution for creating native mobile apps for Android and iOS. It is built from the ground up to help you make money through your apps, and offers built-in monetization features , which can be easily activated. Mobincube also lets you build unlimited apps for free, but limits some functionalities.
What I like is it supports push notifications, Google Maps, and Google Analytics natively, allowing you to embed them in your app easily, but what I found odd is its interface that's not as catchy as that of Dropsource (discussed below).
Some of its additional features include support for a mobile store, audio/video streaming, web embeds, and databases. Also, it lets you code for adding custom functionalities.
Mobincube's single project works for all supported platforms. Also, you can test the app right in your browser but you need to publish it manually to the stores. Also, as I said before, it poses a few limits on the free plan such as a number of push notifications, the option to remove ads, and cloud, analytics, and optimization features.
Dropsource
Dropsource is an innovative solution for creating native mobile apps – right from your browser. This platform offers tools for the whole development process and support docs to help you get started with it. That said, if you have Dropsource, you do not require any other tool to design, review, develop, test, and publish your apps, unlike Mobincube.
Dropsource provides a robust drag-and-drop user interface editor which helps to prototype and build your apps with native elements and customized logic. You can integrate data in your app using REST APIs.
After you are done, you can build and test your app in its browser based emulator, and share it to get feedback from others. When the app is ready, you can download code or publish directly to the App Store or the Google Play Store.
However, I did not like that it creates an app for a single platform per project. That means you need to create two projects, i.e., two apps if you need both Android and iOS apps. Moreover, one cannot publish apps or download source code in its free plan. However, if you are fast enough to create an app during its one-month trial period, then you can download it.
Thunkable
Thunkable is yet another cloud solution to build native mobile apps for Android and iOS. It has a fantastic interface unlike Mobincube; however, it does not offers as many features as offered by the latter. Yet, it does not support creating apps for Windows Phone. However, I liked that Thunkable helps you create and monetize gorgeous-looking apps.
Though Thunkable is not as mature as Mobincube, yet it offers nice documentation, as well as video tutorials for getting started with its platform, which I found, is very helpful for beginners. Some of its features include modern interface elements, support for image and speech recognizers, various databases, Admob, Google Maps, and the IoT.
You can live test your apps on your mobile device or an emulator, and after you are done creating, you can download and publish your app manually. Also, like Dropsource, Thunkable projects are platform-dependent. That said, if you require apps for Android as well as iOS, then you need to create and work on two separate projects.
Andromo
Andromo is one of the known mobile app creators for building Android apps. What I found interesting is that its apps are multilingual by default with support for 20+ languages – a feature I find missing in all other solutions on this list.
It offers built-in features and templates, which are easy to add to your apps. Some of them include an audio player, support for integrating Facebook, Twitter, Flickr, and YouTube, support for adding content from a website, radio and podcast player, PDF and RSS support, etc. It also features adding the essentials like contact info, about page, and photo gallery.
However, Andromo allows creating just one app in its free plan (unlike Mobincube and Dropsource) and put limits as you can neither disable ads nor opt for its monetization feature. After you have created the app, you can publish it on the Google Play Store, the Amazon Store, and other app stores, and monetize it if you are on a premium plan.
10 Frameworks to Build Mobile Application with HTML, CSS & JavaScript
10 Frameworks to Build Mobile Application with HTML, CSS & JavaScript
For many web developers, which may only be familiar with HTML, CSS, and JavaScript, developing a native mobile… Read more
AppsGeyser
AppsGeyser is one of the oldest mobile app makers that does not require coding knowledge, but I find it is the not best-featured solution. What I find lacking in comparison to Dropsource and Thunkable is it is not as featureful and intuitive as the former ones. It does not support creating iOS apps and is best suited for assembling web content into apps.
That said, if you are looking to create beautiful apps, you may consider using any one of the above solutions. However, if you are looking to create a mobile app for your website as quickly as possible, then AppsGeyser can work for you. It offers 70+ app templates to start building your app smoothly and whole process is done right in the browser.
You can include web content in your apps, use HTML5 features, send pop-up notifications, add social sharing and analytics features as well as geolocation features. You can view or test your app in the browser itself and monetize it by showing ads or selling it.
After your app is ready to distribute, you can manually submit the app to the Google Play Store.
8 Best Tools to Build and Sell Mobile Apps