As we all know, the world can be a dangerous place today. There are numerous immeasurable possibilities that something life-threatening might happen anywhere at any time. So we must constantly live in fear that something might happen
To make those with constant paranoid thoughts feel at ease, numerous applications on the internet are available and offer critical life–saving services at the touch of your phone.
These applications offer services such as emergency ambulance services in case of an accident or emergency. In a way, you may find that one day you will look back and remember that a mobile application played a role in saving your life.
10 Mobile Apps to Keep Your Kids Safe
iCall
iCall allows you to record all outgoing or incoming calls. You can use the recorded calls to keep proof of your conversations and save yourself from conflicting situations or call scams.
The app is super easy to use, you just have to open the app and tap the record button. You can record an unlimited number of calls without any call duration limit. The recorded calls will be saved in your phone for access anytime.
Safe
Safe is an automated voice system that can automatically send your location information to selected contacts on your phone.
This app can also record and stream emergency video from your phone's camera. It comes with a built-in siren that activates at your command.
Cairn
The Cairn app is for hikers. It calculates the time you can take to go up or down trails while enjoying your hike. It also shares the route you plan to take with other devices of loved ones or your hiking troupe.
The application also allows you to download various maps and know regions in which cell service is not available so that you may establish the appropriate route that is the safest for you.
Medisafe Medication Reminder
Medisafe Medication Reminders gives you medical reminders; these reminders could include when you are supposed to be taking your medication when you are supposed to refill your subscription, and how long your dose is expected to last.
This app can come in pretty handy if you are on medication, it helps you avoid medication stockouts.
Ice Medical Standards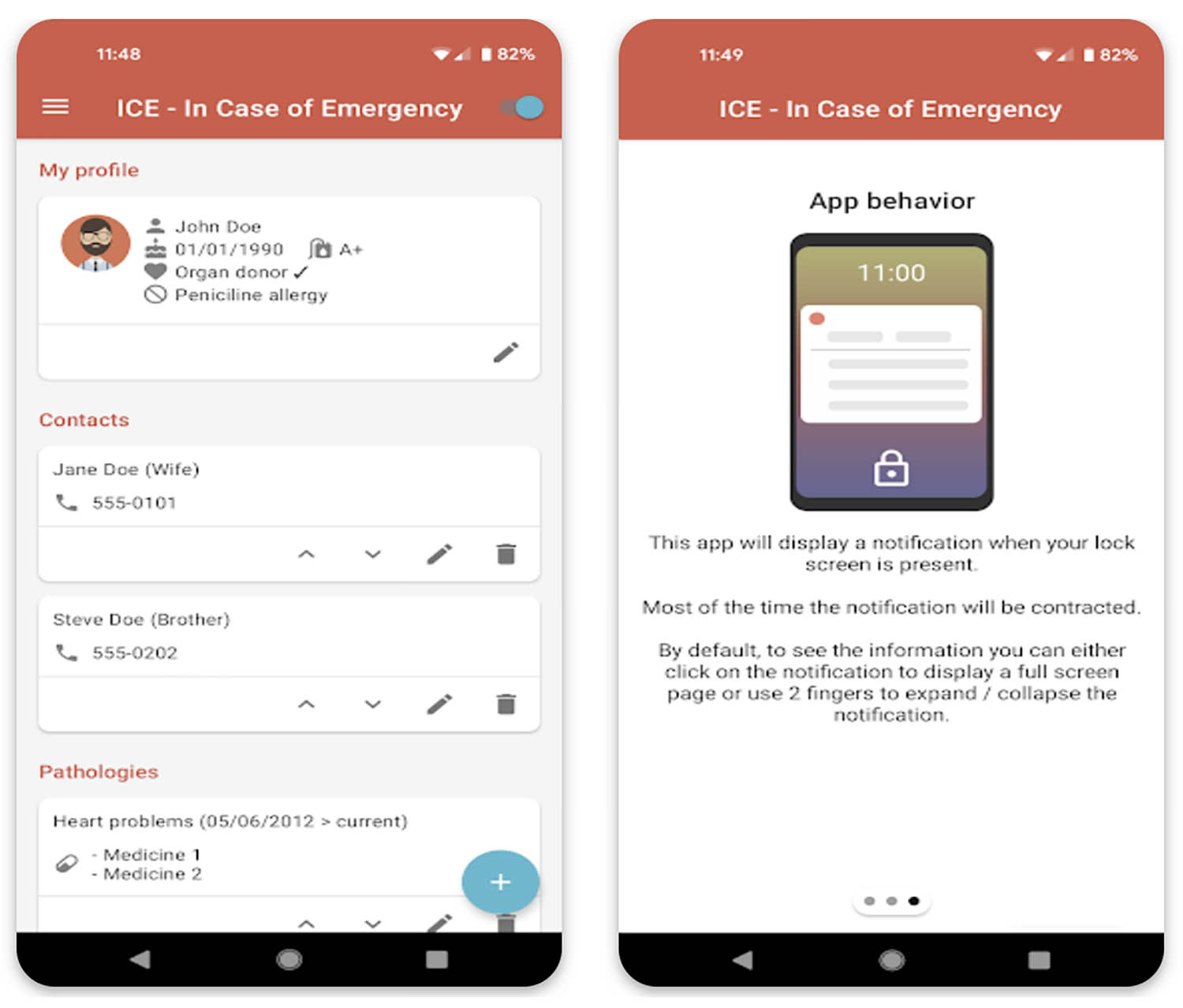 Ice Medical Standards is an emergency medical contact information app. it allows you to put your emergency contact's information right at your phone Lock Screen display so, in case of an accident or emergency, the first responder can easily access this info and contact the concerned person.
First responders or ER persons can also access your medical information through this app. The medical information is cooler coded as Red, Yellow, and Green to highlight your high, medium, or low-rise status.
First Aid By American Red Cross
An official American Red Cross First Aid app. It offers many features including instant access to safety information, safety tips, and a guide to go through first aid scenarios. There are also animated tutorials that make it easy to learn about first aid.
It gives different safety tips for weather scenarios, earthquakes, or attacks and is integrated with 911 to call for help at any time. Plus, the app is ad-free and sends no spam.
Noonlight
Noonlight helps you feel safe by giving you an option to notify authorities when you're in a dangerous situation right through your phone. It has a team of on-call dispatchers ready 24/7 to get your help.
It works in a way that whenever you think that you're in an uneasy situation, just press and hold the button in the app. If things turn out to be fine, release the button and enter your PIN code. If the danger persists, then release the button and don't enter PIN and a notification will be sent to the authorities.
7 Mobile Apps That Can Save Your Life