Grammarly has millions of daily active users. It is an indispensable tool for writers of all levels, ranging from students to professionals. However, since its inception, we have seen so many more writing tools that can help you broaden your writing toolkit and enhance your work.
In this article, we'll explore 7 such Grammarly alternatives that offer more personalized features and functionalities to budget-conscious beginners and professional writers.
7 Free Grammarly Alternatives
Writefull 
Reverso
Wordtune
Hemingway Editor
Language Tool
Linguix
ProWritingAid 
Let's explore the various features offered by these Grammarly alternatives in more detail…

1. Writefull
Writefull is a perfect Grammarly alternative for students that need help with academic writing. You can use this tool to get feedback in Word or on your LaTeX code in Overleaf. You can also upload your text on their dashboard to check for overall language quality, correct any errors, and paraphrase accordingly.
They also offer other features where you can:
enter your text and generate abstract
enter an informal sentence and get an academic rewrite
and check whether the text is generated using  GPT-3, GPT-4, or ChatGPT 
Here's how your free Writefull account UI will look like: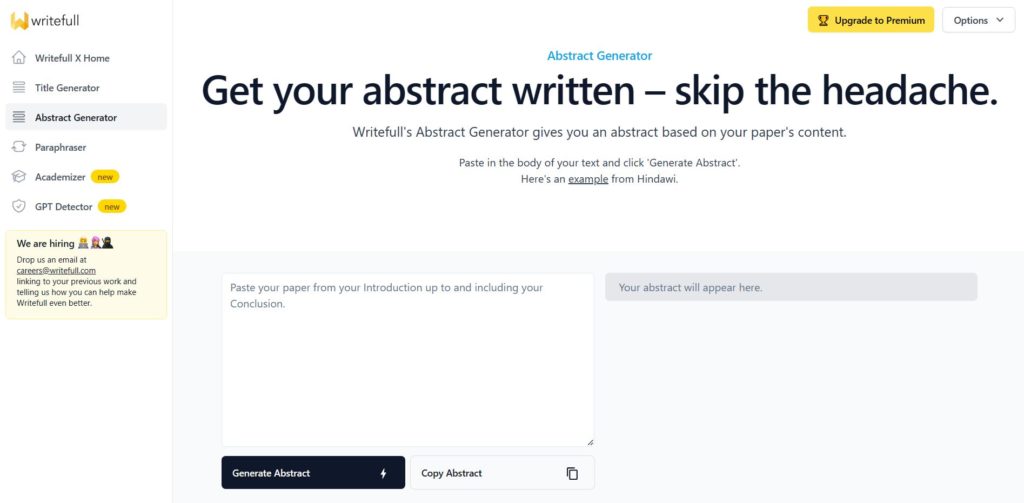 You can select the feature you require from the left sidebar and manage your account by clicking on the "Options" button at the top right corner.
Pricing:
The free subscription gets you all corrections and widget access for Word and Overleaf. The upgrades start from £5.34/month, and it gives you access to an unlimited number of language suggestions and unlimited use of language search.
2. Reverso
Reverso is a cheaper alternative to Grammarly that's known for its advanced translation feature that can translate your text into 25+ languages. But apart from that, it also offers other functionalities, including:
Grammar checking
Rephrasing assistance
Integrated dictionaries for finding synonyms
Spell checking
Pronunciation tool to listen to how the texts are being pronounced by native speakers
Verb conjugation support
This is what Reverso's UI looks like:

Price:
Free for 2,500 words; upgrades start from 6.49 EUR/month
3. Wordtune
Wordtune is another free alternative to Grammarly that offers real-time suggestions to refine your content, improve clarity, and enhance overall effectiveness.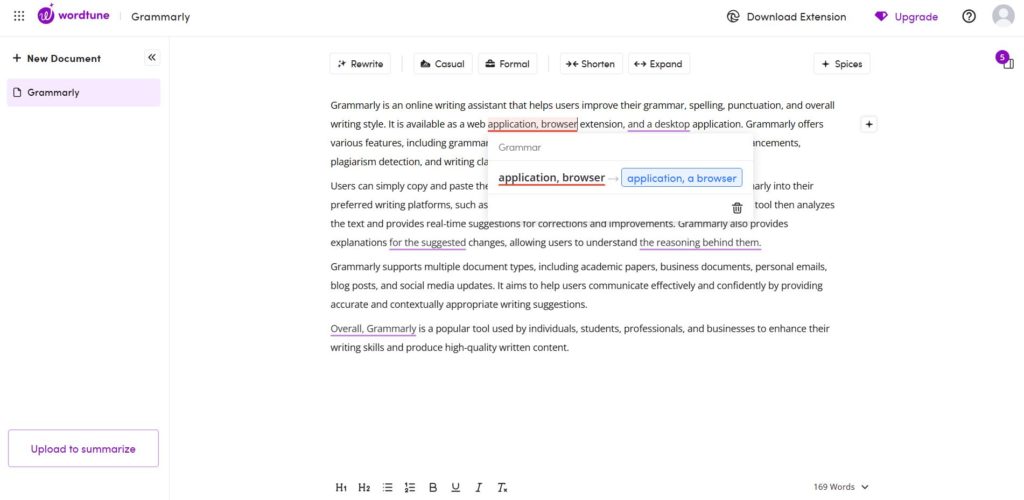 The best part about this tool is that you can add this to your browser and use it while writing articles, emails, or any other document. You can also use Wordtune to:
Rephrase any piece of text
Get synonym
Change the tone of your subject matter
Add spice to the content by getting suggestions for fun facts, jokes, historical facts, statistical data, inspirational quotes, etc
Price:
Free for 10 rewrites per day; premium plans start from either $24.99/month (billed monthly) or $9.99/month (billed annually)
4. Hemingway Editor
Hemingway is a simplified alternative to Grammarly. It offers many basic features to improve the overall readability and clarity of your writing. For example, the tool highlights complex sentences and passive voice and offers minor suggestions for simplification.
The tool is also known for its simple and straightforward UI, which looks like this: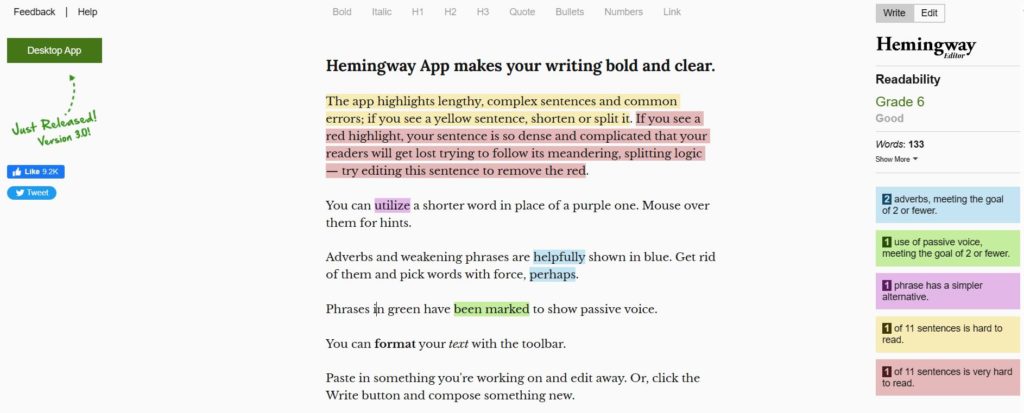 Price:
The online Hemingway Editor is free to use; the desktop version for both Mac & PC costs $19.99

5. LanguageTool
LanguageTool is an open-source multilingual spelling and grammar checker. This tool can also be used for paraphrasing your sentences to be more formal, fluent, simple, or concise. 
You can use LanguageTool:
online by creating an account on their website,
by installing the browser add-on,
or by downloading their app, available for macOS
The UI of their online editor is pretty straightforward, and the suggestions are presented in the right sidebar, quite similar to Grammarly: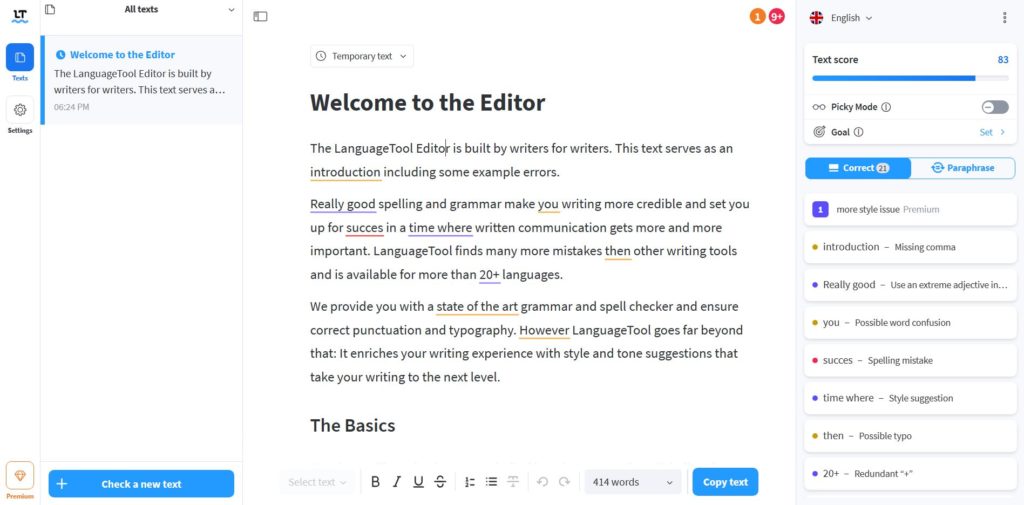 Price: 
Free for basic grammar, punctuation, and style checking for up to 10,000 characters per text. 
6. Linguix
Linguix is a free grammar, spelling, and punctuation checker that can help you deliver error-free content. It features an easy-to-use online dashboard where you can write your text and get improvement suggestions like this: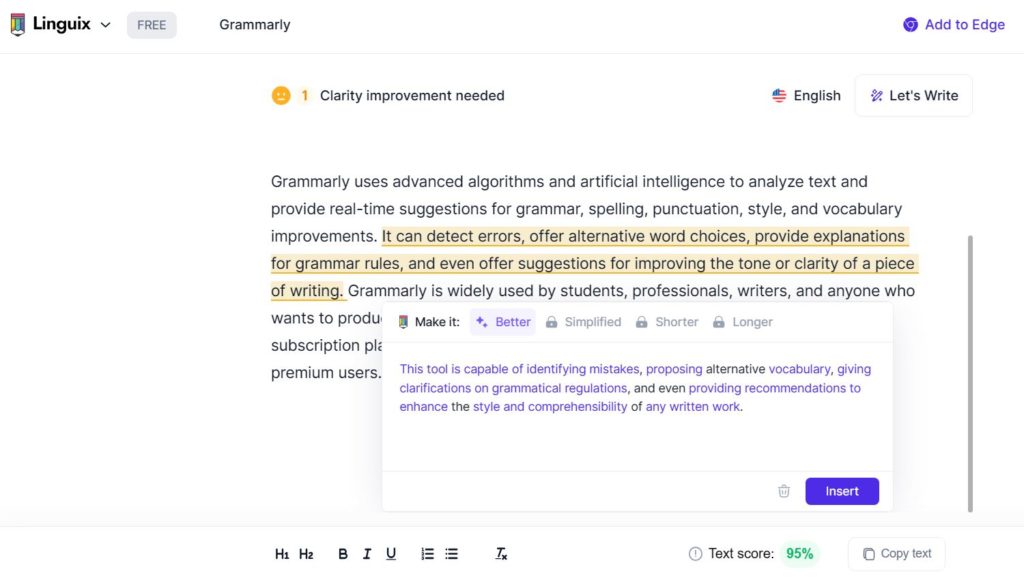 Apart from that, you can also add Linguix to your browser or install the app on your laptop.
Price:
Free online editor that offers basic suggestions for grammatical errors and content clarity; upgrade starts from $5 per month.
7. ProWritingAid
ProWritingAid is a popular Grammarly alternative that offers grammar suggestions, clarity suggestions, and detailed readability reports. This is what its UI looks like: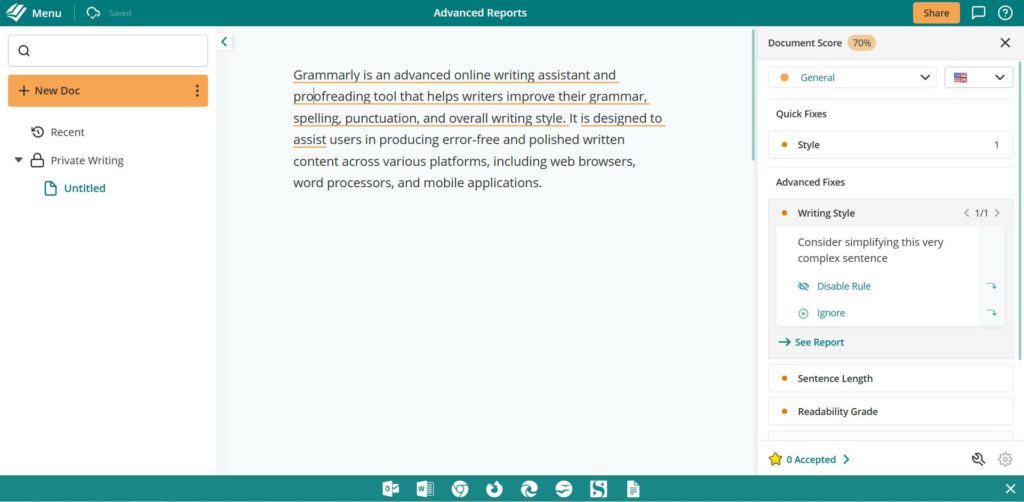 In the left sidebar, you can click on "general" to see a drop-down list where you can select the purpose of your content and get suggestions accordingly. For example, you can select long web copy, general script, technical content, sales email, etc.
Price:
Free for 500 words; upgrades start from $20 per month.
Summing Up: The Best Free Grammarly Alternatives
Grammarly is hands down one of the best writing tools, but it can be refreshing to explore alternatives that offer similar, if not better, features and capabilities. The other websites like Grammarly we discussed in this article provide a range of options that are suitable for students as well as professionals.
But if you're struggling to write good content, you can sign up for our content writing services. We have a team of professional writers who can deliver high-quality, plagiarism-free content in any niche. Just sign up & submit your brief now!

7 Free Grammarly Alternatives To Help You Write Like a Pro first appeared on Digifloat