One of the best things about the internet is that you can find a lot of free creative resources on it. Like all other useful stuff, there is a ton of music on an array of websites that you can download and use for free.
This post is meant to give you a comprehensive list of websites through which you can access and download Creative Commons music for free. Let's dig right into it.
Read also:
Websites to download free sound effects
Websites to edit music online
Free audio editors
Jamendo
Jamendo's entire list of tracks is CC-licensed, so you can download and share its music tracks legally. On this site, anyone can register and upload music with one's preferred license and offer the songs for free or a paid license.
CCTrax
CCTrax features most of the uploaded tracks under the royalty-free section and offers them for free. The most impressive feature is that you can download an individual track or a full album without logging in to this site.
Free Music Archive
Free Music Archive is a library of legal audio downloads directed by WFMU. Its music tracks are curated and uploaded with a CC license, making them available free of cost.
Audio Archive
A fantastic site with a diverse collection, Audio Archive has new and old royalty-free music uploaded by its community. The songs are available in multiple formats like MP3, OGG, M3U, etc., as high-quality audio tracks.
hearthis.at
hearthis.at offers a selection of royalty-free music, which can be listened online or downloaded directly in available formats without creating an account.
Freeplay Music
Freeplay Music offers over 50 thousand audio tracks to create videos for YouTube. The tracks are free and available under YouTube Personal Use License.
Incompetech
On Incompetech, you will find an unending list of royalty-free music in multiple genres. These tracks are downloadable in high-quality MP3 format.
Musopen.org
A non-profit, free resource for music, Musopen.org offers audio tracks in numerous genres for varied uses. The site also allows its users to upload music in the public domain, thus free from copyright restrictions.
ccMixter
ccMixter is a place to find free music and remixes created by over 45 thousand musicians, which you can download and use in your commercial projects.
TeknoAXE
TeknoAXE includes 1300+ audio tracks and adds new music to the site every week, impressively. Here, you can download quality music tracks of all genres.
AudionautiX
AudionautiX lets you search music by genre and mood. Here, you will find audio tracks in numerous genres to download for free under the public domain.
SampleSwap
SampleSwap offers CC-licensed original soundtracks created by various music creators. However, it is not clarified if all of the tracks are royalty-free or not.
mobygratis
Mobygratis offers an extensive database of royalty-free music tracks, which are produced by independent artists and non-profit filmmakers. The site has over 150 original records, which forms a great music resource for any project.
Bensound
Bensound includes a large collection of music that can be used in almost any project. You can listen to the tracks online or download them directly without registration.
Silverman Sound
Silverman Sound hosts some exclusive CC-licensed soundtracks, which you will find nowhere else. The audio tracks are available to download in MP3 format.
Bandcamp
Bandcamp offers royalty-free music for legal use, which is available for everyone. The songs can be streamed for free or downloaded in high-quality MP3 or FLAC format.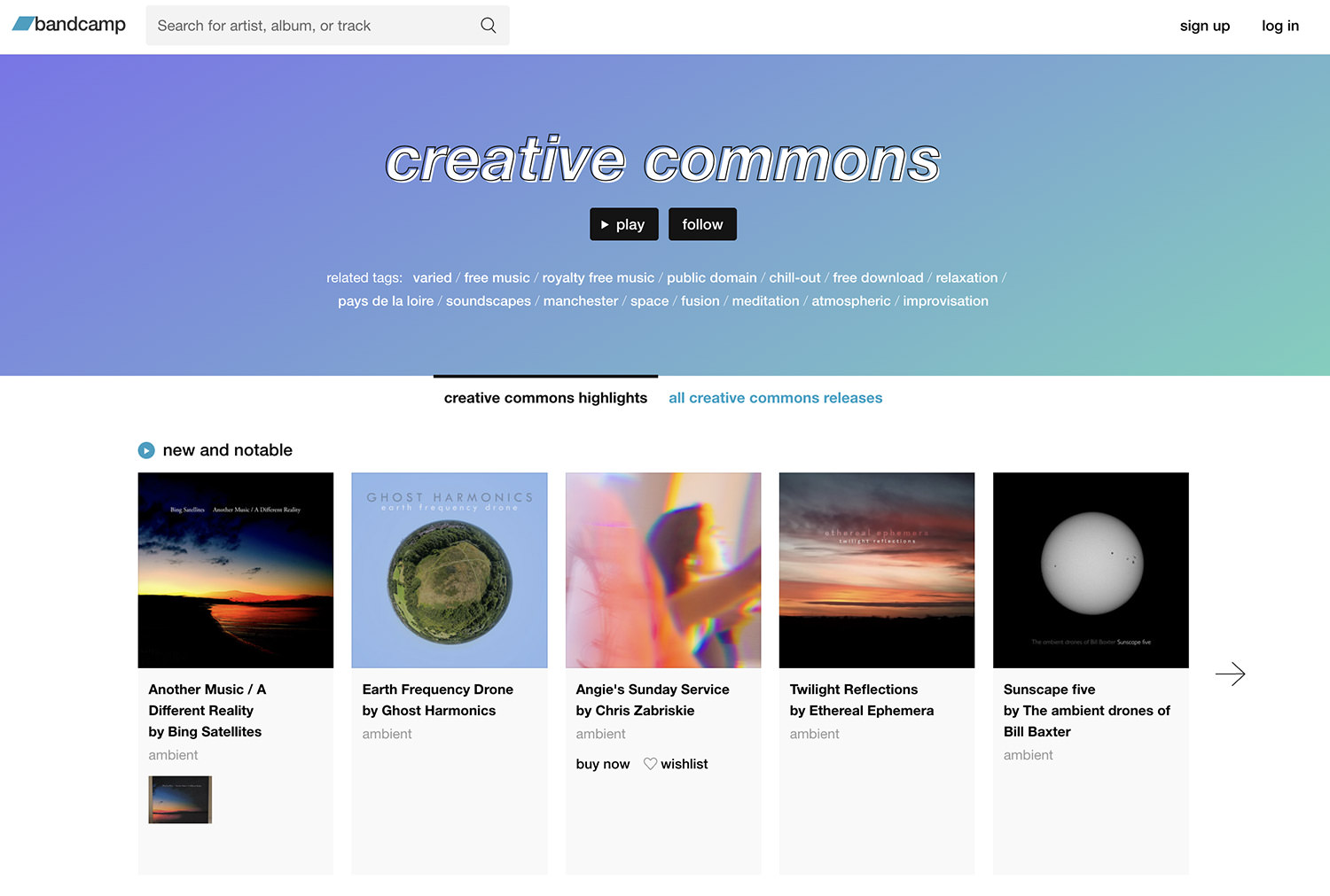 Canton Becker
Canton Becker includes professional-quality royalty-free soundtracks, which are downloadable in high-quality formats. You can listen to this music and remixes or use them as background loops for creating video games and films.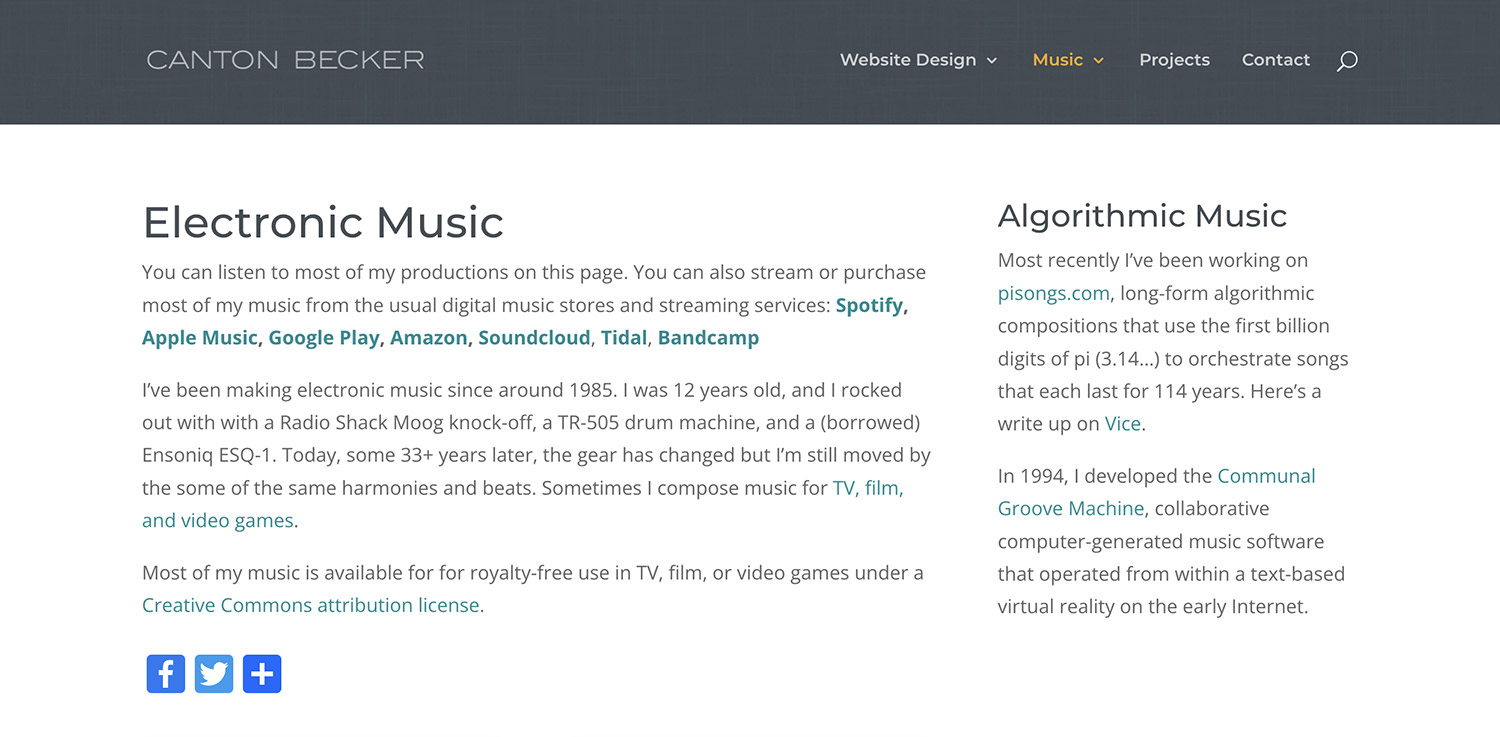 Scott Buckley
This is a production music library for filmmakers and media artists, which offers all the music under Creative Commons. On Scott Buckley, you can search for the music or filter the results by genre, mood, album, and instrumentation.
UCSB Cylinder Audio Archive
UCSB Cylinder Audio Archive holds cylinder recordings that are downloadable in high-quality MP3 format. Its database includes classical songs, comedic monologues, ethnic and foreign recordings, which you can search as well.
The Mutopia Project
The Mutopia Project offers 2100+ pieces of royalty-free music, which can be freely downloaded, copied, and distributed. The music here is available in various styles and is organized into multiple categories and collections.
audeeyah
audeeyah allows you to download music without including any watermark or such. You will find some exclusive tracks on this site, which have a professional quality and give you a superb listening experience.
Tribe of Noise
Tribe of Noise contains a modern music collection organized by its community of professional artists. You can download the tracks for free after signing up.
Netlabels
Netlabels comprise of a fine archive of music collection, which can be freely streamed or downloaded to include in your productions. You can even filter the music by year or media type to streamline your music search.
La Musice
La Musice offers 50 soundtracks, which can be used in multiple projects like film production, podcasts, video games, etc. These tracks are freely available in fine audio quality, ready to get downloaded, shared, and published.
SoundCloud
SoundCloud is a popular music platform that lets you stream music. Moreover, it also hosts various albums and collections having CC-licensed music. These audio tracks can be streamed and used in your music production. Also be sure to check out its royaly free music section.
YouTube Audio Library
This is one of the easiest way for you to download background music for your videos given the fact that there are ample of tracks available for immediate use in YouTube audio libraries. YouTube users can use the royalty-free instrumental audio tracks both on and outside of YouTube.
SonicsSquirrel
A good source where over 15,000 tracks are being downloaded daily. SonicsSquirrel is a platform for netlabel music distribution with the aim to promote free music and make the work of its artists available to the public easily.
SoundShiva
Another site to for netlabel music, sortable by genre. Just read the creative commons license and download away. SoundShiva relies on community donations to keep going in return for promoting fresh tunes by new artists on one easily accessible platform.
Community Audio
This archive that was known as Open Source Audio has been renamed to Community Audio. It contains many audio files that are licensed under Creative Commons. The entire site is known as The Internet Archive, a non-profit internet library for everyone to access historical collections in digital format. In the community audio section, you can download all kinds of audio files, ranging from the blues, country, electronic, experimental, hip-hop, indie, jazz, rock, and spoken word.
Freesound
Freesound is a collaborative database for Creative Commons Licensed sounds. This database here is filled with sound-effect such as ambient noises, synthesized sounds and sounds produced by musical instruments. Browse, download and share sound on Freesound; you can also upload your own audio clips to their database after registering for an account on the website.
BeatPick
On BeatPick, you have a music player kind of interface where you can listen to any song on a list. To download any song from the website, you'll have to register for an account. Most of the clips are instrumental, with very little vocal input. The clips also come with descriptions of what it sounds like, which can be useful to match whatever the theme of your clip is.
iBeat
If you're looking for some free beats and loops, iBeat has a wide database of clips which are free under Creative Commons licensing. The beats available come in a variety of genres such as rock beats, hip hop beats, and even acoustic or electronic beats. No registration is required.
Restorm
This is a website mostly used by indie artists who want a platform to sell their music to the public and have their works licensed under their name. You, too, can do the same or download some of their free selection of music just by creating an account. The full songs available on the website can be streamed to help you decide if you want to download them. Some of the artists also have songs in their native language not just English.
Josh Woodward
This work of a single person, this site features more than 180 songs that are free for download, sharing and use. Do give this generous man attribution if you use his clips in your productions.
Purple Planet
Purple planet is the creation of two people, Chris Martyn and Geoff Harvey, who let you use their music for free. You can use any of their audio clips on online videos so long as you link to their website at the video's description. Their style of music falls under effects that accompany a horror, dramatic or mysterious scene.
Phlow-Magazine
It is a magazine-themed site that collects the finest songs all over the web from netlabels and musicians that release music under creative commons license. They provide a wide range of genres such as techno, hip-hop, house, pop, rock and a lot more. Their latest project is about #366DaysOfMusic where they release a free MP3 music download each day, for 366 days.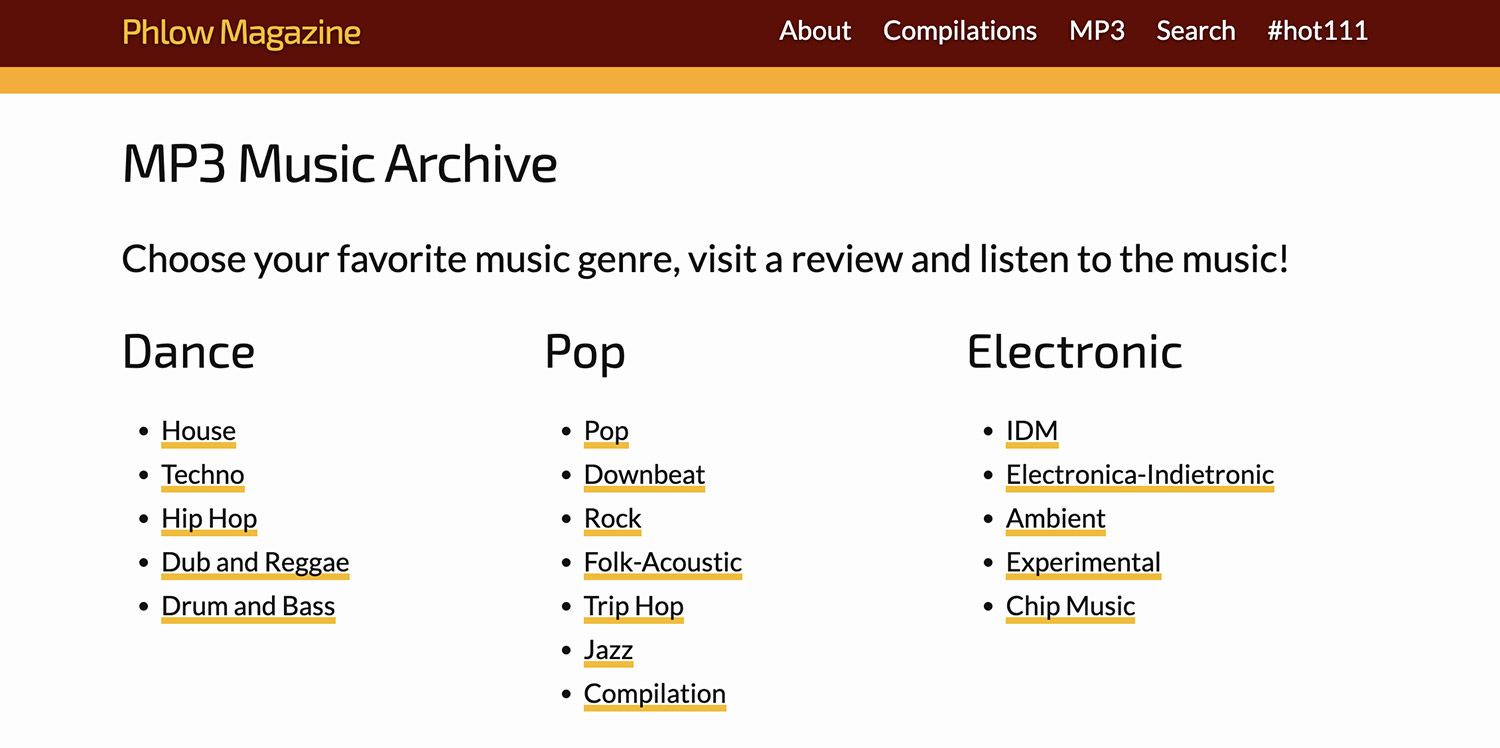 Machinimasound
The 2 people behind Machinima sound are Per Killstofte and Jens Killstofte. They also produce the music on the site. Its purpose is to provide media creators with quality music, and push Machinimasound to be at the forefront of this industry. You can download and use their free music for both personal and commercial use as long as you provide credit.
DL Sounds
DL Sounds is a site which caters to those who are looking for fresh tunes, loops or samples to be used in projects. This site has been around since 2009, and even now, they are still providing high-quality music and royalty-free music to their customers.
PacDV
This is a database of free audio clips organized by mood or emotion such as: Warm, Loving, Serious or Lonely.
DanoSongs
This is also a one-man wonder site. You get to use his wide variety of self-made clips, arranged by genres such as soundtrack, pop/rock band, and even techno/electric.
Public Domain 4U
This website has a wide selection of genres of free music you can download. The genre leads to another website that houses the album and description of the album. You can download your tracks there without registration.
Audiofarm
Audiofarm has a wide selection of genres to choose from, uploaded by ordinary people who want to share their music. You can easily download any song you like by clicking the download link – no registration is needed. The full song can even be played while browsing for one that fits your needs. By registering, you can upload music for other people to download.
did.ccMixter
did.ccMixter has a huge library of songs and music tracks that you can use in any personal or commercial project. The music is categorised into instrumental music for films and videos, music for commercial projects, and music for video games. The music is added by hundreds of talented musicians from across the globe.
cc Trax
cc Trax allows you to search for any kind of music from different categories. You can search the tracks on basis of license, genera, and related tags. The site also features top 5 most-downloaded tracks of the month as well as music videos by different artists.
Fugue
Fugue features music from different genres and a number of categories. You can listen to each track right in the site, check out similar tracks, and share your favourite one on the social media. Plus, there are different categories of playlists like comedy, driving, exclusive, and futuristic etc.
Uppbeat
Uppbeat has music, songs, and sound effects from different genres and types. You have to sign up for an account to download music which also gives you an option to create your own playlist. Though most of the music is free on this site, but for premium and high-quality music, you have to subscribe.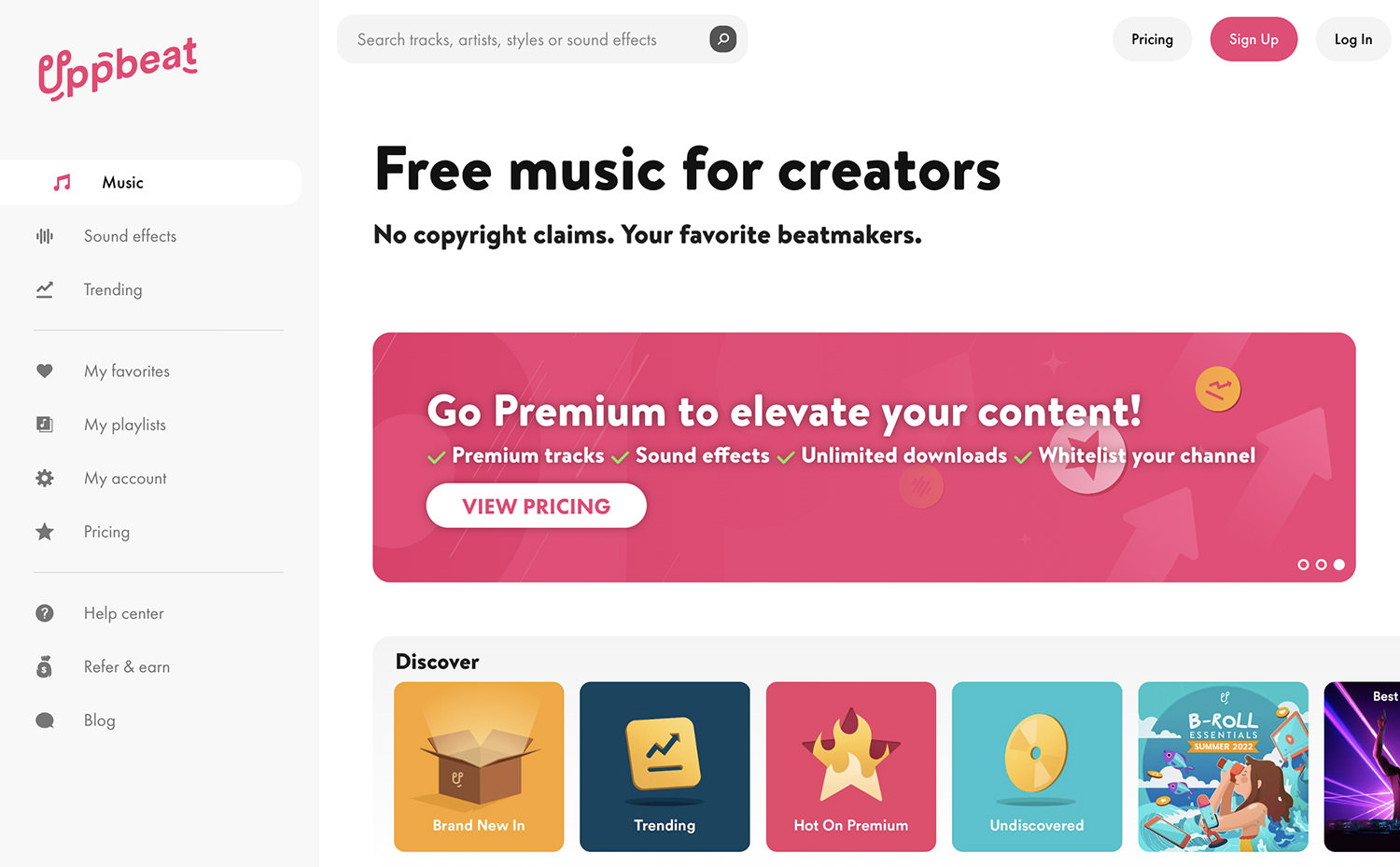 FreePD
FreePD has a great collection of interesting tracks and sound effects. You don't have to sign up for download a music tracks and you can use the music in personal and commercial projects. Unlike many other sites, you can see the content in different languages.
Magnatune
Magnatune lets you download different types of music and songs from various genres and indie musicians. You have to log in to download the music and you cannot use the free music in your personal projects only. For using music in commercial projects you need to make one-time payment.
AShamaluevMusic
A straightforward site to download creative commons music, AShamaluevMusic has tracks based on genre, mood, instrument, and music for. It houses a big collection of background music and you can use the music for personal and commercial projects. You do have to credit the creator though.
Bump Foot
A non-profit net label in Japan, Bump Foot features music from all around the world. You can preview a demo and download tracks, however only for non-commercial projects. You can also release your own tracks on the site as well.
Blocsonic
Blocsonic houses a collection of music tracks and sound effects as well as podcasts and interviews. You can download the tracks in MP3 but every track has its own license information so check that before using it in your projects. You can also buy music albums and merchandise on the site.
Looperman
Looperman curates thousands of free music loops, vocals, and acapellas for download with different license information. This site also offer a platform to hook up with like-minded musicians. Plus, there is a collection of music software and plugins for musicians.
50+ Sites to Download Creative Commons Music for Commercial Use