We are currently in a day and age where we must disseminate data and information quickly. Wants and needs are met instantly through same-day delivery and 24-hour stores. The focus is now on doing things quickly – including giving information.
As a marketer, you may wonder how you will keep up with the pace. Constantly producing relatable and high-quality content for your public is hard. You may even wonder what other marketers do as they produce more content than you could imagine.
The truth is that they are probably using marketing automation. This allows them to reach their goals and achieve such impactful campaigns.
In 2021, 76% of companies reported using automation. 26% of companies that are not yet using automation were planning to use it. These statistics prove how popular marketing automation is in b2b marketing automation strategies.
In this article, we will define marketing automation and why you should be using it. We will also focus on 5 marketing automation strategies to use in 2023 for small teams.
What Is Marketing Automation?
Marketing automation is a process that uses software to automate repetitive marketing work. A marketing department often finds itself spending too much time on monotonous work. Examples of this are posting on social media, e-mail marketing and even ad campaigns. Yet, marketing automation can do all these things.
Why Is Marketing Automation Important?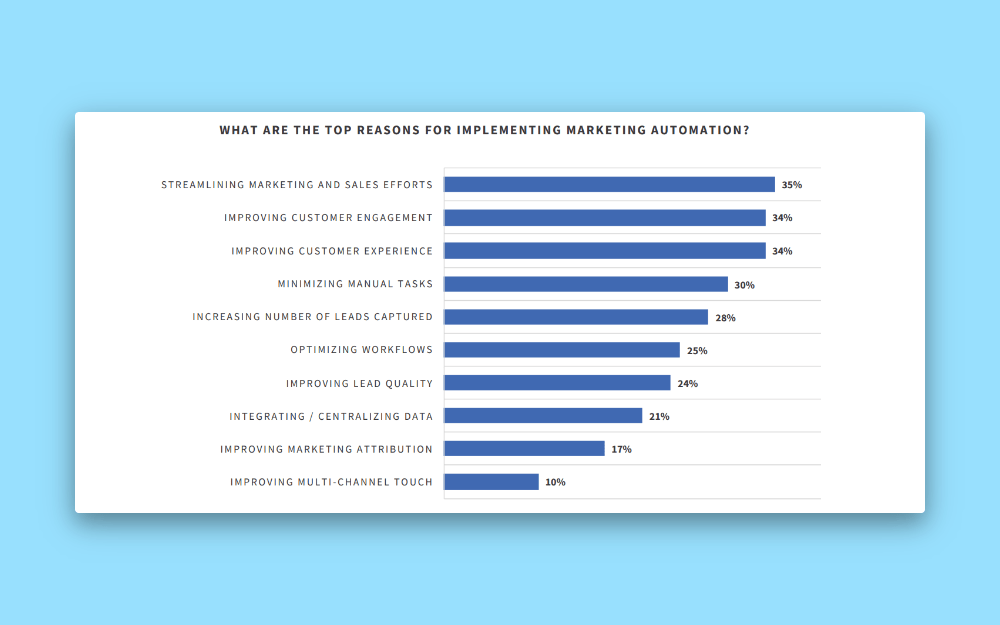 Source
If a small business would like to reach the next level of growth, employees need to free up some time. As employees have more time, they can focus their efforts on future opportunities.
If all their time is already locked in on current efforts, they will not be able to expand the small business. Implementing marketing automation can save a small business a significant amount of time. This would allow it to focus on greater projects.
A study from Ascend2 found that the top three reasons companies start to automate to streamline marketing and sales, increase customer engagement, and improve customer experience.
Some ways to improve your small business's capacity include automating marketing, using help desk software, and creating staffing plans. So, as you want to expand, consider investing in marketing automation. It is an effective option to stay a step ahead of the game.
Why Should a Small Business Consider B2B Marketing Automation Strategies?
17.4% of marketers in this study consider marketing automation to be one of the most effective marketing techniques. When you want to make a contract, you hire a lawyer. Just like that example, if you want to streamline your processes, you should find a marketing automation platform. This will certainly improve your investments.
Your team can find success through an excellent marketing automation program and easy-to-implement strategies.
Below we will dive into 5 marketing automation strategies to use in 2023 for small teams.
5 Marketing Automation Strategies to Use In 2023 for Small Teams
1. Set Up Drip Campaigns
According to this research, 65% of marketers use marketing automation as a part of their e-mail marketing efforts. Consider an alternative to having your marketing staff consistently send emails. You should put a drip campaign into place with marketing automation software.
Drip campaigns are a limited number of e-mails sent at set times based upon actions taken on your website.
If you have ever received an e-mail from a store that has a title like, We Have Missed You. Come Check Out This New Feature; then you have been the recipient of a drip campaign message.
Drip campaigns are effective for sending targeted and personalized messages to customers. When they have placed an order, abandoned a shopping cart or even engaged with customer service are great opportunities to send a message.
You may find it challenging to send personalized messages every single time. This is why excellent marketing automation software is a great alternative. A study from Statista found that 44 percent of respondents used automation in their social media marketing efforts. E-mail marketing was the most often automated channel, named by 55 percent of respondents.
Implementing this campaign will undoubtedly take your marketing efforts to the next level.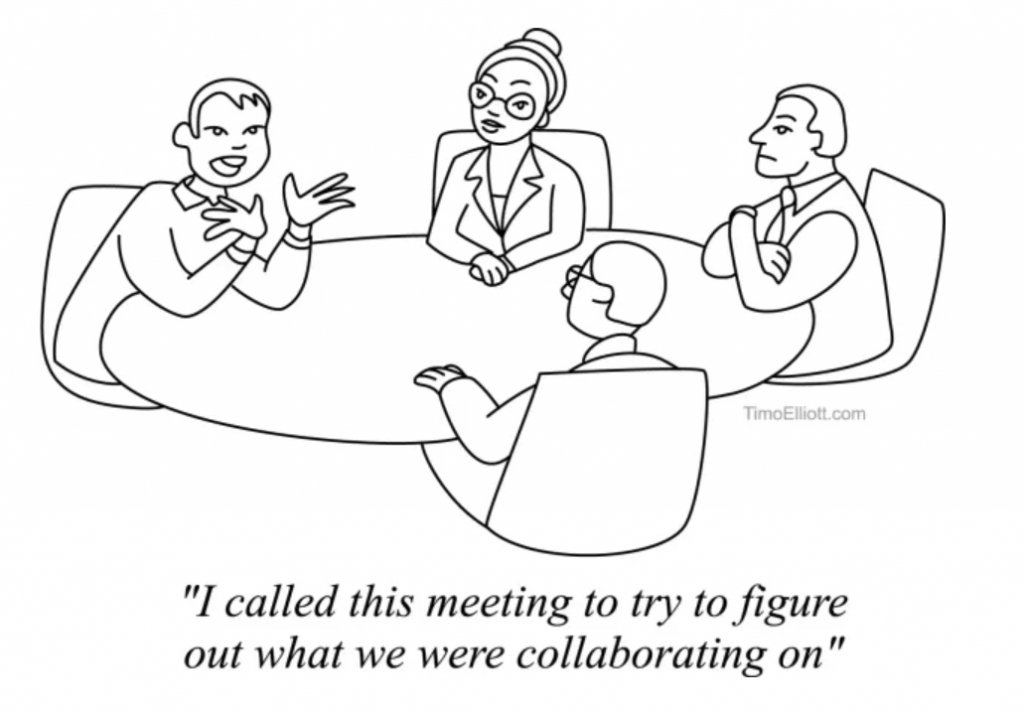 Source
2. Streamline Team Collaboration
Working on a team project can sometimes be very stressful. Whether it is the differing personalities of the group members, the stress of reaching the deadline, or the continual lack of communication, stress levels are sure to be on the rise.
A study from Stanford found that teamwork can sometimes be stressful. But, participants who acted collaboratively stayed focused 64% longer than their solitary peers. They also reported higher engagement levels, success rates, and lower fatigue levels.
Certainly, teamwork is essential to a successful small business. With marketing automation software, you can streamline team collaboration. This will make the entire process much less stressful.
Xara Cloud lets a team share and edit business documents and collaborate on a joint product with real-time commenting. It also stores all working files in cloud storage. Instead of typing up an e-mail and sending it out, the user can leave a quick note on an active file for others to look into.
Offering improved team collaboration methods will make your employees grateful for newer and faster procedures.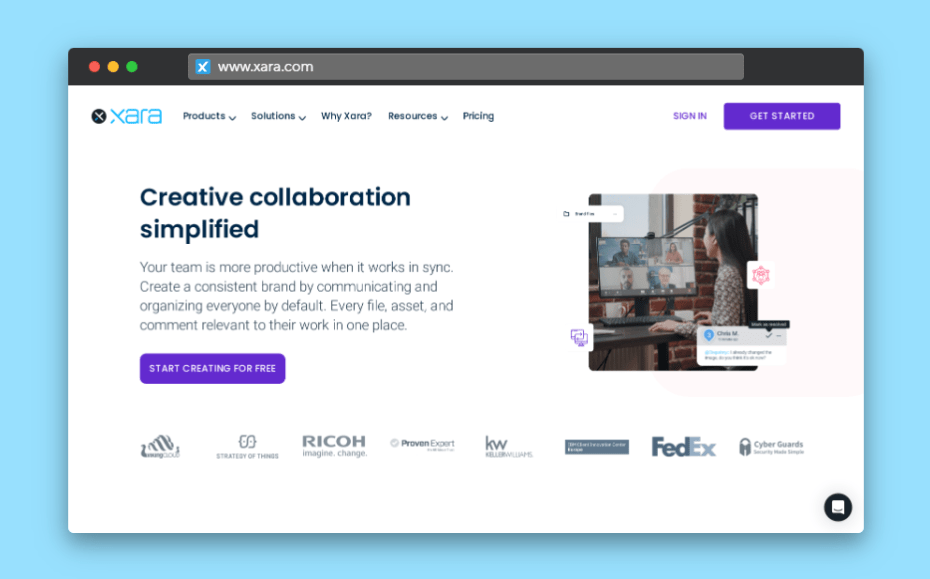 Source
3. Create Unique Content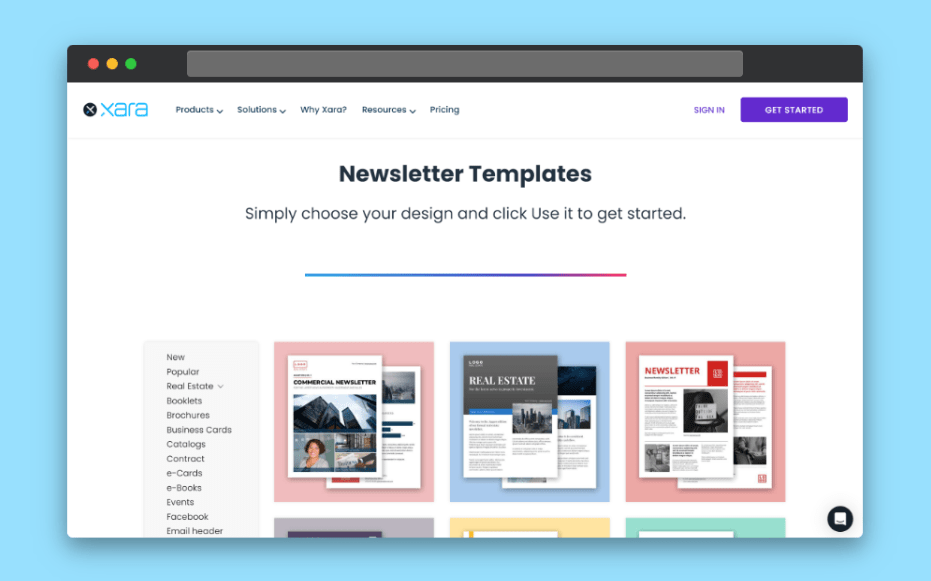 Source
Alt text: Landing page for Xara's unique templates with the newsletter templates shown
Any good marketing automation strategy needs great content as its backbone. If you have good content that brings in leads, the rest of the process becomes much easier.
With 47% of buyers viewing 3-5 pieces of content before connecting with a sales representative, content helps you put your foot in the door.
Use Xara's unique templates to create rich and stunning visuals with strong content that are certain to attract new leads. The templates are available in a wide variety of formats, such as social media posts, newsletters, and flyers.
Additionally, you can save time with the brand management feature that automatically brands your documents and unifies your assets. There is no need to worry about forgetting to brand or brand variations among departmental documents. You can set and lock your brand standards for other users. When your company's content is shared with others, your brand will link viewers back to you.
You could also, for example, have blog posts as your top-of-the-funnel content. For bottom-of-the-funnel content, you could use reviews, visuals, and infographics. This will assist when you are trying to convert a lead into a client or customer.
The best content is content that answers your ideal client's questions and relates to experiences they might have had in the past.
So, how do you create content that is perfect for your audience?
Undoubtedly, coming up with relatable and trending content is always a challenge. 36.7% of marketers report creating engaging visual content is one of their top struggles. For example, a team member might find that once a week, they can come up with some brilliant content. But for the rest of the week, the content may feel lackluster, and they are not even sure how to fix it or what to change.
Thankfully, there are several ways to fix this. All those methods come down to one golden word- research.
How do brands know what content is right for their target audience? They conduct surveys, ask current clients what they would like to see from future blog posts, and research what competitors are creating for their own blogs.
When researching, identify common themes and try to understand what you can create to stay a step above the rest. Look and see if competitors are using stunning visuals to reach their audience. If that is the case, you should also be doing that- but better.
For example, instead of just a visual, consider sharing information on the visual that is of interest to your clientele. Keep your brand fresh and creative with Xara's easy-to-edit templates.
If you are worried about creating engaging visuals, never fear, as Xara has created these templates for you. Simply edit the template to your taste, and you will have the unique yet strong content you need.
4. Tap into Social Media Automation
Most marketing departments use some form of social media to promote their brand. The average American spends 5.4 hours on their phone daily. So, it would be a huge missed window of opportunity if a brand was not focusing its efforts on social media.
A company may start small and post some information on its social media sites. They may find they need to expand and hire a social media assistant or manager. They may also use creative methods like boosting following through influencers.
After a while, the company may have an entire team dedicated to producing content on social media. Soon, they will find themselves continuously working towards improving their social media.
But, there will come a time when a company reaches its max capacity. It will then need to tap into outside resources to assist in streamlining processes. Social media is one of the best options for automation.
47% of marketing professionals are using marketing automation to manage their social media. These professionals have realized how marketing automation will make processes easier. It will also free up their time for other projects.
Thankfully, Xara provides just what you need. You can easily post your visuals through Xara's interface, which will resize documents for you so you can post them on several different social media outlets. Instead of having to resize them all manually, Xara will save you time and do it for you.
Gone are the days of having to save numerous-sized files for different media outlets. A simple and integrative program like Xara can ease your workload and take you to the next level.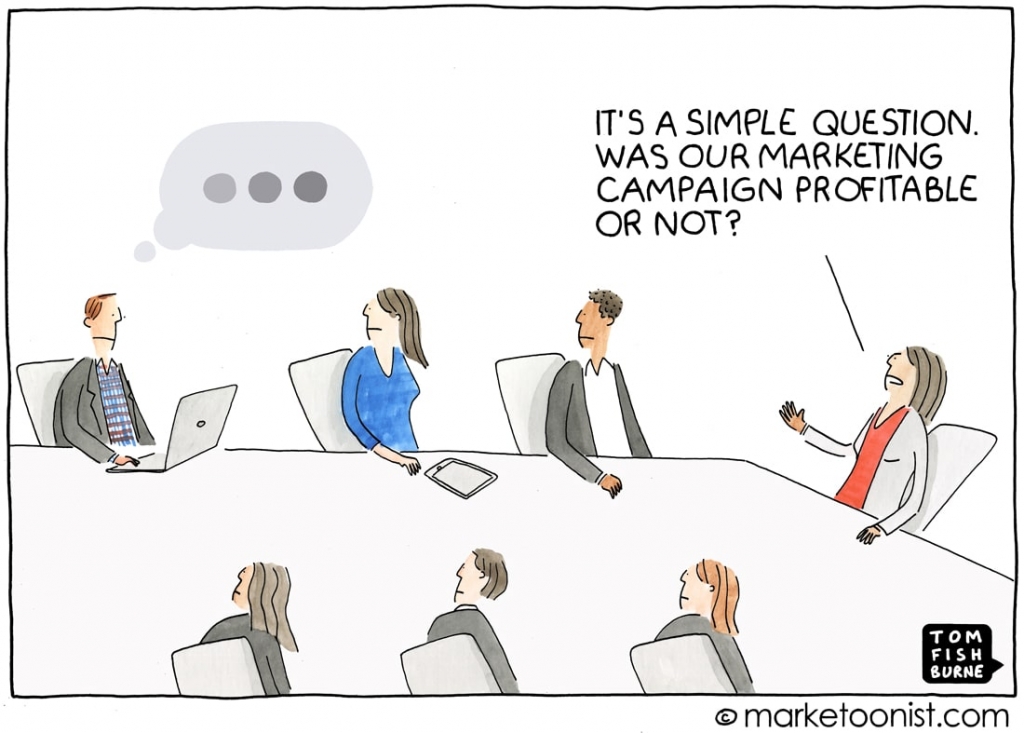 Source
5. Measure the Performance of Your Marketing Automation
Suppose you have decided to use marketing automation with your small team. You should measure the key performance indicators to make sure you have the right automation program. Xara's analytics feature provides great and measurable indicators for your documents, for example. Tracking will make sure you are using all the resources available within the selected program. Below are four ways you should consider measuring your marketing automation performance.
Site Traffic
You should always track how much site traffic you have on your website or social media pages. If you track this after implementing marketing automation, it will help you see how your efforts have been successful.
Viewing Time
Knowing how long visitors are viewing your documents is important. It will give you an idea of how interested they are or are not in your content or product. If your marketing strategies are successful, the viewing time should increase with time. This means that your marketing team has been able to create more and better content.
Completion Rate
The completion rate is a metric that measures how valuable and relevant your content is to users. Creating unique content is essential to success. Tracking this metric will ensure your team has achieved that.
Click-Through and Open Rates
Click-through and open rates are a metric for the percentage of people who opened your team's e-mail and clicked a link within that e-mail. If the drip campaign is successful, this metric should consistently be on the rise.
What Kind of Marketing Automation Program Should I Implement?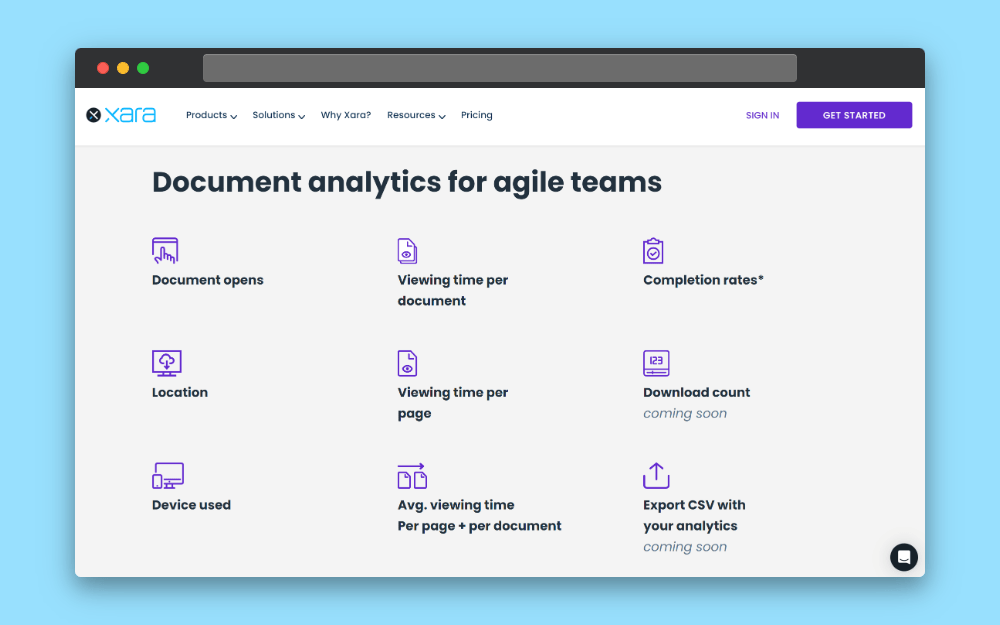 Source
The most important part of a marketing automation strategy is choosing the right program. As you are looking for one, you should be looking for one that is all-encompassing to the needs of your strategy.
Xara is an all-encompassing program that offers endless features all in one place. It allows for team collaboration on projects and templates for unique content creation. It also offers social media automation and performance measurement. Instead of using several different marketing means to achieve results, your team can use Xara's program to achieve success.
Using one program will certainly reduce stress levels on your team and allow them to focus on different things.
Final Thoughts on Marketing Automation Strategies to Use for Small Teams
Gone are the days of doing everything step-by-step with one employee for each task. Now with the need for instant information, marketing automation is truly the only way to keep up. Implementing marketing automation will help you stay a step ahead of the game.
Potential customers want relatable and trending content. So, a marketing team must have a b2b automation strategy. This will allow them to focus on larger projects and better content and take their brand to the next level.
A program like Xara is sure to do this. So, the sooner you put it into place, the sooner you and your marketing team can elevate your brand.