We live in the age of attention. Whether you like it or not – a solid social media presence is required of anyone who owns a business. The reality is, maintaining a constant social media presence as a real estate agent can be exhausting.
And somehow, your competition always seems to come up with original real estate social media post ideas.
How do they do it?
If this question comes up more in your mind than actual content ideas – this post might be for you. The real estate challenges of 2023 are plentiful, so you'll need all the aces in your pockets to grow your business and win listings and clients.
So, here are the 30 best real estate social media post ideas and design templates to attract clients and seal more deals
30 Real Estate Social Media Post Ideas To Get More Clients
Coming up with real estate social media post ideas doesn't always come naturally. It's like being a painter who's expected to deliver masterpieces every week. Pretty hard to achieve – especially with a job on the side.
That is – unless you have a couple of real estate social media templates and content ideas on hand at all times.
Are you struggling to keep up with the demands of a solid social media presence? Do you find yourself constantly scratching your head trying to come up with original post ideas while your competition seems to produce masterpieces effortlessly?
These real estate post ideas might come in handy! Save this article for later and use these ideas whenever you feel out of inspiration to crop up posts.
P.S. Don't shy away from TikTok – especially if you have a younger target audience. We've also included some examples from TikTok to get you inspired.
1. Just Listed Posts
We couldn't have started this blog post with a different post idea. "Just listed" social media posts are essential to the growth of your real estate business.
Sure – MLS and Zillow listings bring in lots of clients. But you have an untapped audience on platforms such as Facebook, Instagram, or LinkedIn.
People are active daily on these platforms. So, if an interested homebuyer forgets to check out MLS or Zillow, you might catch their attention with a just-listed Instagram post. And while you're at it – share it on Facebook as well.
So – how do you make new listings posts convincing? Here are a few basic rules:
Keep the description simple yet compelling. Start by mentioning the unique features of this property, then move on to other information, such as square footage, number of rooms, address, and price.
Use a riveting headline. Good copy uses headlines that stop people in their tracks. You can instil FOMO and urgency with a headline like "Don't miss out on this just-listed beauty!".
No social media post stands a chance of reaching out to a broader public without the right keywords and hashtags.
Provide contact details and use calls-to-action to prompt readers to share or reach out to you or the agent in charge.
Share your post on Instagram Stories to boost exposure. And don't post it just once! You'll lose a big pool of potential clients.
Use Xara Cloud's MLS integration to create click-worthy listings in minutes. All you have to do is connect your account, enter the listing's ID and choose a template.
Real Estate Facebook Post Ideas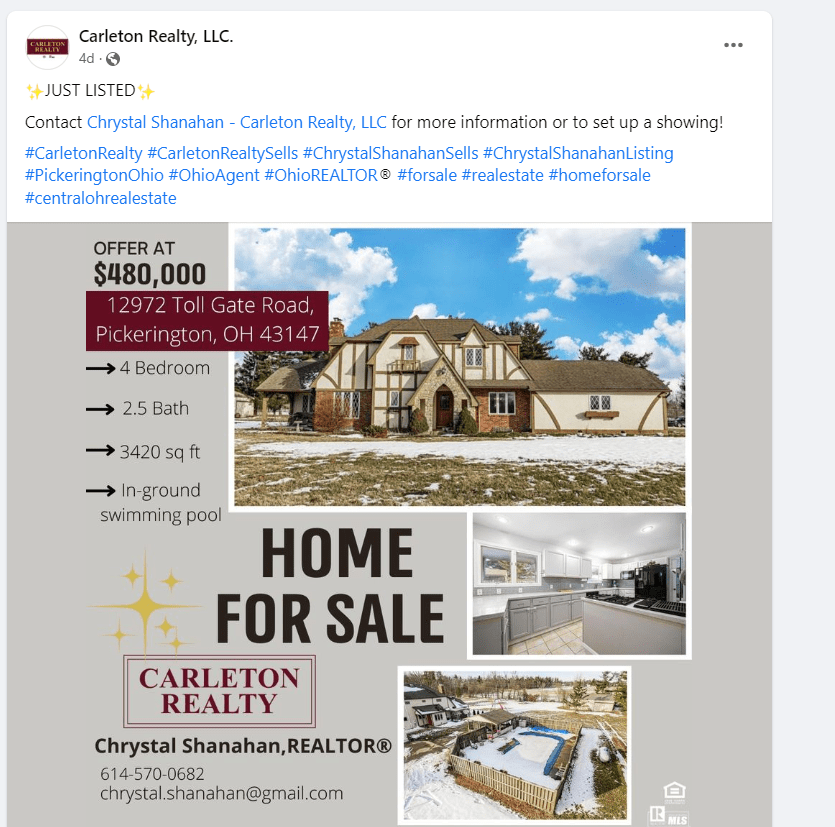 Source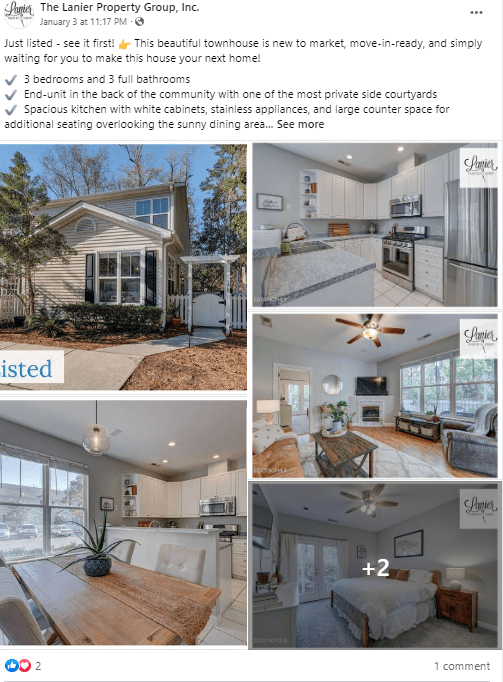 Source
Real estate Instagram Post Ideas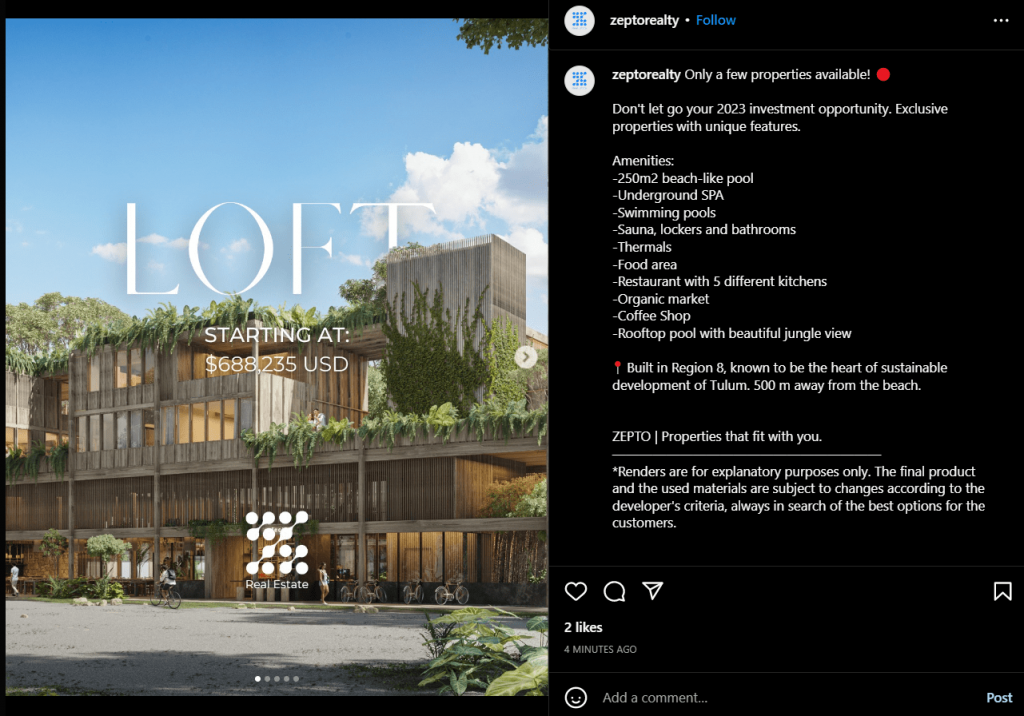 Source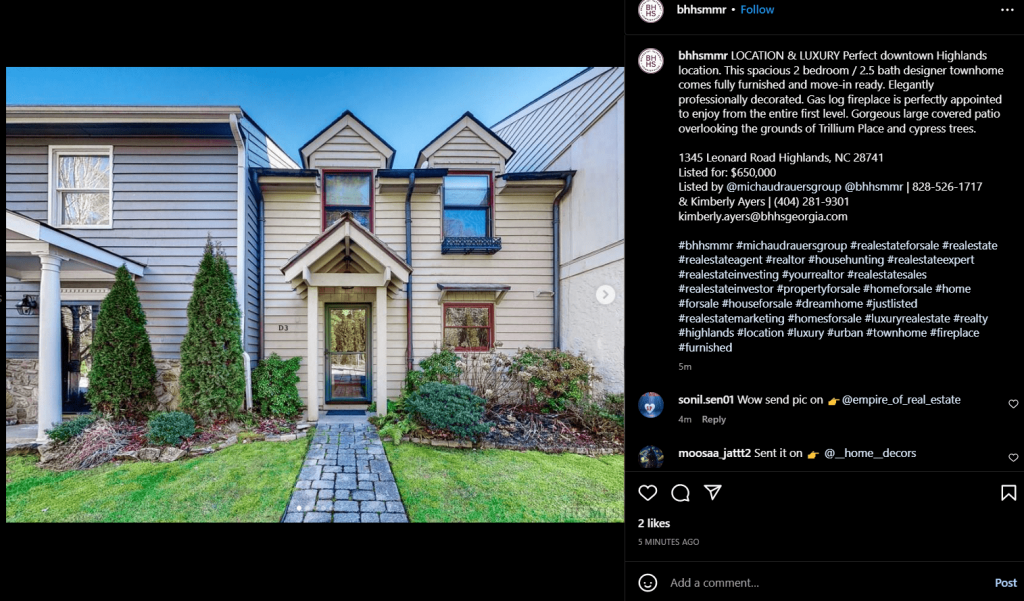 Source
Want to boost your listing's visibility and attract potential buyers? Try Xara Coud's real estate social media templates and user-friendly editing tools to create real estate listings in a flash.
2. Share Your Blog Posts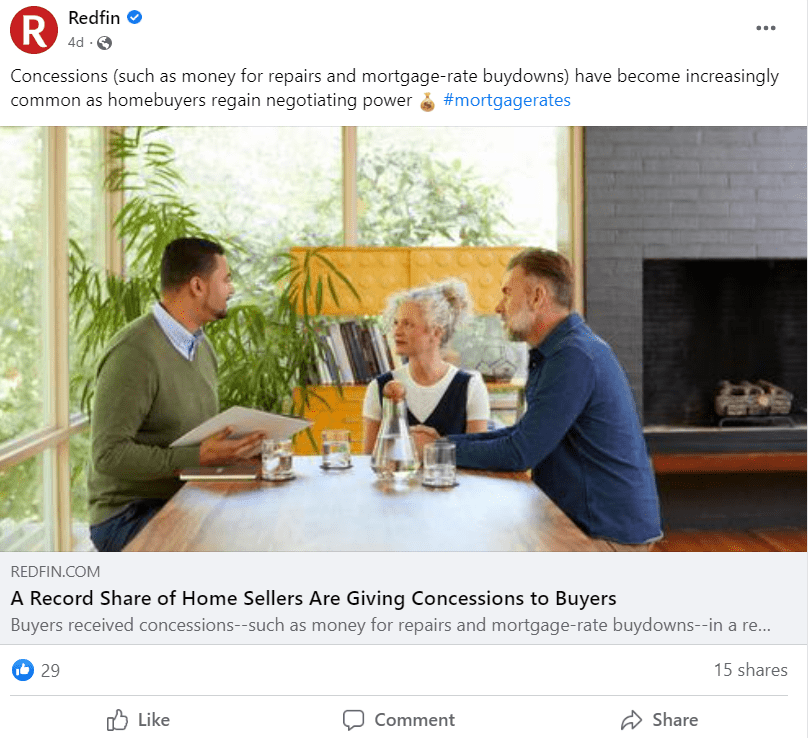 Source
Being a thought leader in real estate is not easy. But someone's gotta do it. It might as well be you.
One way to boost your exposure and share your wit and knowledge is through social media. Do you regularly blog your piece of mind on all things real estate?
Share your blog posts with the world! This will help you close more deals and establish your reputation!
Just remember to adapt each description to your social media platform.
3. Just Sold Posts and Videos
Sharing just sold posts on your social media channels can be a great way to showcase your accomplishments and build trust with potential clients.
For one, these posts build your expertise and credibility as a real estate agent. Sharing your successes will highlight your experience and skills. It shows that you are familiar with the market and can successfully guide clients through the buying or selling process.
More so, just-sold posts provide social proof, and we all know how valuable a track record of success is. And if you want to increase brand recall and put a quality stamp on your brand – these posts are mandatory!
So – have you ever sold a home for more than the seller had anticipated? Did you recently help sell a luxurious home? Or maybe a unique property?
Take pride in that, and create a post about it!
To get the most out of this type of real estate social media post – focus on the caption. Here are a few tips and tricks:
Use high-quality photos.
Come up with a catchy headline.
Include testimonials to add a personal touch.
Use a call-to-action.
Utilize hashtags and keywords that might generate more leads!
Share key details about the property.
Think of just-sold posts as opportunities to establish yourself as an expert in your niche.
Real Estate Facebook Post Ideas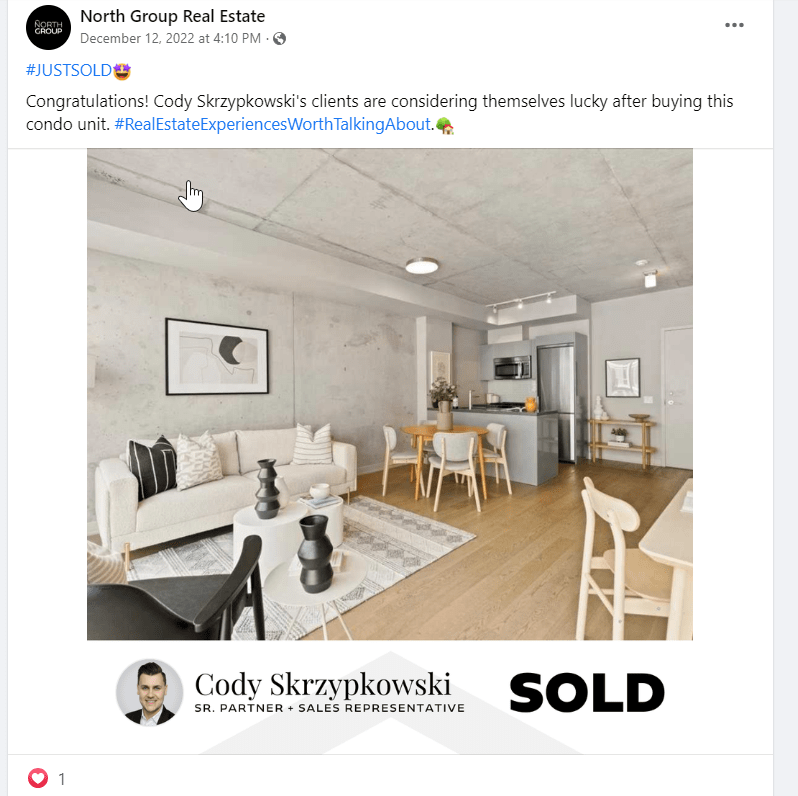 Source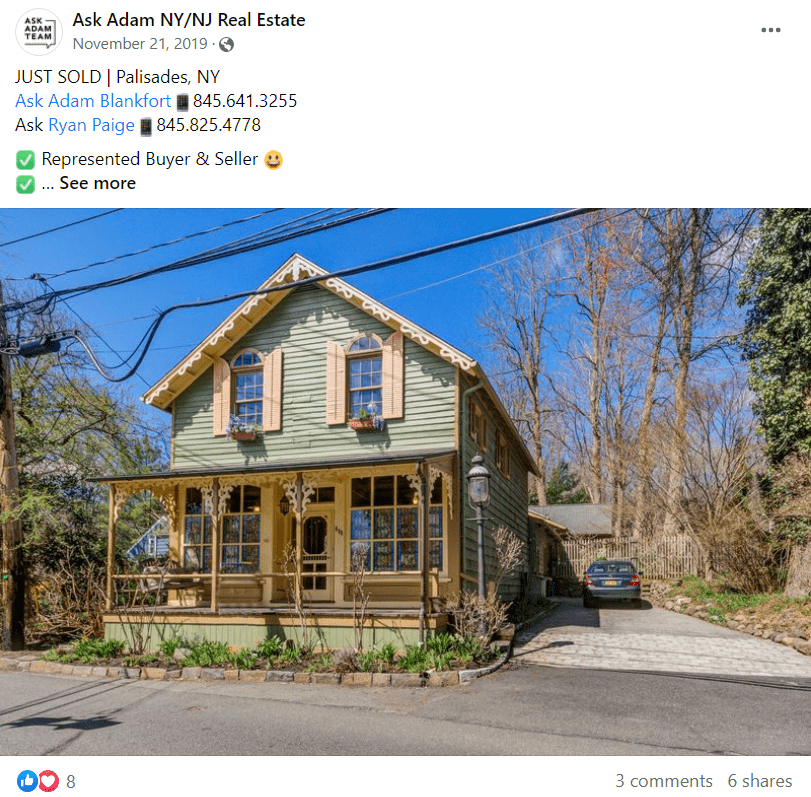 Source
4. Interior Designer and Construction Worker Recommendations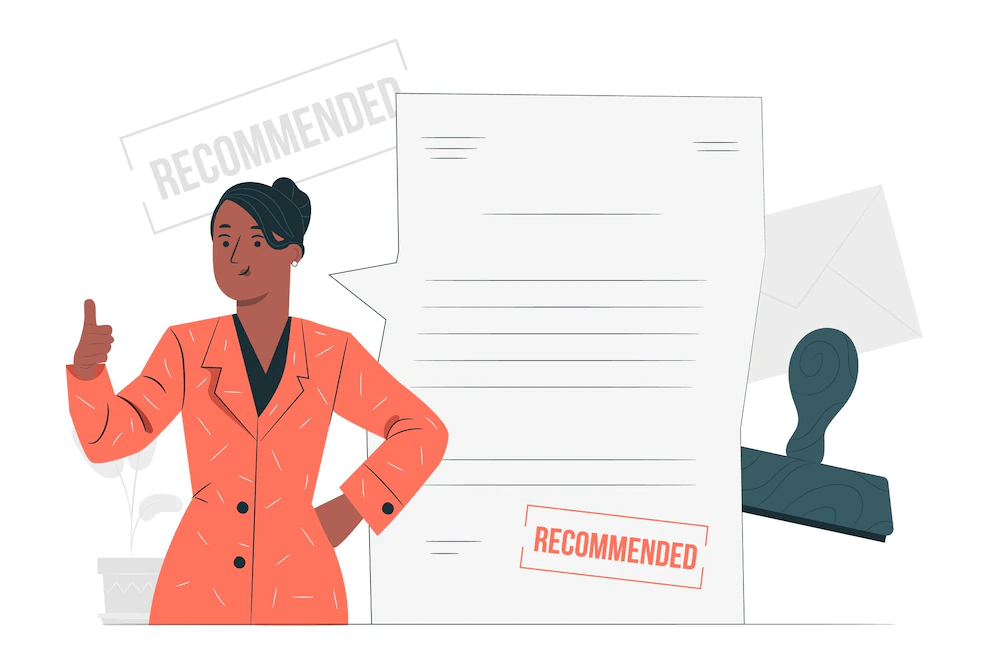 Source
This is certainly not one of those typical real estate social media post ideas.
But if you want to be the wild card in your industry – this is a surefire way to set yourself apart from other agents.
By providing people with specific designer and construction worker recommendations, you're showing your audience that you're genuinely interested in helping them fulfil their homeownership goals.
But you're also into providing a complete, qualitative experience for your clients. This post shows your ability to connect your customers with the right professionals and your eagerness to offer a full-service experience that will get people closer to their dream homes.
And will the construction worker shortage, your clients will thank you – that's for sure.
5. Real Estate Giveaways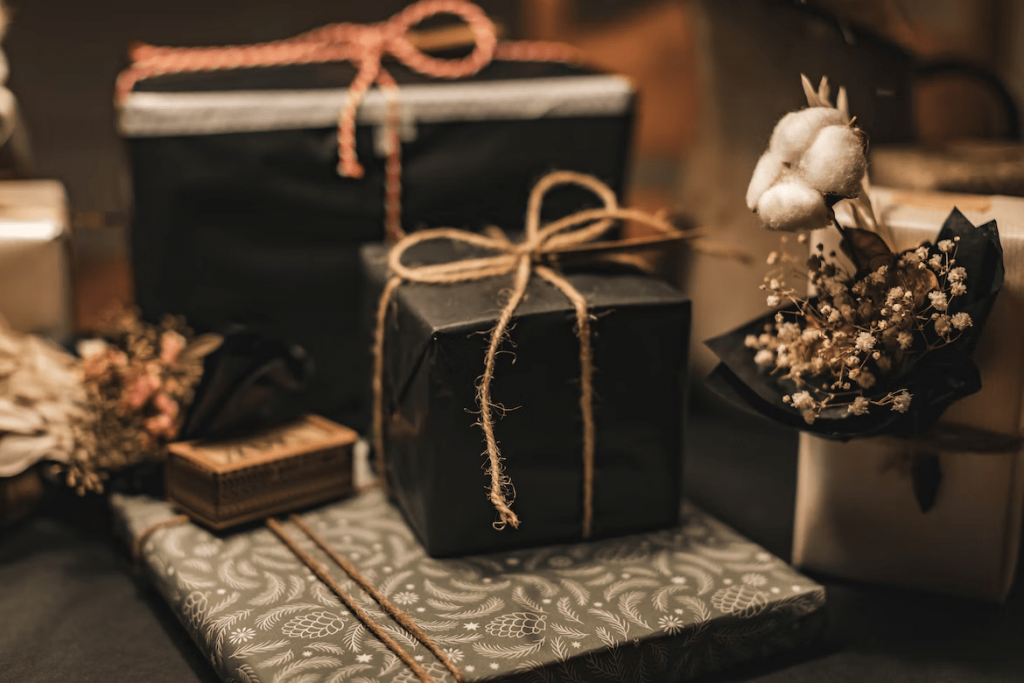 Source
I know, I know. Social media is overflooded with giveaways. Why think of this as a valuable real estate social media post idea?
Hear me out.
Giveaways work. People love the chance to win something for free. When we hear something is free, low and behold: we assign a higher value to it. We crave it.
Sure – the key to a successful giveaway that brings in leads is the execution. Simple rules of entry and low risk are the key factors. Plus, what you giveaways also counts. Don't give a random gift unrelated to the real estate business.
Get creative! Give a consultation with an interior designer or even a night stay in one of your listed properties.
6. Funny Content
Humor is the spice of life.
Think about it. What catches your eye when you scroll through your social media feed? Content that makes you laugh, am I right?
Just because you're in the serious business of helping people find their safe nook doesn't mean that you can't inject some humor into your real estate content!
You don't have to be next Seinfeld to do it – a meme or a light joke can be that one thing that sets you apart from other agents and gets you closer to closing that deal!
Real Estate Instagram Post Ideas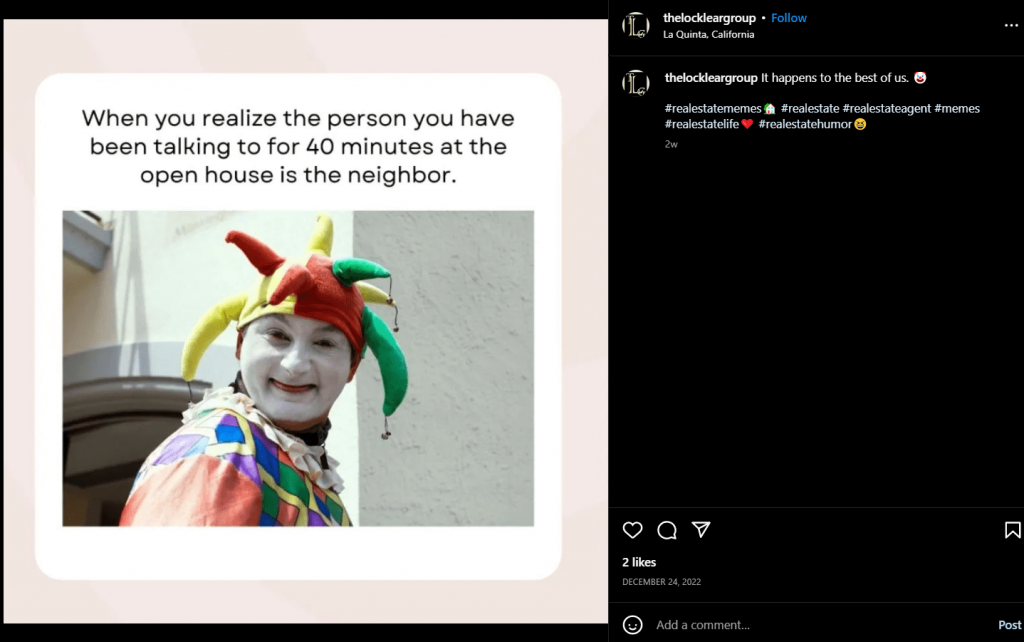 Source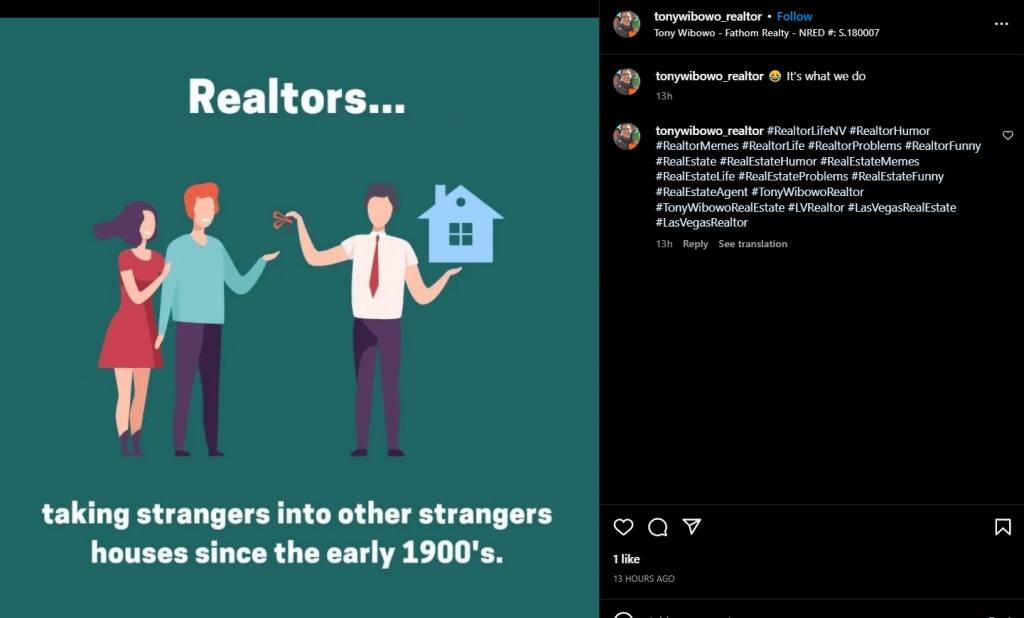 Source
7. Day in the life of a Realtor
If you want to truly connect with your audience – show them a glimpse into your life as a realtor!
"Day in the life" posts will show potential clients what it's like to work with you. Increasing transparency and sharing a behind-the-scenes look at your work as a realtor will help build trust with your audience. Choosing a real estate agent to work with is a big commitment – so any ounce of trust you can build with your lead will give you a competitive edge on the market.
These posts also give a glimpse of your personality – this helps people gauge whether you're a good fit for them. Lastly, day-in-the-life posts keep people engaged.
So if you're looking for unconventional real estate social media post ideas – this might be the right fit for you! Be aware this won't work for everyone.
It's for those real estate agents who aren't afraid of being vulnerable and authentic! Creating these types of posts might be uncomfortable – but totally worth it in the end!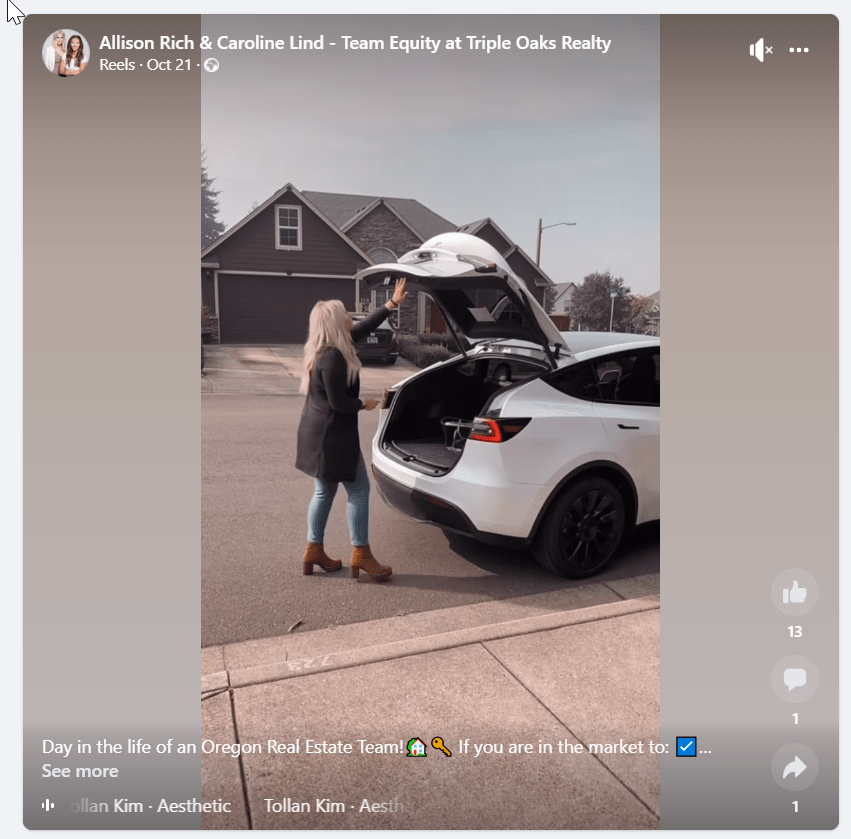 Source
8. What Paperwork Do You Need When Buying or Selling a House?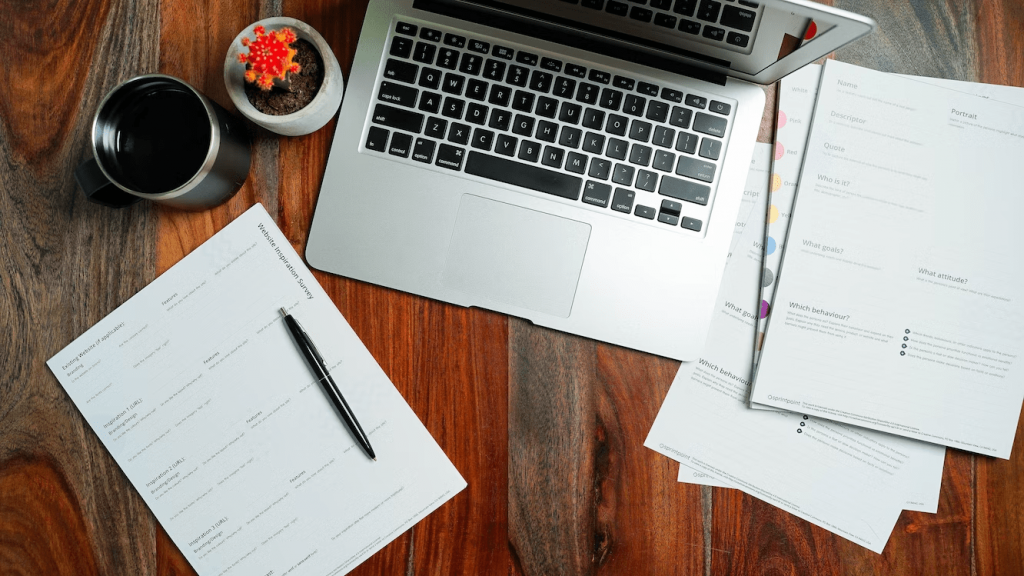 Source
Here's another awesome real estate social media post idea. Buying or selling a house is a complex process many people postpone due to the overwhelmed.
And one of the key tasks buyers and sellers need to navigate is paperwork. Having a professional by their side during this process motivates people to take the first step and book a consultation with you.
By providing this information, you're helping people feel more in control of the process and less stressed about paperwork. Nobody likes filling out paperwork. I'm sure we're all going through this – with the tax-filling season on its way.
You can create an Instagram real estate social media post that provides a checklist of all required documents, such as the credit report, proof of income, homeowner insurance, or property tax records.
Furthermore, you can use a Carousel post to explain the purpose of each document and specify which ones can be pulled by real estate agents.
9. Open House Announcements
Besides door-knocking and signage, posting open house announcements on social media is a great way to promote your events!
Just think of the reach you can get if you post your announcement on Facebook, Instagram, and LinkedIn!
More so, by promoting your open house on social media, you can boost attendance by encouraging people to mark the date and time on their calendars. The announcement can provide potential buyers with details and the location of the open house, as well as information about the property, making it easy for them to find and attend the open house.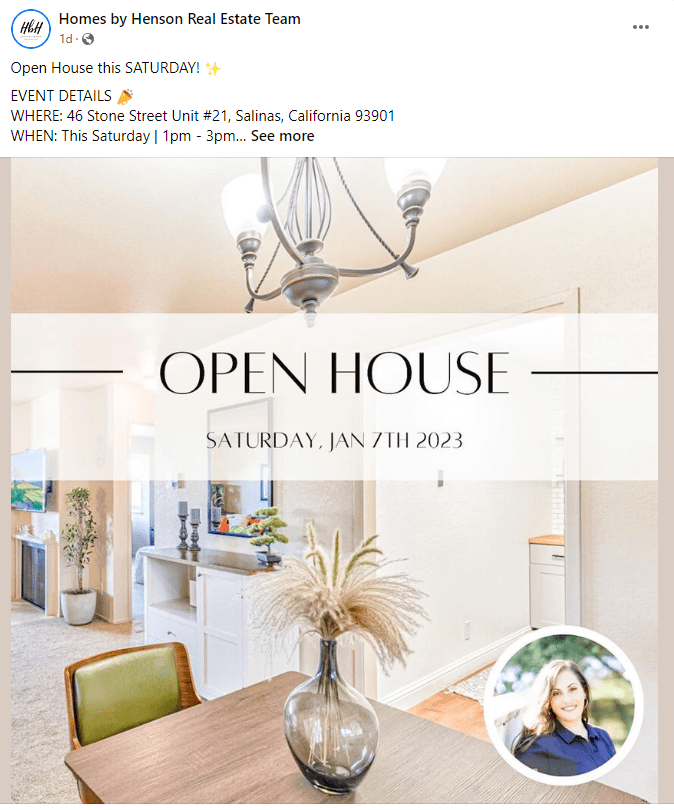 Source
10. Interior Design Tips
Do you have a keen eye for interior design? Or maybe leafing through interior design magazines is your hobby.
Either way – you should put that passion to good use.
Interior design tips will help you differentiate yourself from other agents in your area and make your brand stand out!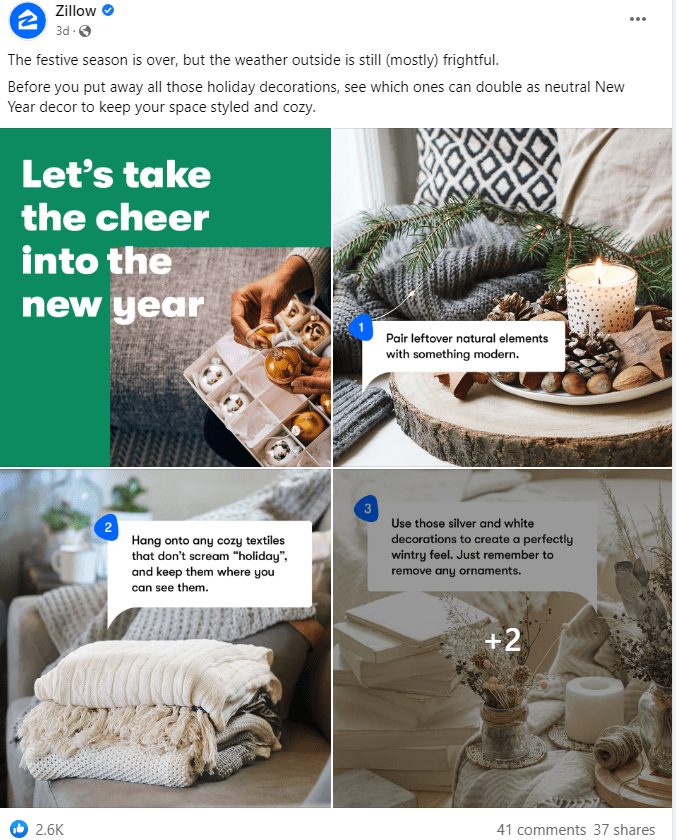 Source
11. Financial Tips
As a real estate agent – you probably know a thing or two about finances.
Want to be the go-to agent for all things real estate AND finances? Share your financial tips on social media and become a one-stop shop for savvy home buyers and sellers!
Sharing financial tips on social media as a real estate agent can position you as an expert in real estate and financial matters.
Providing helpful and informative financial tips can educate potential clients on the financial aspects of buying and selling a home. It can help them make informed decisions, create trust, and increase your chances of closing a deal.
Collaborating with seasoned agents is key when navigating such a complex process as selling or buying a home.
And these posts can show your leads that you are the right agent for the job! If you haven't included them in your real estate social media marketing strategy – now it's the time.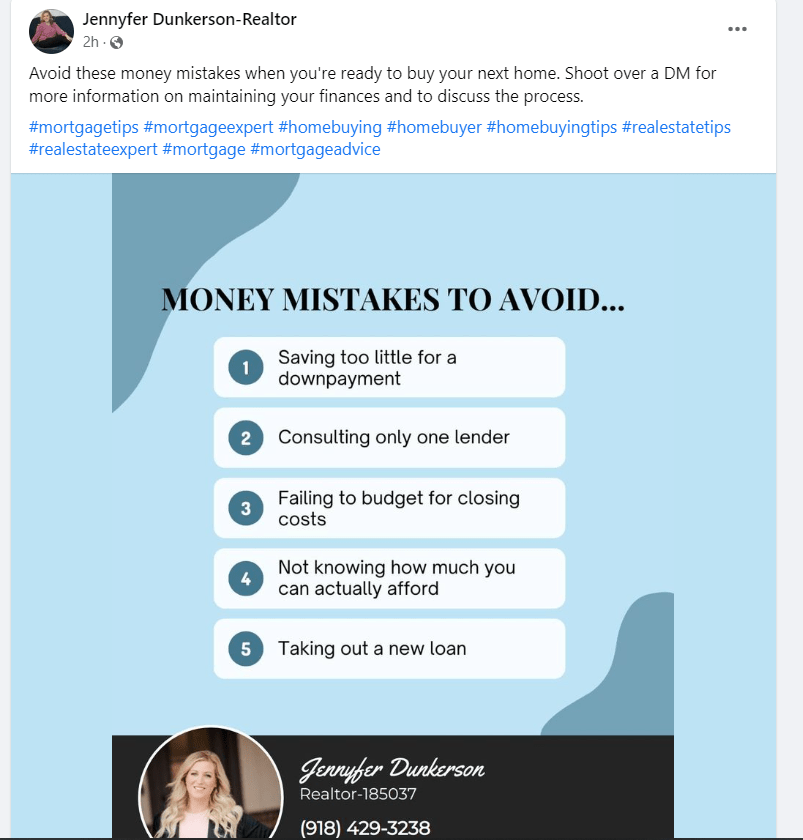 Source
12. Neighborhood Spotlight
House searching is not just about the property itself. It's all about considering the client's lifestyle, wants, and needs.
A neighborhood that's a great fit is just as important as finding the right home. To aid people in the process of choosing a neighborhood, social media comes in handy.
Neighborhood spotlight posts help homebuyers to get a sense of the local amenities, community, and lifestyle. They can learn about the quality of schools, the area's demographics, transportation, and other important factors often considered when choosing where to buy a house.
Alternatively, you can also create posts showcasing the following:
10 things to do in "insert city".These are especially useful for clients looking to switch cities or states.
Most exciting houses in the neighborhood.
Cool places to visit in the neighborhood.
Most luxurious homes for sale in the city.
Best houses on a budget in the city.
Best neighborhoods for a family.
13. House Selling Tips
Another idea for a real estate social media post could be a "House Selling Tips" series. Here are a few different post ideas you could include in this series:
Renovating and Repairing Tips and Tricks.
How to Make Your Home Look Its Best for Showings
How to Get the Best Price for Your Property
Tips for Making the Closing Process as Smooth as Possible
Create a visually-appealing post on Instagram or Facebook with these tips to increase your reputation. To encourage people to contact you, add a clear call to action, such as "Want to learn more? Give us a call!" or "Is your home ready to sell? Contact us today to schedule a consultation!"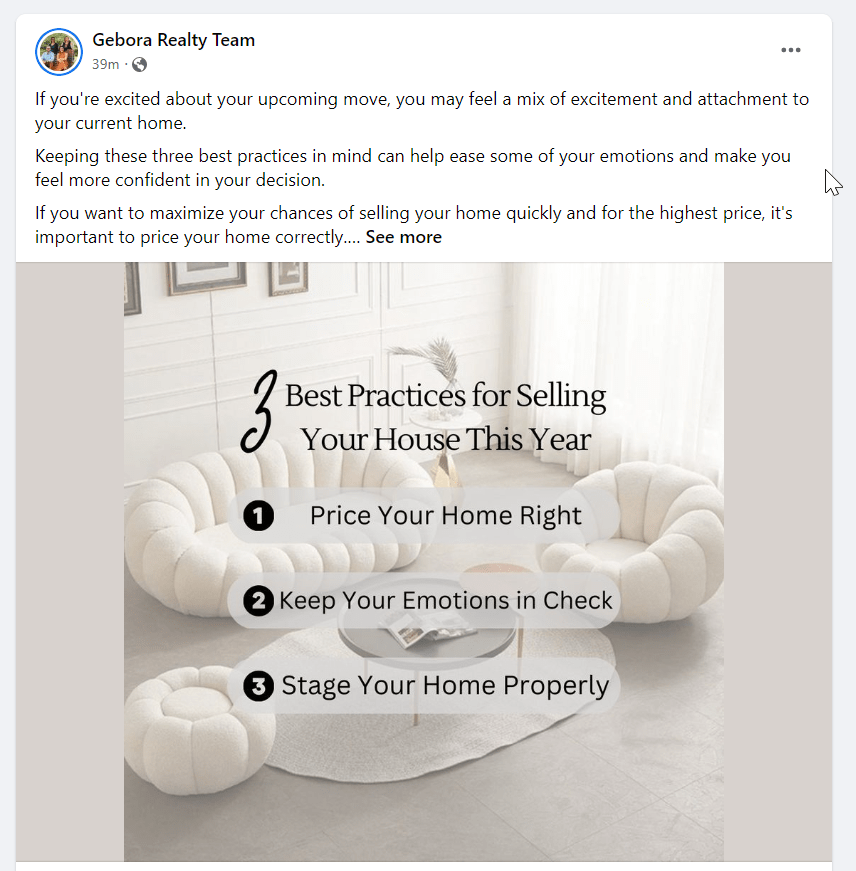 Source
14. How To Save Up For a House?
Saving up for a house is the ultimate hassle. And it can feel daunting.
Real daunting. Especially in this economy. And particularly for first-time home buyers.
Your job as a real estate agent is not limited to selling houses. It's also about empowering people to reach their goals.
And one way of boosting people's confidence that they're well on their way to homeownership is through social media financial tips. Here are some real estate social media post ideas that you can share:
Actionable tips on budgeting.
The importance of an emergency fund.
How to access government programs to help with the down payment.
How to negotiate mortgage rates.
Insights from your personal experience.
These posts will help build your expertise and trust in your brand.
15. How To Increase Your Home's Value With DIY Design Tips
This is yet another unconventional but attention-grabbing real estate social media idea. If you're enthusiastic about interior design and spend your time doing cool DIY projects – you can create these real estate posts yourself.
If that's not the case, share the work of your favorite savvy designers.
These posts appeal to a wide range of potential home buyers. Many people want to improve their homes' look and feel without breaking the bank. Plus, these are the ideal posts for first-time buyers who may have limited funds for a full home renovation.
It will also help position your Instagram, Facebook, or LinkedIn profile as a helpful resource that people can come back to.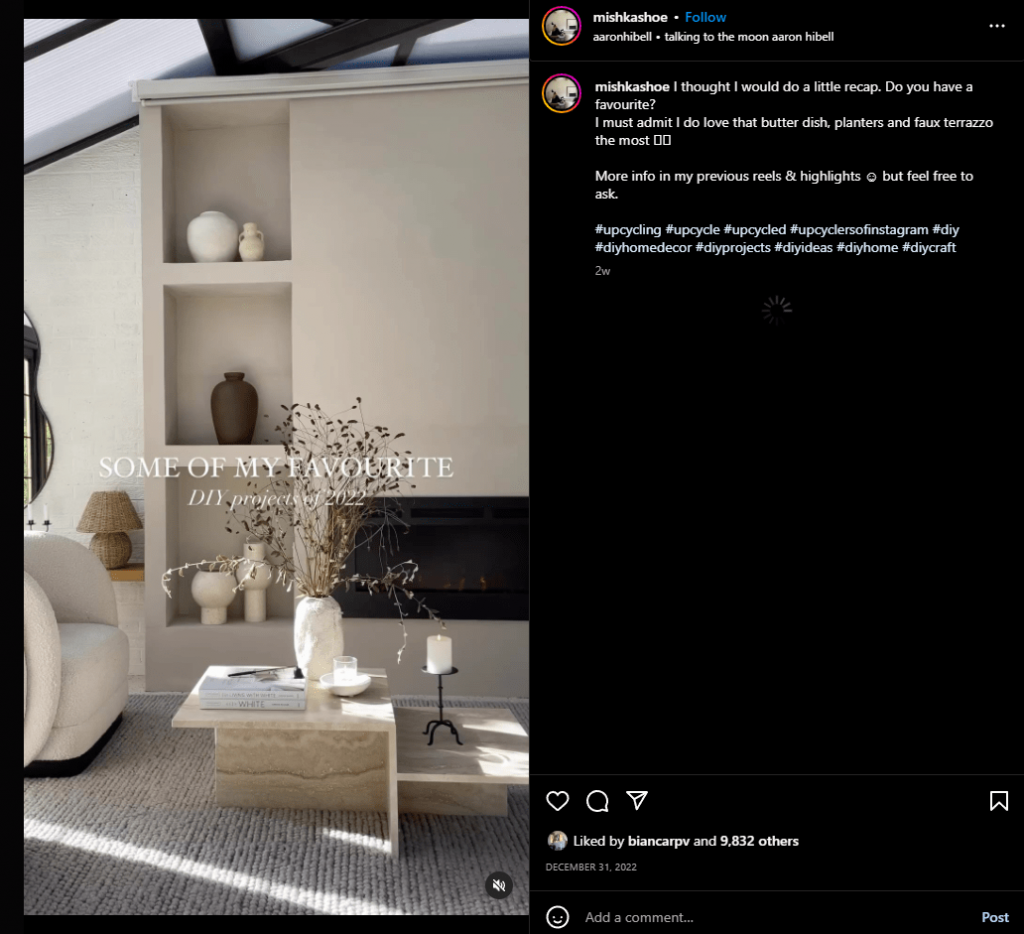 Source
16. Social Proof Posts
82% of all real estate clients come from referrals.
This proves that social proof is the most powerful tool you can use to seal more deals! While Google Reviews, website testimonials, and word-of-mouth proof are essential, one can not dent the importance of social media social proof posts.
Incorporating social proof into your real estate social media strategy can be a great return on investment, which helps to establish your reputation as a badass agent in the real estate industry.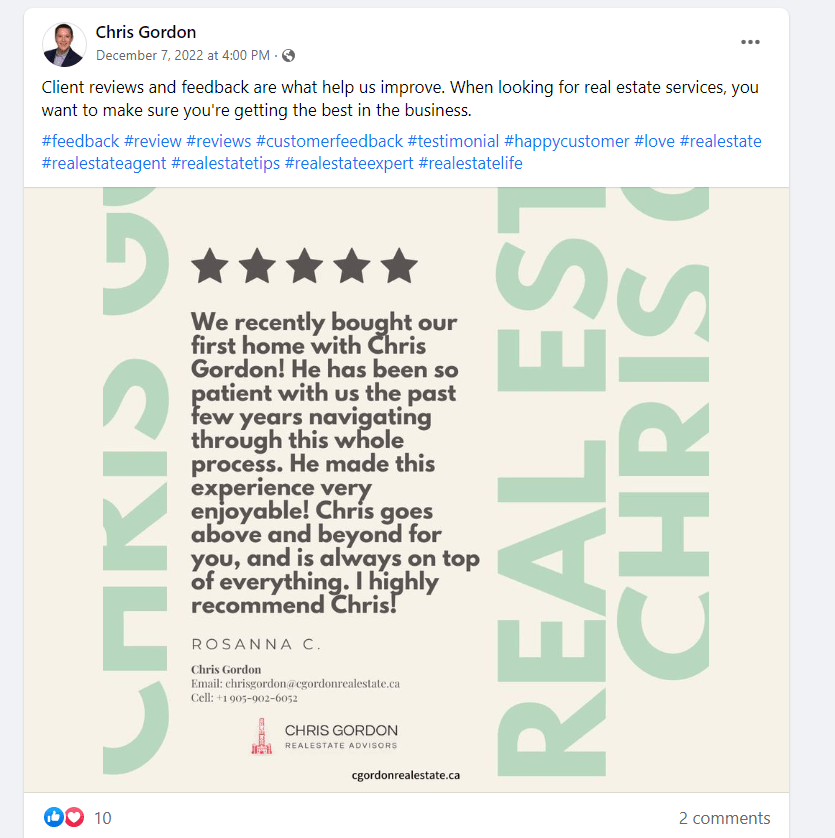 Source
17. Video Tours
Let's be real: video marketing is king. As mobile phones became faster and more advanced, so did social media capabilities.
And this made the video content industry explode. Not to mention the role that the Covid-19 pandemic had in revolutionizing house touring.
Nowadays, virtual and video tours are practically the norm. And with so many real estate marketing tools to choose from – creating them is easier than ever.
You can upload these to your Youtube channel and then share them on Instagram and Facebook. Or simply create a reel with your smartphone, and voila!
More leads, less effort.
Real Estate TikTok Post Ideas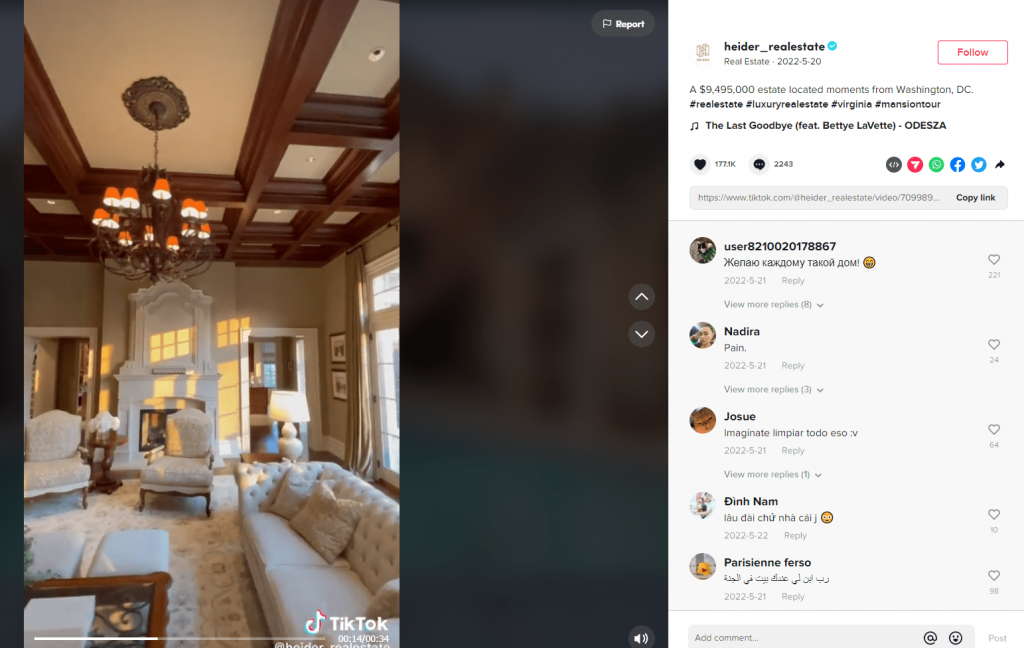 Source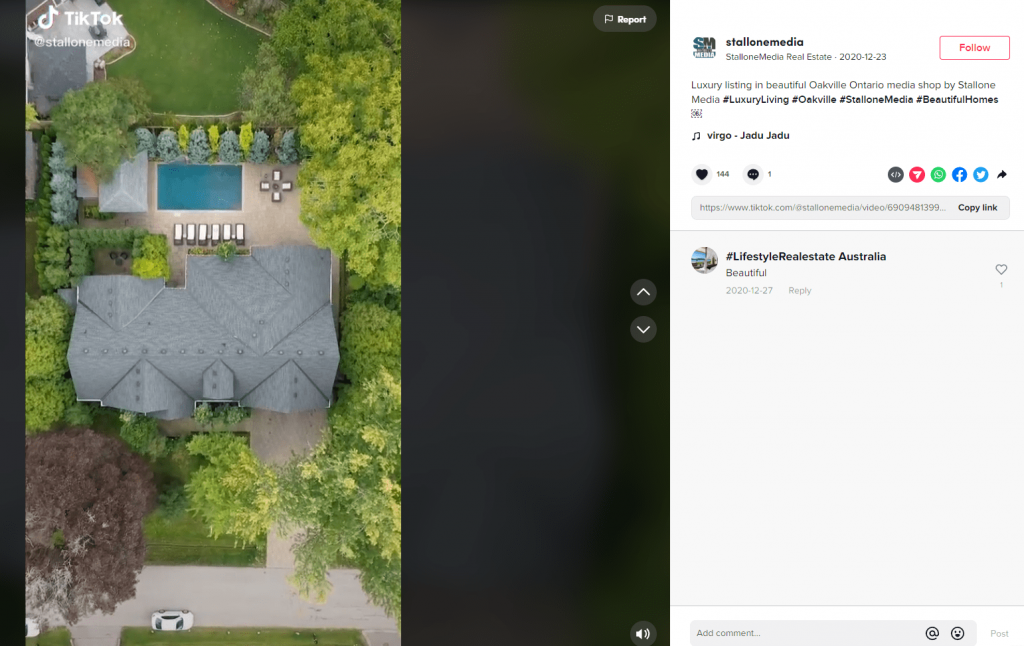 Source
18. Real Estate Trends
Real estate trend posts are a way of showing your passion and determination for the craft. Plus, these posts help you stand out from other agents by highlighting your experience and unique approach to the business.
So if you're looking to build trust and become an authority in the real estate market, try creating a few of these posts.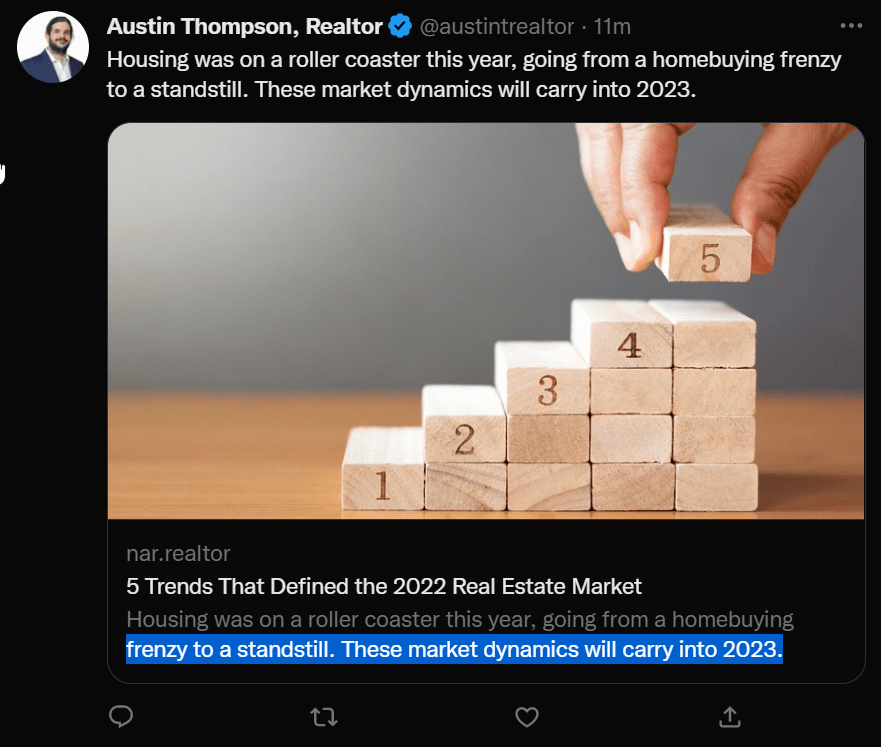 Source
19. Dispelling Real Estate Myths
As a real estate professional, you've probably had a lot of one-on-one meetings with clients, which usually involved dispelling some real estate myths.
What if you were to think two steps ahead and tackle this issue on your social media profile?
These real estate myths pose a real challenge to agents. The quicker you dispel them for your audience – the smoother your future collaboration will be.
Here's an example of an efficient myth-busting post.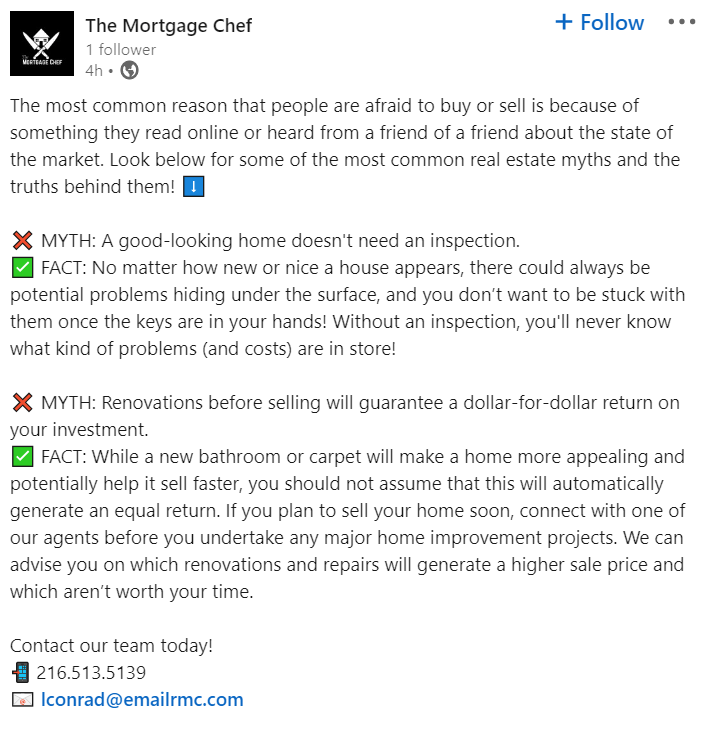 Source
20. Tips For First-Time Buyers
It's no secret: first-time homebuyers are freaked out about the home-buying process. Why not ease their mind with some tips and tricks?
Win-win, if you ask me. Not only do you position yourself as a real estate expert, but you also soothe their nerves and give them the much-needed confidence they need to make the first move.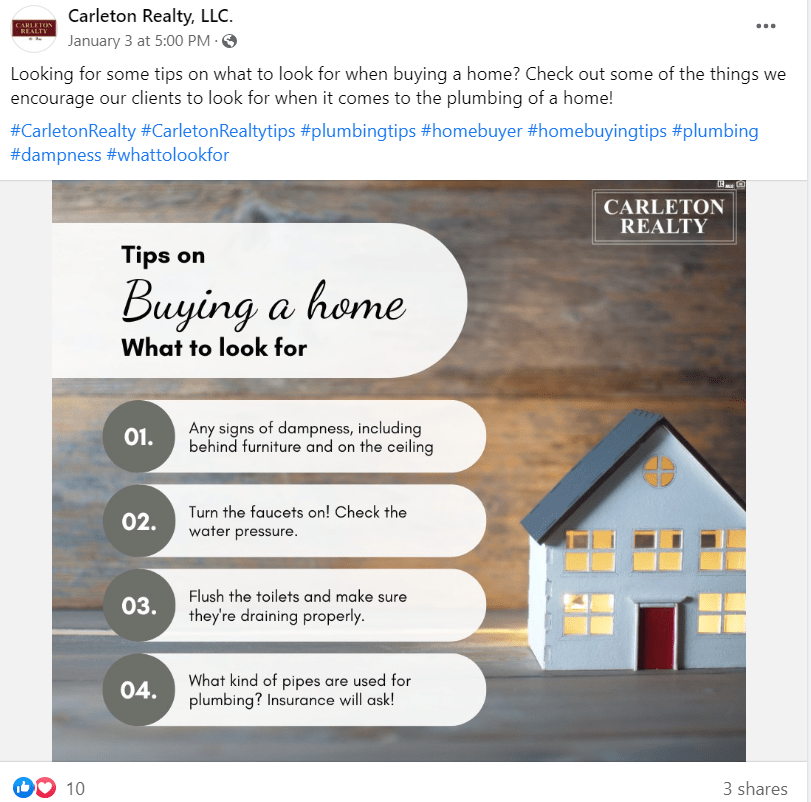 Source
21. Facebook Cover
As a real estate agent, how you present yourself to prospective clients matters. A professional appearance influences people's perception of you and prompts them to trust your expertise.
But what about your digital appearance?
Any seasoned marketer will tell you that our digital looks matter. A lot.
One key element of your digital appearance is your Facebook cover photo. This is the first thing people will see when they visit your Facebook page, so it must make a good impression. A professional and well-designed cover photo can help to establish you as a credible and reliable real estate agent.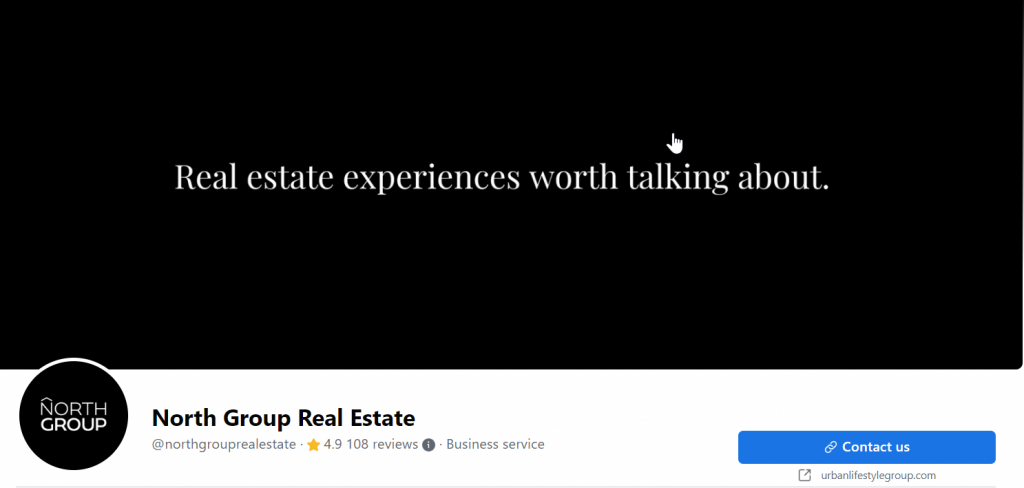 Source
Elevate your digital look with our customizable real estate Facebook cover templates. With Xara Cloud, you can design a professional Facebook Cover without any hassle. Try it out now!
22. Before and After Posts
If you're looking to drive interest to property listings that have undergone renovations, a before and after post is a great way to show off the property and provide a more in-depth look at the changes.
When creating these posts, focus on high-quality photography showing the property before and after renovation. Hire a photographer if need be – but never compromise on quality when it comes to showcasing your listings.
Use the Instagram Carousel option to create a comprehensive post that's not too crowded. This way, you'll be able to showcase every room and renovation done.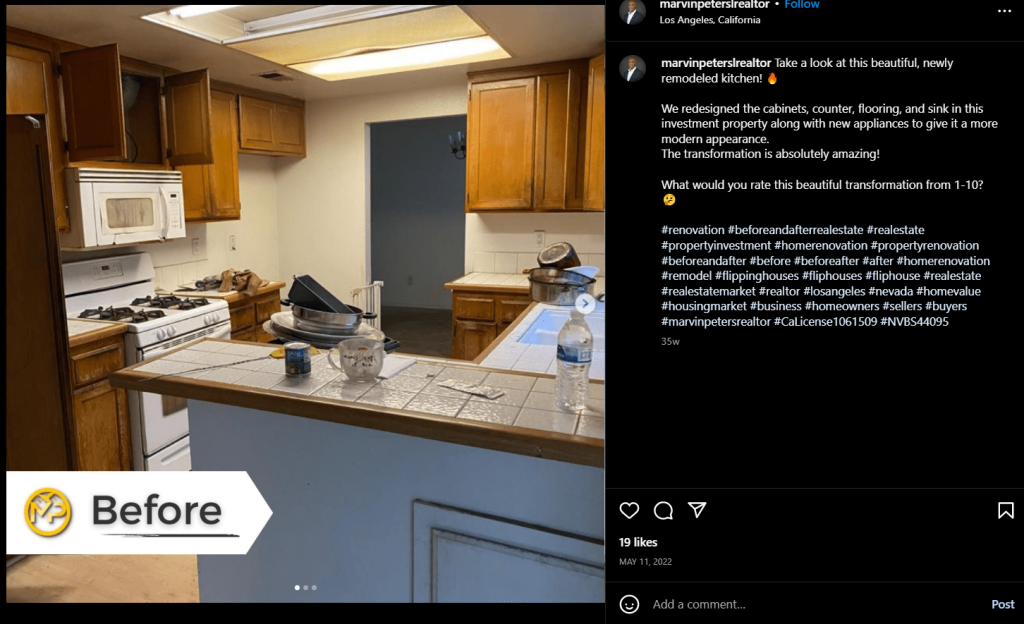 Source
Source
23. Real Estate Terms Post
Another great real estate social media post idea is an educational one.
Introducing your followers to some of the more common real estate terms will go a long way toward helping them better understand the industry. This is a great way to establish trust with your followers, and the more they understand the terminology, the easier it will be to collaborate in the future!
More so, the established trust and credibility established with these posts will eventually lead to more deals!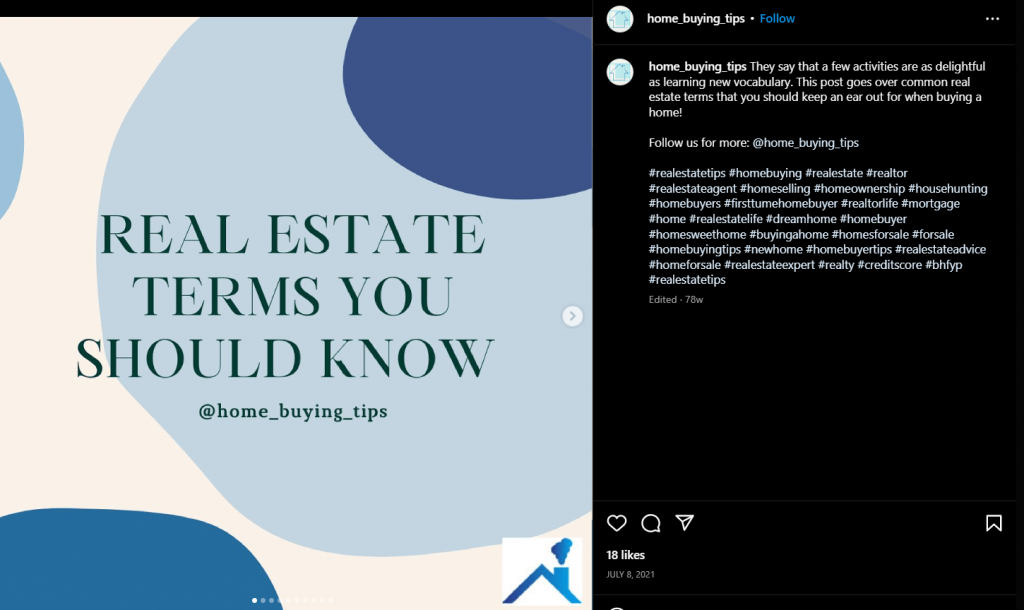 Source
24. Dos & Don'ts Post for Future Realtors
Many may be intimidated to enter the real estate industry right now. The real estate challenges of 2023 are complex and hard to navigate.
Even for the most seasoned agents.
But the industry is facing a talent shortage, with not enough qualified agents in the market.
"Do's and don'ts" can empower candidates to join the industry and build their skills and knowledge.
These posts also build your expertise in the field and may attract top talents your way.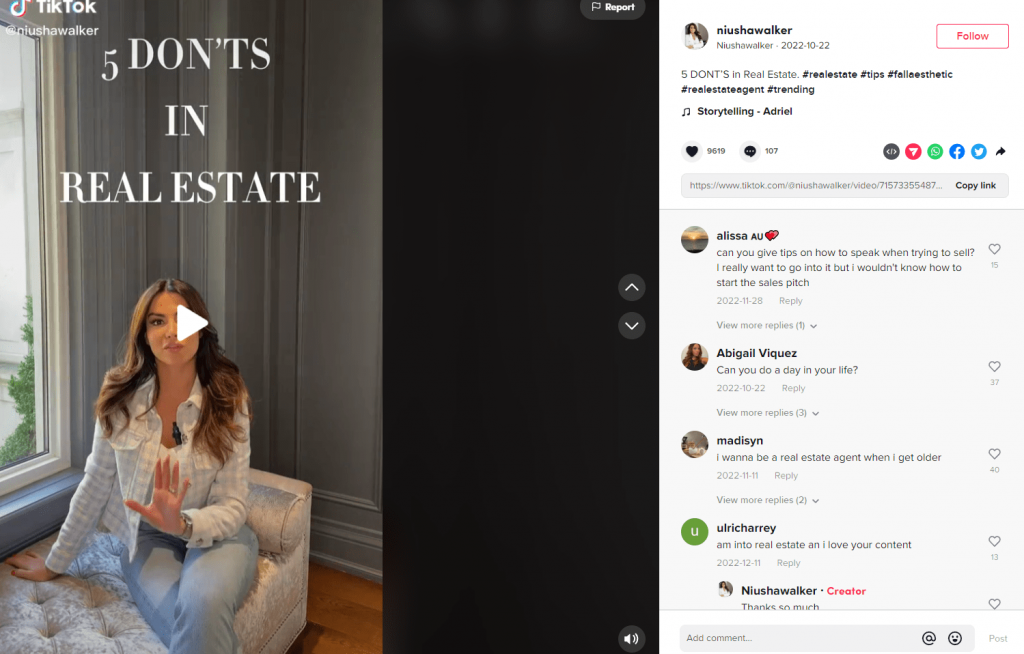 Source
25. Seasonal Real Estate Posts
If you're running out of ideas, seasonal real estate posts are always there to back you up. Seasonal-themed posts will always go down well with your audience and help you boost engagement. Here are some ideas to help you get started:
How to decorate your home for the holidays.
Best places to live in to see the lights.
These should be your New Year's Resolutions if you want to buy (finance habits tips and tricks).
Best haunted houses in [insert city] for Halloween.
Asking for referrals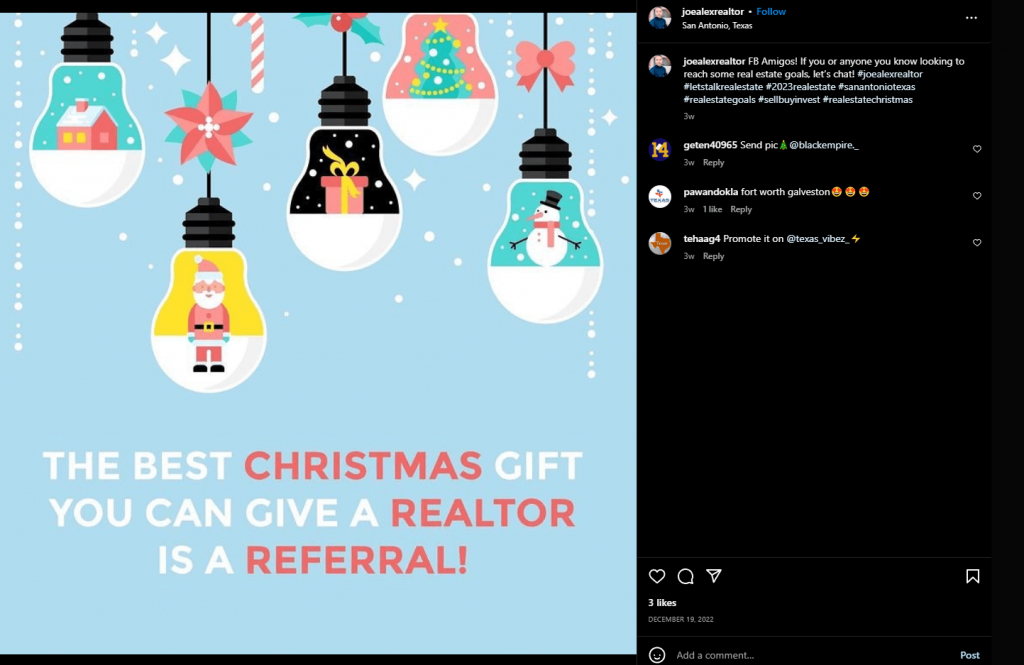 Source
26. What to Expect When Working With a Realtor Post
Myths about real estate agents have been around for years.
If you want to attract more potential clients and eliminate misconceptions about the industry, share this post to make your audience aware of the benefits of working with a real estate agent. Working with a real estate agent might be expensive – but well worth it in the end.
This type of post can also provide insight into the process of buying a home and will help potential clients have a better understanding of the process.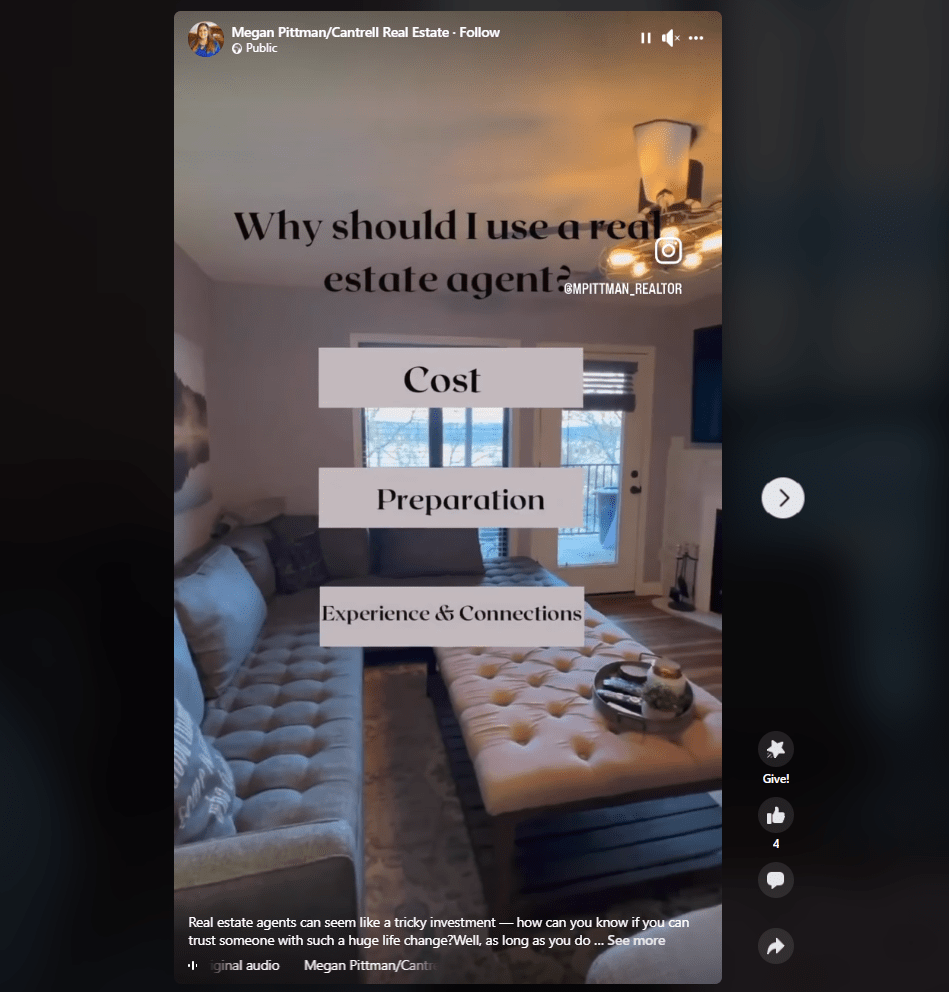 Source
27. Real Estate Agent Spotlight
Agent spotlight posts are a great way to introduce your team to your audience and share what makes them awesome. Not only will this help you attract more potential clients, but it will also help you build your credibility as a real estate brokerage.
You can highlight local agents on your team with these posts:
Sharing their comments about their favorite parts of being a real estate agent
Client testimonial posts
Open-house event posts
Sharing their top selling strategies or tips that they use with clients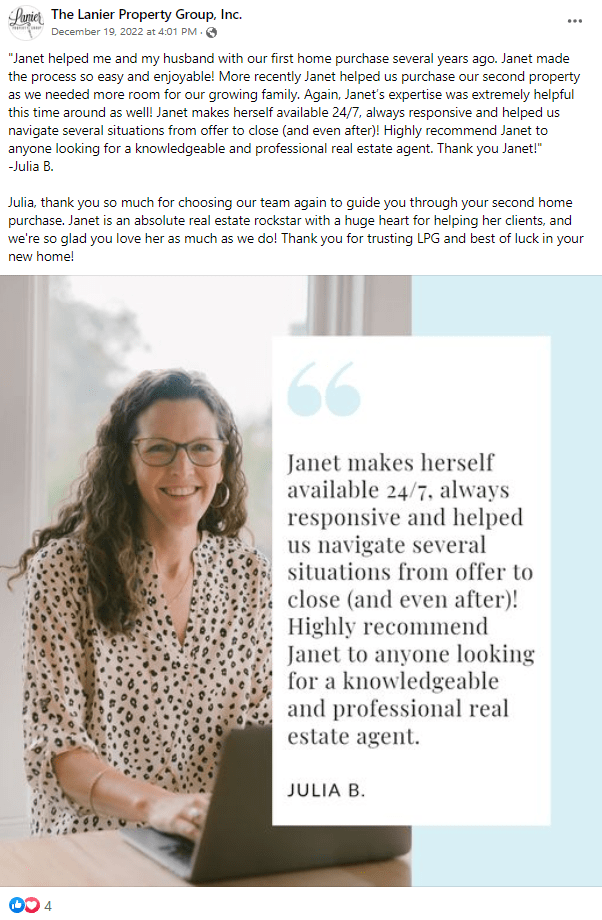 Source
28. Q&A Posts
Question and answer posts are a great way of building trust and authority with your audience.
And if you want to establish yourself as a real estate thought leader – these will help raise your brand's reputation as a credible source. Homebuyers, sellers, and even agents have a bunch of questions about the real estate market and industry.
Make a list of questions your clients or colleagues frequently ask you about real estate and crop up your expert-based answers. If you don't know what your audience is looking for, do a poll. Or hop on Reddit, Quora, or Facebook groups to see what concerns people.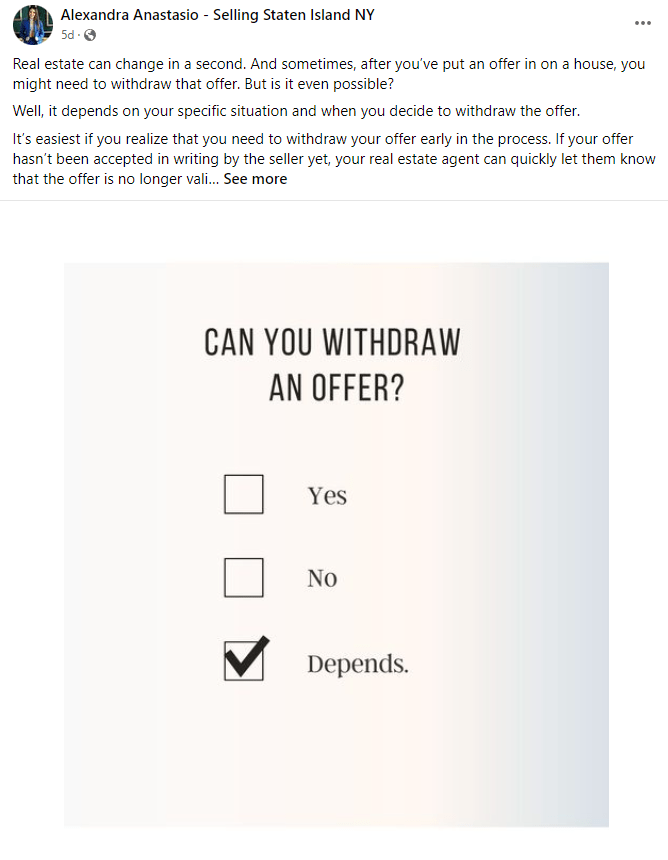 Source
29. Why You Should Choose Me as Your Real Estate Agent Post
This is obvious, but it's also one of the most effective ways to build trust with potential clients.
Choosing to collaborate with an agent is not an easy decision. Homebuyers and sellers need to find the right person for the job.
Tell them why you would be the best agent for them! Besides highlighting your work values and unique value proposition, you should also highlight how you've helped other clients with the home buying or selling process over time!
Oh, and showcase your real estate niche. Are you the best in town for first-time buyers? Or luxury real estate? or maybe you specialize in historic homes? Mention that in your social media posts!
It will help people gauge whether you fit their needs well.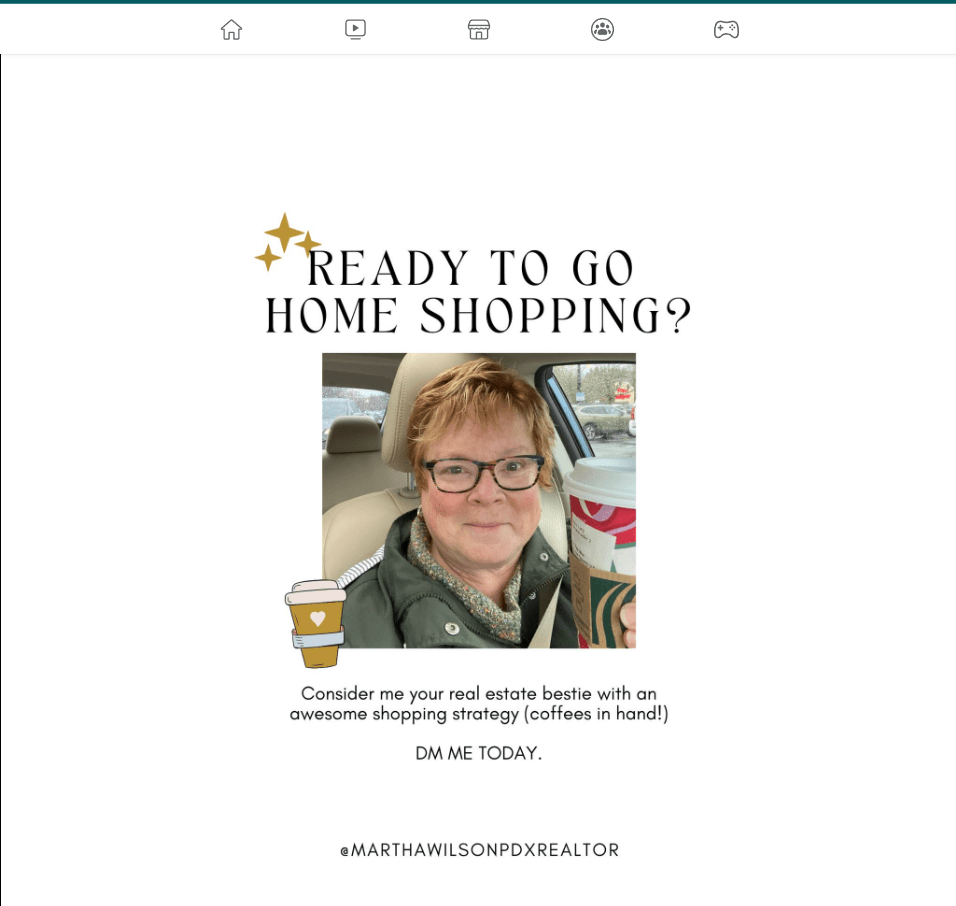 Source
30. Polls
Not only are polls super engaging for your audience (as they encourage them to share their thoughts in the comments section). But they can also be insightful for you.
Polls can help you get to know your audience better – which means more content ideas and insight into what properties you should look for on the market!
Post these polls on your feed or stories to catch people's attention and increase engagement!
Zillow's mastering the polls game. Check out the engagement that this post got!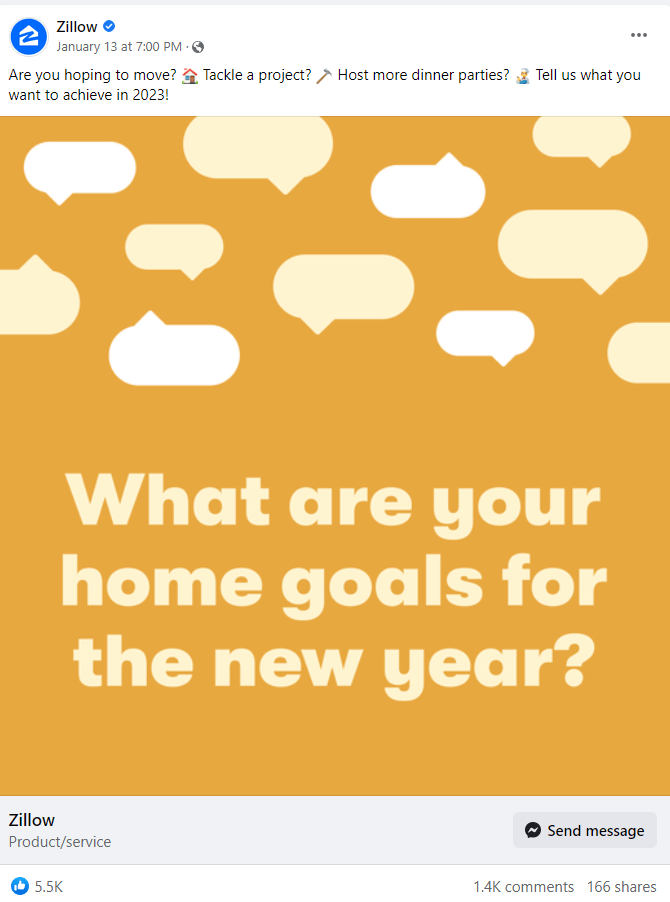 Source
Upgrade Your Marketing Game With Xara Cloud's Real Estate Social Media Templates
Real Estate Instagram Templates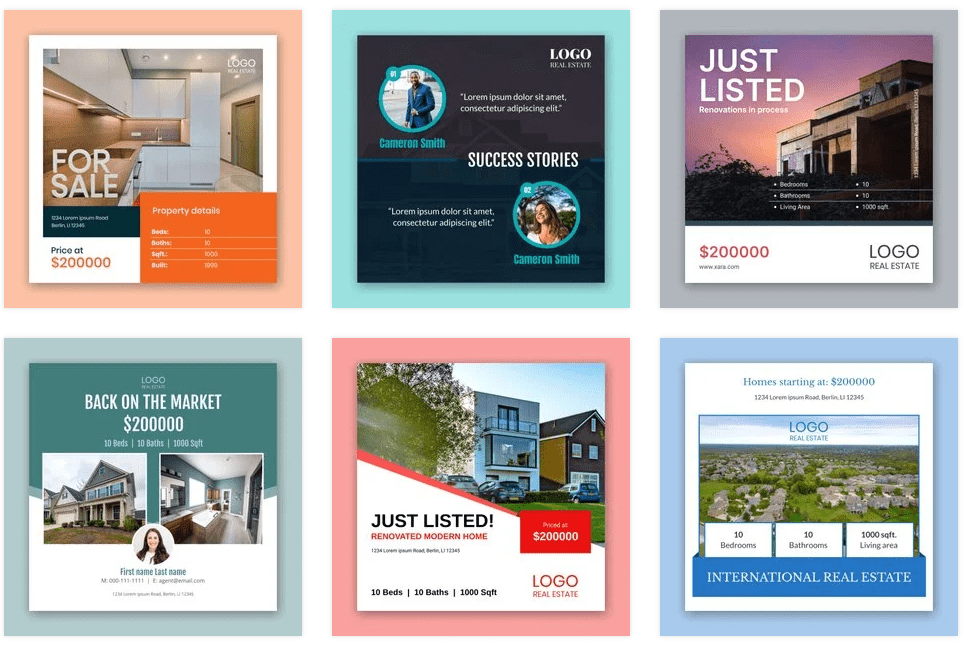 Source
Real Estate Instagram Stories Templates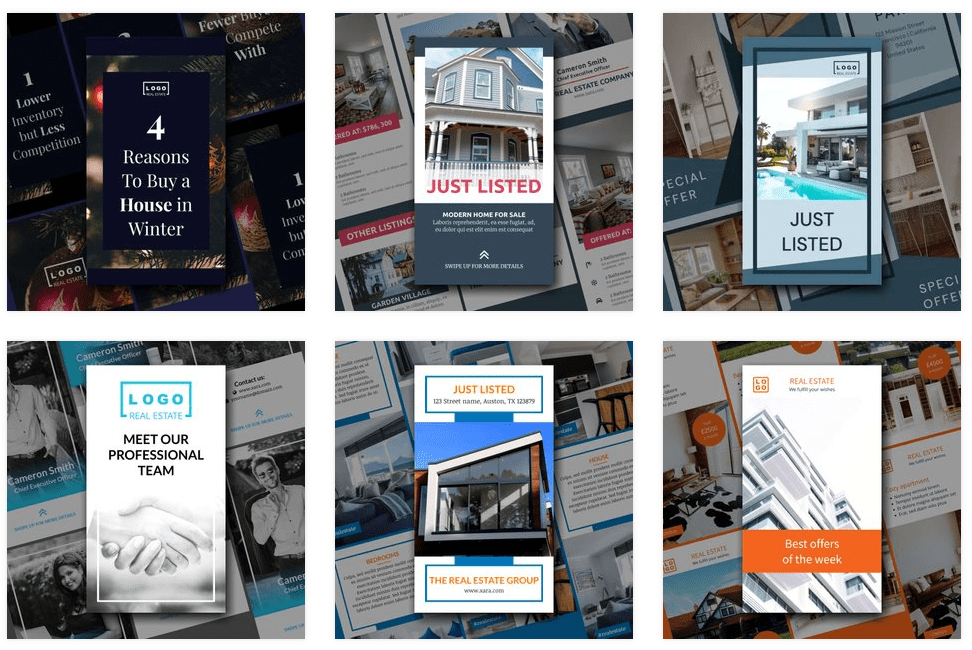 Source
Real Estate LinkedIn Templates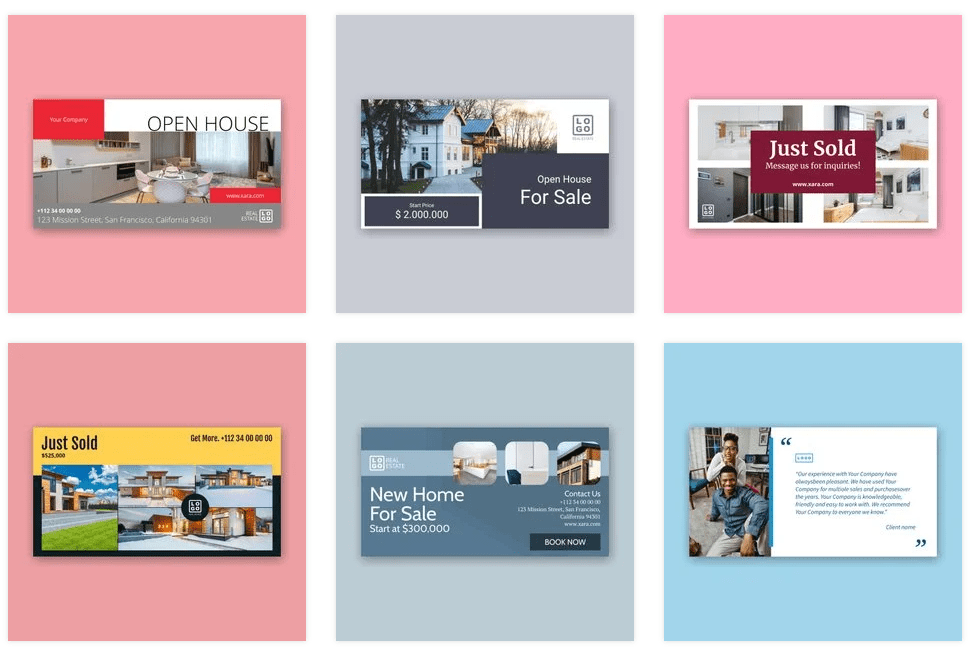 Source
Real Estate Facebook Templates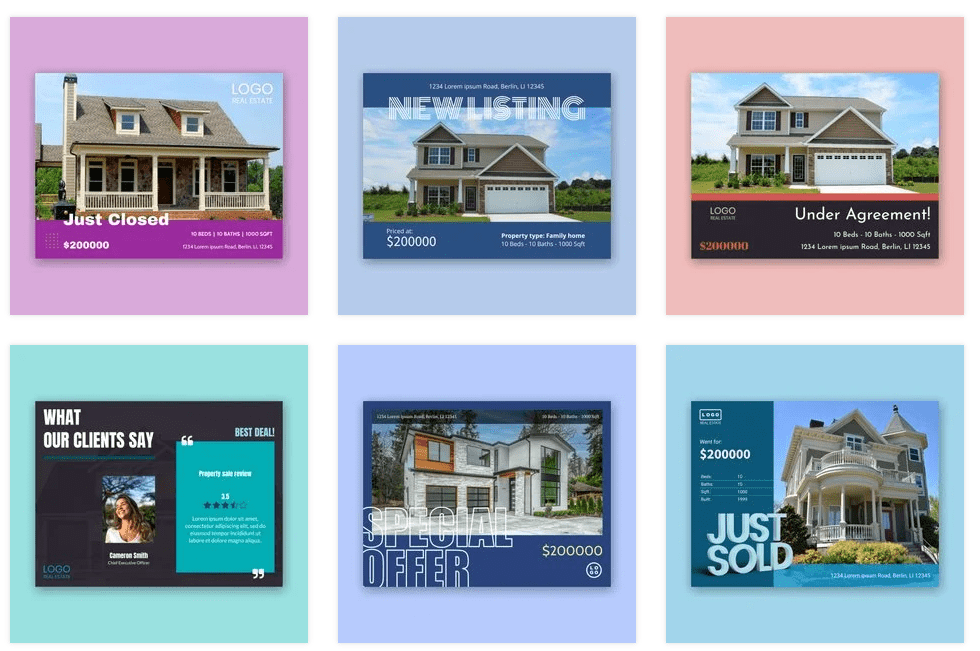 Source
Are you ready to take your real estate business to the next level? Make Xara Cloud your real estate agency's all-in-one platform.
With our templates and user-friendly editor, you can elevate your real estate marketing materials without any headaches. With auto-branding, your brand will always stand out on social media.
But that's not all.
Thanks to the MLS integration, you don't have to manually create thumb-stopping social media posts. Simply add your listing ID and let Xara do the work. Create killer social media posts with the listing's info.
Then, use our social media integration to quickly resize your posts and post them to your social media accounts.
Don't settle for a generic, cookie-cutter design. Show off your brand and stand out from the crowd. Sign up for Xara Cloud now!