Welcome, real estate agents! Do you want to stay ahead of the competition and make it big in 2023? Well, real estate marketing materials are a must if you want to boost the visibility of your business.
And today, we'll give you a rundown of the best marketing materials every real estate agent needs.
With the right materials, you'll be well on your way to success. Not to worry if you're not some sort of design wizard. Our real estate templates will cut your workload in half while also ensuring that your marketing collateral is always on brand.
So, let's get started! Listed below are the best 2023 real estate marketing materials!
17 Marketing Materials for Realtors and Agents in 2023
Technology is rapidly evolving, no doubt about that. Even so, it's looking like print marketing is still in for 2023.
Especially in the real estate industry. Print complements digital and gives agents a competitive edge in today's scroll-daze world.
That's precisely why we've put together this list of the best real estate marketing materials to produce in 2023:
1. Real Estate Business Cards To Make a Good Impression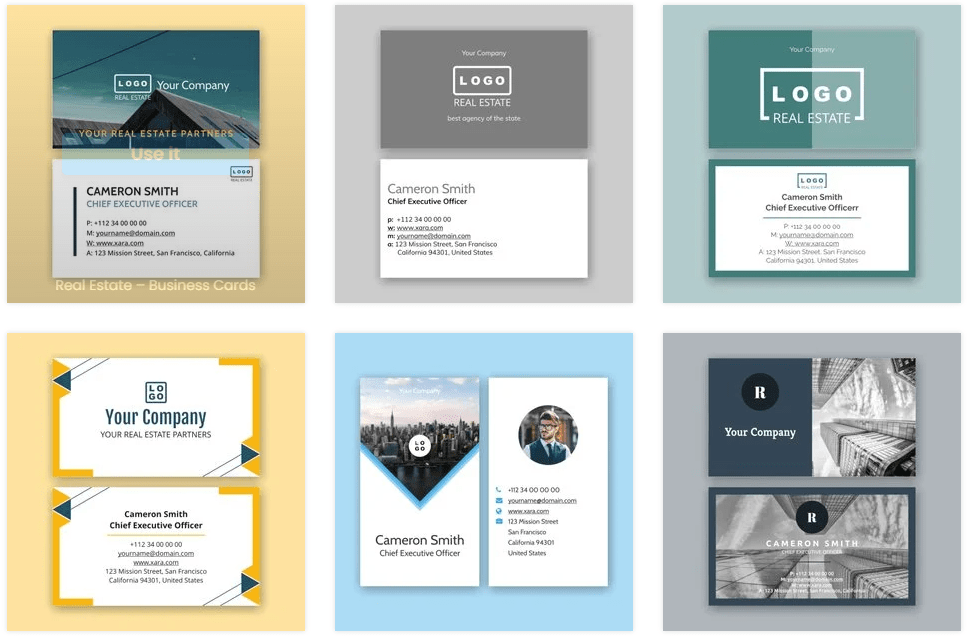 Source
One of the most important real estate marketing materials is the business card.
They say first impressions count. This is not just a popular catchphrase. First impressions are memorable. They stick in people's minds and influence further purchasing decisions.
What better way to stay top of mind than with an eye-catching real estate business card?
Besides contact information, an effective business card should also contain a quote or slogan.
Why bother with that?
Real estate business card quotes let your values and personality shine through. A well-crafted quote will give you the upper hand in the real estate industry while also showing your unique value proposition.
Looking for inspiration? Check out our real estate business card templates to fuel your creative engine!
2. Real Estate Brochures to Introduce Prospective Buyers to the Properties and Neighborhood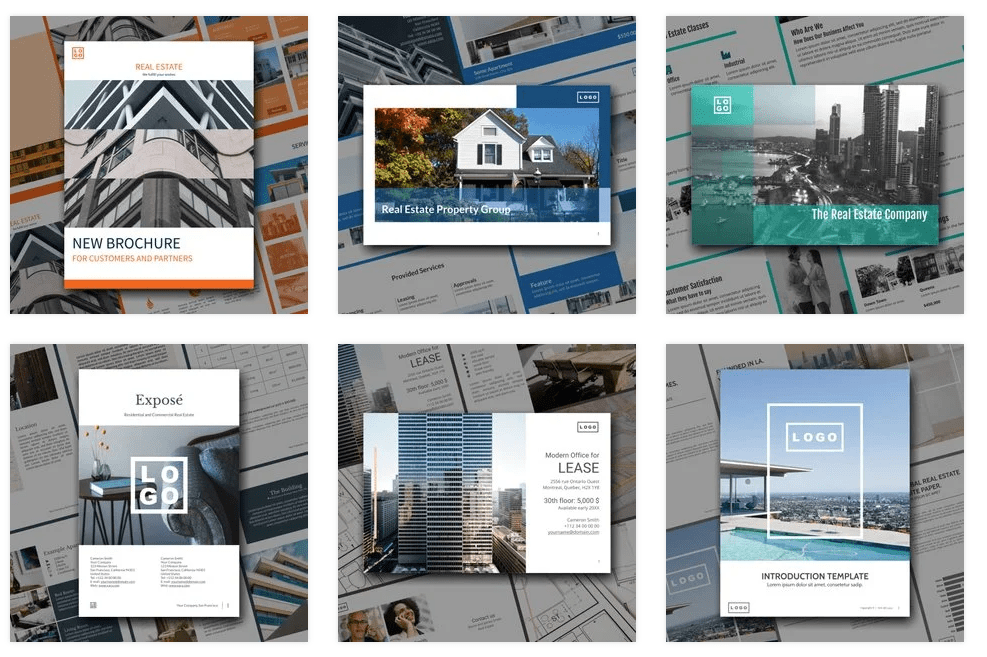 Source
Real estate brochures are super versatile marketing materials for real estate.
For one, you can use them to showcase all the excellent features of a special property you have on your hands. They work especially well with luxury real estate, historic properties, or quirky ones. A brochure dedicated to a single property allows you to showcase the property in depth.
Brochures can also highlight multiple properties at once. Use this approach when you have multiple listings with specific features or a certain part of town. This way, they can leaf through and find their top picks to visit.
Lastly, real estate brochures can promote your real estate business across town. Include contact information, trends, outcomes, and even local real estate news!
A well-designed real estate brochure can make a big impression on buyers and help them get excited about a property. It's the perfect way to introduce them to the neighborhood and the various properties you have for sale.
Brochures should be visually appealing, with accurate and up-to-date information about each property. Include your unique value proposition to stand out. And don't forget to include contact information!
3. Open House Flyers to attract people to your next open house event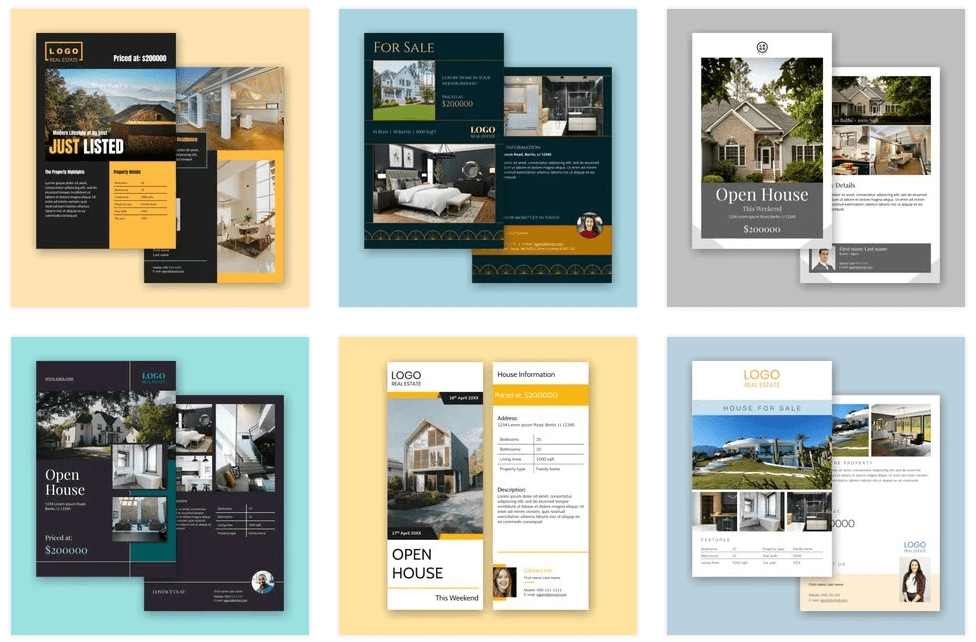 Source
Open houses are an opportunity to show off a property and close deals! But you need to attract people to your open house event to make the most of it.
That's where open house flyers come in. They're a great way to get the word out about your next open house event. And since they're visually appealing, they're more likely to catch people's attention.
Sure – getting the word out via online ads is mandatory. But using physical flyers as an additional resource might attract people that aren't as active on these channels.
4. Eye-catching MLS listings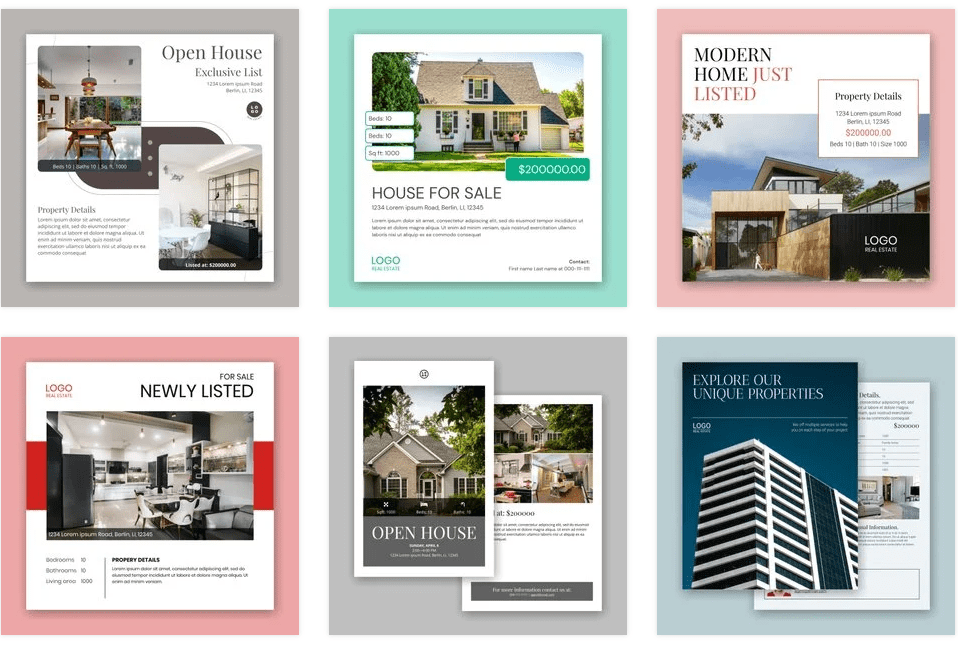 Source
An eye-catching MLS listing is a key marketing tool for real estate agents. After all, it's the first step in getting your property shown to potential buyers.
So what makes an MLS listing stand out? The answer is simple: high-quality photos, a neat design, and key features.
People are visual creatures. I guarantee that the listings with the best photos and design get the most clicks.
You want your listings to be their first choice! To increase the click rate, include professional, high-definition photos showing the property in its best light.
If you're not a professional photographer, that's OK – you can hire one. Make sure you get some great shots of the property before listing it.
Did you get a chance to check out our MLS integration? With Xara Cloud, you can add listing data to your real estate marketing materials and create stunning MLS listings in minutes! Get started now!
5. Blog Posts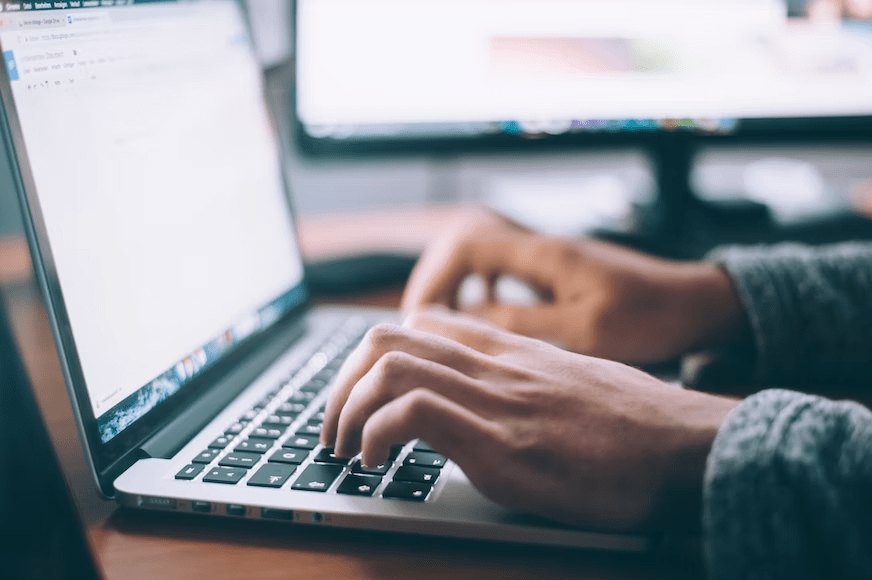 Source
If you're not blogging already, you're missing out on a huge opportunity to attract new leads and build your credibility as a real estate expert.
Blog posts are one of those real estate marketing materials that can set you out as a real estate thought leader. Not only that, but they also attract new clients and build customer trust.
But what should you blog about? Here are a few ideas to get you started:
Industry news. Keep your readers up-to-date on the latest industry news and developments.
Local market trends. Share your insights on the latest trends affecting the local real estate market.
Tips and advice. Share tips and advice on buying, selling, or remodelling a home.
Homebuyers and sellers' resources. Help your readers navigate the home buying and selling process with guides, checklists, and other resources
6. Newsletters
When was the last time you flipped through a paper newsletter? If you're like most people, it's been a while. But that doesn't mean newsletters are dead—far from it.
Online newsletters are an effective way to keep your name in front of clients. And with email newsletters, you can reach a much wider audience than you ever could with print.
The best part? Email newsletters are cost-effective, and there are plenty of templates out there to help you get started. Once you have a few content ideas under your belt, you can start to get creative with your content and make your newsletter stand out.
Not sure where to start? Here are a few real estate newsletter ideas to spark your inspiration:
A monthly real estate market update for your city or town
A roundup of exciting properties up for sale in your area
An interview with a local expert (like a home inspector or mortgage broker)
How-to posts, such as how to prepare a property for sale or how to decorate a space.
Educational guides, such as first-time homebuyer tips or a full guide on all things home-selling.
P.S.: Make sure your newsletter is mobile-optimized. To stand out from the pack, use our real estate newsletter templates!
7. Social Media Posts to Reach a Wider Audience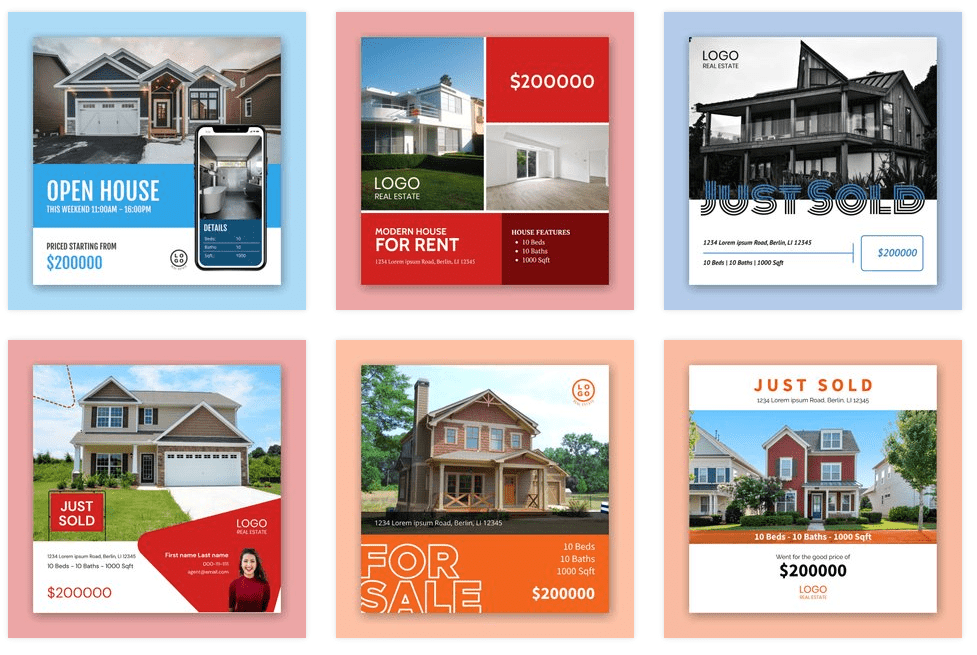 Source
Social media posts are top of the list regarding real estate marketing materials. Let's face it – without an online presence, any business is deemed invisible nowadays.
Regular social media posts are necessary if you want to attract new leads, create brand awareness, and build trust with your audience.
But what kind of social media posts should you create? Here are a few real estate social media post ideas:
Visually appealing posts with listing information (address, price, number of bedrooms, etc.)
Open house event announcements
Social media posts featuring testimonials
Social media posts featuring tips & tricks
Social media posts with the recent trends and updates in real estate
Posts with essential facts about specific neighborhoods (schools, public transportation available nearby, exciting attractions, supermarket around, safety rates)
Truthfully, the sky's the limit when it comes to social media content ideas, so you can get creative and showcase your skills.
Need help creating beautiful marketing materials for real estate? Use our social media templates to showcase your listings, attract leads, and promote your business!
8. Window Displays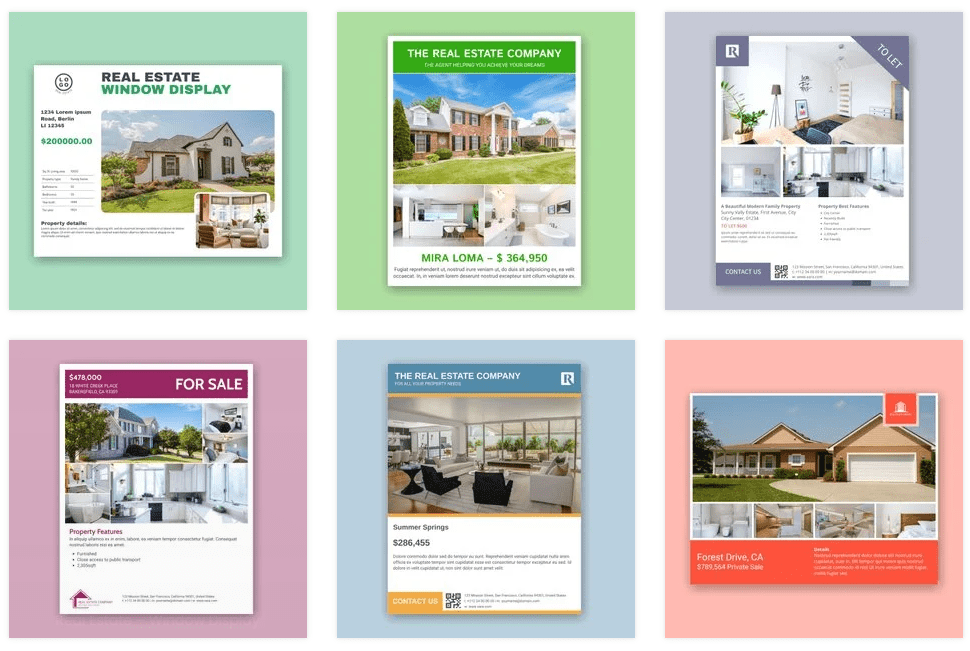 Source
Window displays are a great way to attract potential clients to your real estate business. They are eye-catching and allow passersby to identify what services you offer quickly. It's a chance to create a memorable impression and to stand out from the competition.
Additionally, you can distribute them across town to promote specific properties or deals. More so, they can be used to announce open houses or instil a sense of urgency for potential clients looking to purchase a home soon.
Despite the common myth that print is dead, window displays are still effective marketing materials that might bring clients your way!
9. Real Estate Facebook Cover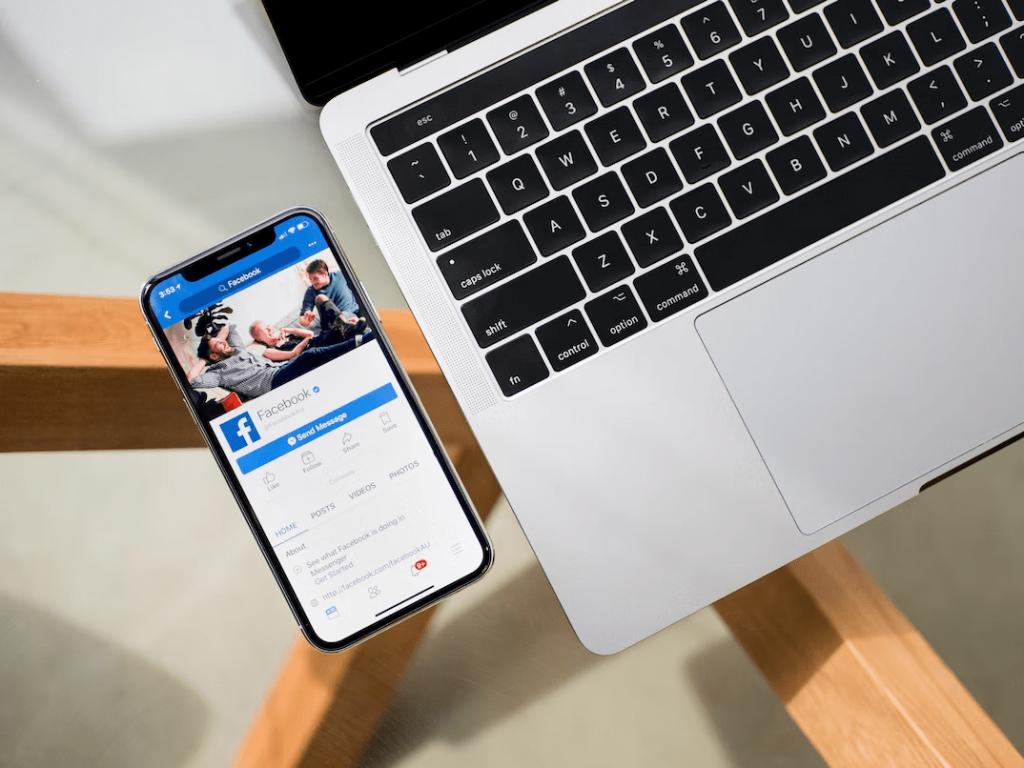 Source
90% of realtors use Facebook to promote their services and attract potential customers. Sure, a multichannel approach is key.
But Facebook is a must. Despite it being called an "outdated" platform, millennials and those over 45 are pretty active on Facebook – and when you're looking for real estate clients, this is the demographic you're looking for!
And an important material in attracting clients is the cover. Think of it as a billboard!
To create a professional and attention-grabbing real estate Facebook cover, there are a few things to keep in mind. First, include high-quality photos and ensure the right format for your cover.
You want to make an excellent first impression. Remember, people will look at this cover photo whenever they visit your page. Poor-quality images don't exactly scream professional.
To design the cover, think about what message you want to communicate with your cover photo. What's your brand's story? What pain points can you solve for your target audience?
You could add a relevant quote, photos of some exciting properties you've sold, or a picture of yourself. Whatever route you choose to take, make sure the cover applies to your brand and what you're trying to achieve.
If you're unsure where to start, there are plenty of real estate Facebook cover templates on Xara Cloud to choose from.
10. Open House Signs
What if I told you that open house signs make great real estate marketing materials? Yep.
That open house sign can lure interested passersby straight into your open house event. It can also assist those who find out about the event online in finding the house.
But before you get all excited, ensure the property is in a well-circulated area of town. Open house signs won't do much other than empty your wallet if the house is on a remote street.
For the sign, you can either buy a pre-made one or make your own. If you're going to make your own, use bright colors and big letters so it's easy to spot from the street. Remember to include your logo, contact info, address, and the time of the open house event!
11. Email Marketing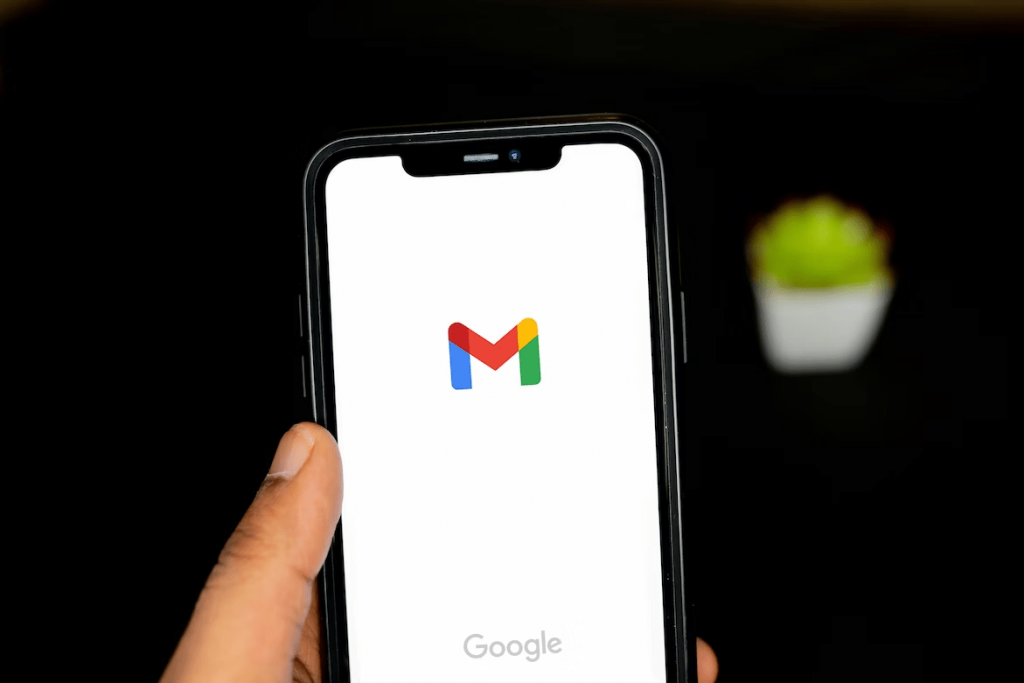 Source
Email marketing is a must for real estate agents. It's a cost-effective way of nurturing leads. Not only that but sending email campaigns to past clients can also increase the number of word-of-mouth recommendations.
Another key advantage is that you can segment your audience and fully control who gets to see your emails.
Let's say a lead subscribed to your email list, but you also have past clients in your list.
By segmenting your audience, you can send tips and tricks emails to home buyers, educational pieces to home sellers, and ask past clients for referrals.
Here are some content ideas to focus on if you're uninspired:
Welcome emails to inform readers of the content they will receive, of the frequency of the content, and to give a warm welcome to new subscribers.
Follow-up emails to ask buyers how they're enjoying their new home, send them a list of resources that might help with the renovation process, or just let them know they can contact you if they have any further questions.
Referral emails. Asking for referrals might be uncomfortable, but it's the best way to get new clients as a real estate agent.
Open house announcements for homebuyers.
Recent Listings – you can segment your audience by property type, area, or common interests. This way, the listings are personalized to their needs!
Real estate marketing trends that buyers and sellers should know.
Customer case studies highlight your workflow process and the results you've achieved.
Tips & tricks emails – these can set you out as a trustworthy real estate expert while also helping customers with the process of buying or selling a house.
12. SEO-optimized website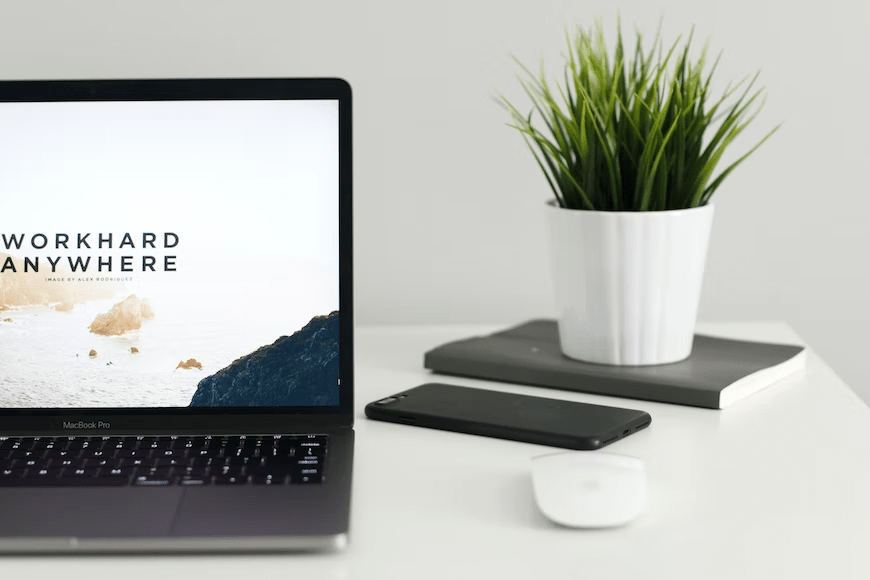 Source
Out of all the marketing materials for realtors, your website is probably one of the most important resources at your disposal.
97% of homebuyers start the search for their dream house online. Usually, people type in different keywords, such as "realtor near [insert location]" and "condo for sale in [insert location]. And the research suggests that the first three results on the Google search page get around 54% of the clicks.
So if your website is not SEO optimized, or worse, if you don't have a website, you're losing clients. How do you expect them to find you if you don't pop up in their Google search?
An SEO-optimized website will bring you visibility, bring in new clients, and set you out as an industry expert. So stepping up your SEO game is a must.
But how do you do that? Here are a few tips and tricks to help you rank first on Google:
Keyword research. Everything – from your homepage and landing pages to blog posts has to be optimized with keywords that people type in their Google search bar. To find the right keywords, use Ahrefs.
Optimize your website for mobile. A slow and clunky webpage annoys people and deters them from accessing that page again. Not only that, but Google penalizes websites that are not optimized for mobile. So mobile optimization is crucial.
Write constant content.
Index your pages on Google Search Console. Without indexation, webpages are not visible in search results.
Include videos on your website, including tours of previously sold properties, current listings, or client testimonials.
Use Google Business – this way, your business will be the first to pop up when people type in phrases such as "real estate agency in [location]". To increase your chances of ranking first, your best bet is to ask for customer reviews.
13. LinkedIn Posts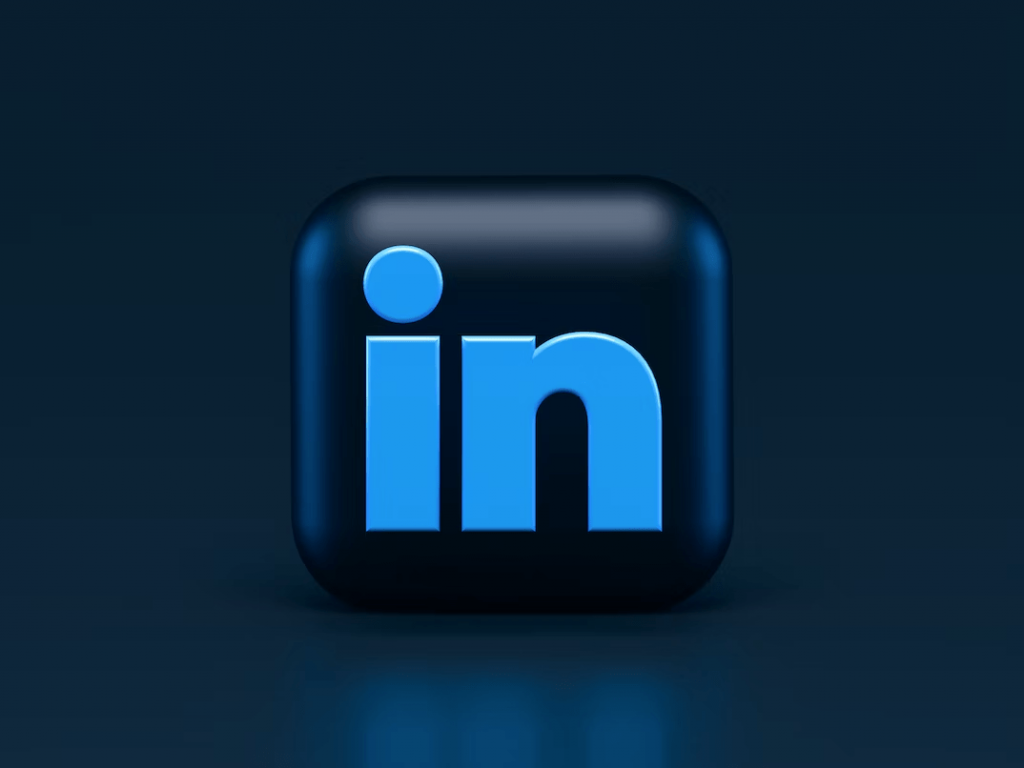 Source
Don't underestimate the power of LinkedIn. Sure – its user base is smaller. But this is a business-centric platform, which makes it ideal for promoting your services as a realtor.
Plus, most LinkedIn users are over 30, and around 55% of users have a high income – this is the most inclined group to purchase a home.
LinkedIn posts help you connect with other professionals, build your expertise, and promote your listings and events.
So set up your profile, write an engaging bio, add a cover photo highlighting your unique selling points, and start posting!
But what makes a good LinkedIn post? To start, it's essential to make your post engaging. You want to capture your audience's attention, so they'll take the time to read it. Your posts should also be informative and provide helpful advice or insights into the real estate market.
14. Unforgettable Listing Presentations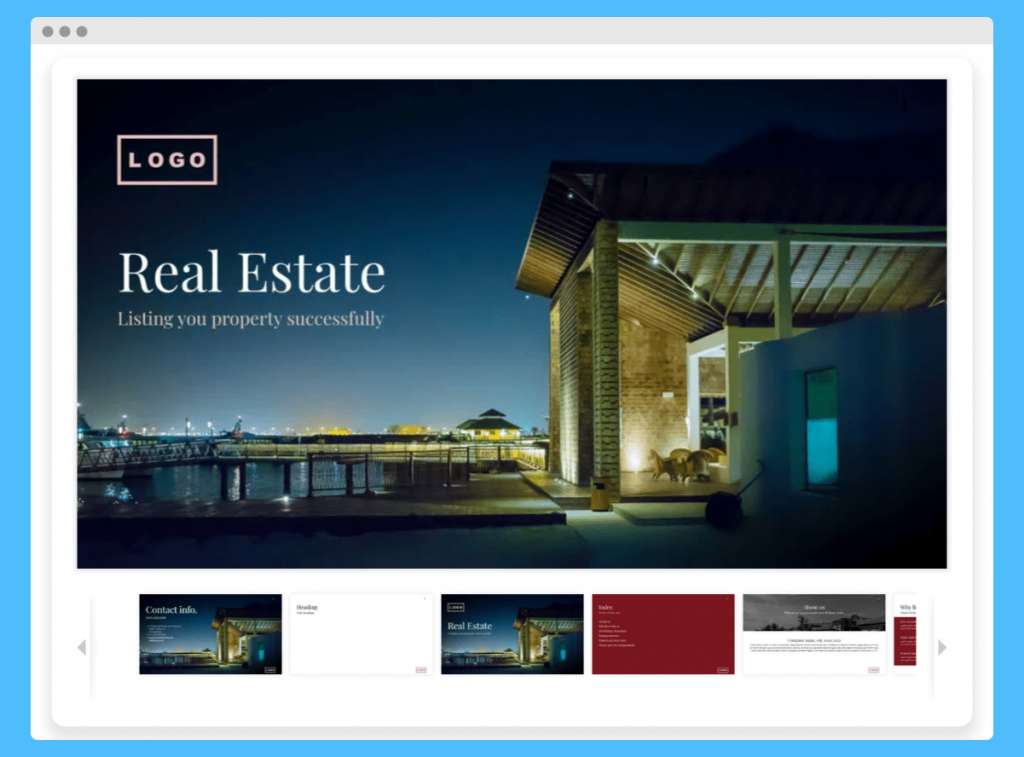 Source
There's no doubt about it – real estate is a competitive field. With all the economic and geopolitical turnout, competition is even higher.
If you want to win clients, you must put your best work into creating marketing materials for real estate. And the listing presentation needs to be on point. Every time.
To create a winning listing presentation, including the unique value proposition, a brief resume, social proof, local market data, marketing strategies, price-choosing strategy, and an overview of the sales and home-preparing process.
But you don't want to bore your audience. Quite the opposite – you want your listing presentation to be attention-grabbing and unforgettable. High-quality photos, good design, and data visualization tools will get you there.
If both print and digital marketing strategies are on your list, bringing a few real estate marketing materials to the listing appointment won't hurt.
You can even go a step further by creating an attention-grabbing video walkthrough of the property – something buyers have come to expect by now! The idea here is to stand out from the competition by giving people something truly memorable.
15. High-Quality Photos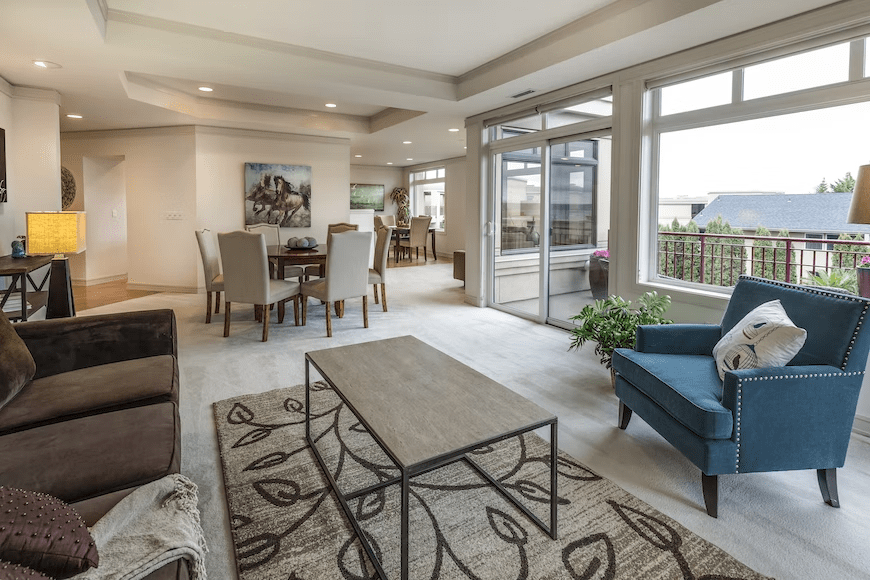 Source
No matter the type of real estate marketing material you're creating, high-quality photos are a must. You want to showcase the features and beauty of any property you are trying to market.
High-quality images can make or break the deal. There's an art to real estate photography. These images should make the house's best features shine through. They must evoke an experience to transport prospects into the house.
Therefore, investing in a real estate photographer might be your best bet. Mainly if your photography skills aren't that advanced!
16. Door Hangers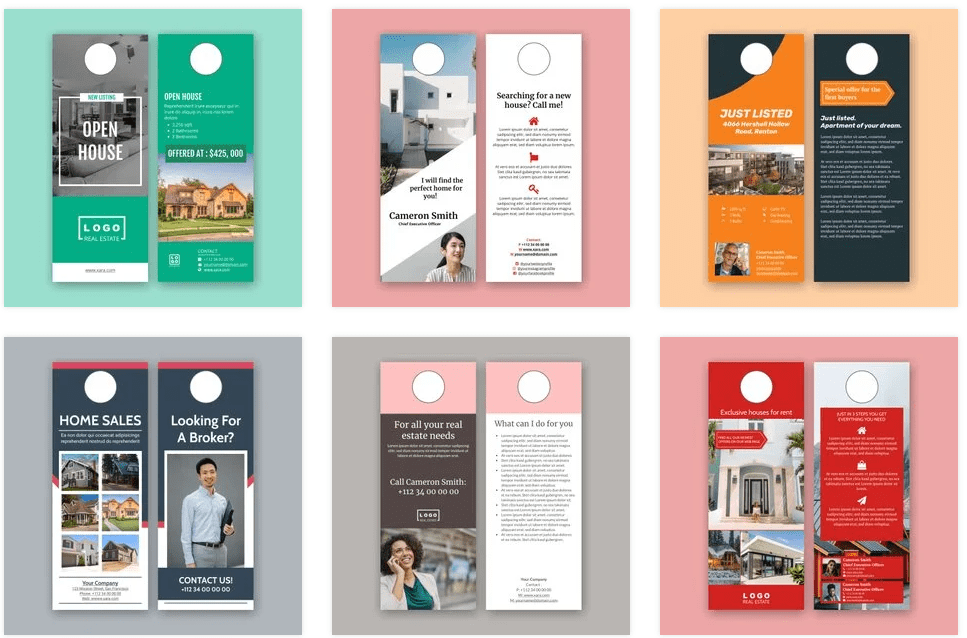 Source
You can't go wrong with door hangers regarding real estate marketing materials. In fact, door hangers play a massive role in modern real estate marketing, as they are a great way to communicate with potential clients who live in the area you are trying to sell.
Don't forget to include your favorite real estate quote or slogan. This will show potential customers that you're serious about helping them find their dream home—which could be the key to closing more deals!
17. Real Estate Ads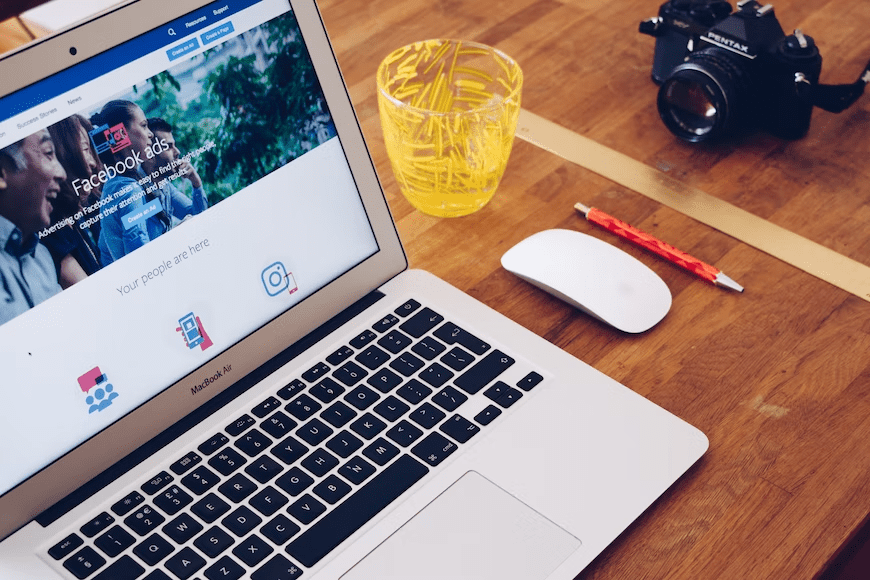 Source
Online ads help you promote your listings and business to specific audiences, such as people in a particular city or age range. They also drive traffic to your website or landing page.
With the right message and visuals, online ads can effectively attract new leads and close more deals.
When creating online ads, consider the goal of your campaign and make sure your ad reflects that goal. Write ad copy that speaks to the target audience. Be empathetic towards their pain points and showcase your solution to their aches.
And don't forget to include a call to action to prompt readers to reach out!
If we were to recommend one platform for real estate advertising, Facebook would certainly be the winner. With Facebook ads, you can attract clients and close more deals – the quick, cheap, and easy way.
Here are some real estate ad ideas:
So, there you have it: 17 real estate marketing materials you can use to generate leads and close more deals in 2023. And if you need help getting started, be sure to check out our free templates below.
Real Estate Templates For Awesome Real Estate Marketing Materials
Here are some of our favorite design templates for creating outstanding real estate marketing materials.
We hope you find them helpful!
Real Estate MLS Templates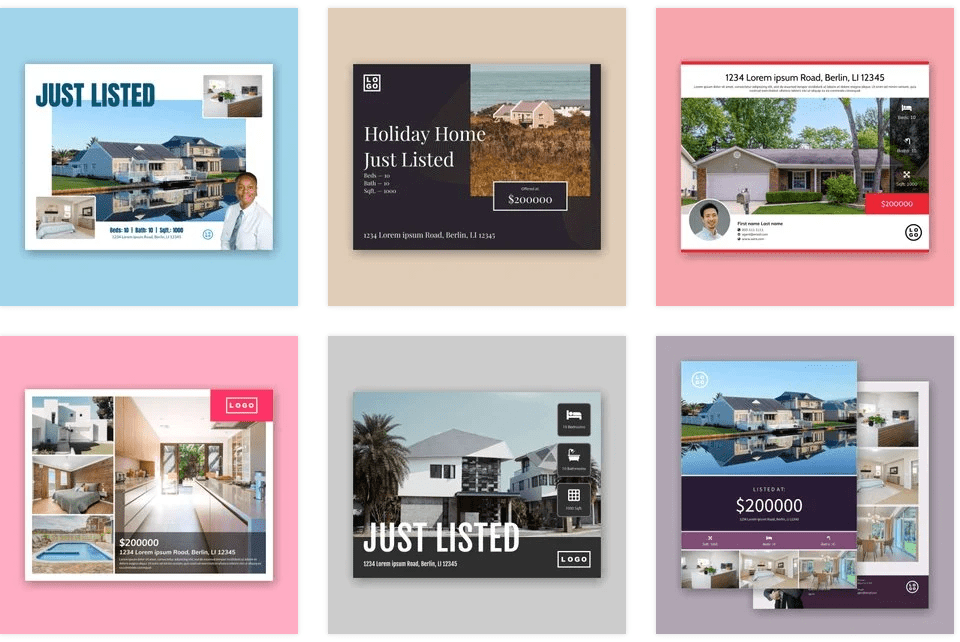 Source
Getting listings on MLS is a top priority for any real estate agent. Sure, keyword research and spot-on property descriptions and headlines are musts. But you also want your listings to shine.
High-quality photos and excellent design are crucial to standing out in the crowd and getting people to click on your listings. Quality evokes trust and professionalism, key ingredients to closing more deals!
Here are a few MLS templates that can help you get the job done in no time!
As you can see, Xara Cloud has a variety of templates for your MLS listings – whether your niche is luxury real estate, commercial real estate, or family homes, our templates will suit you like a glove.
Plus, our MLS integration helps you add property photos, descriptions, and headlines in seconds!
Choose an MLS template that works for you →
Real Estate Brochure Templates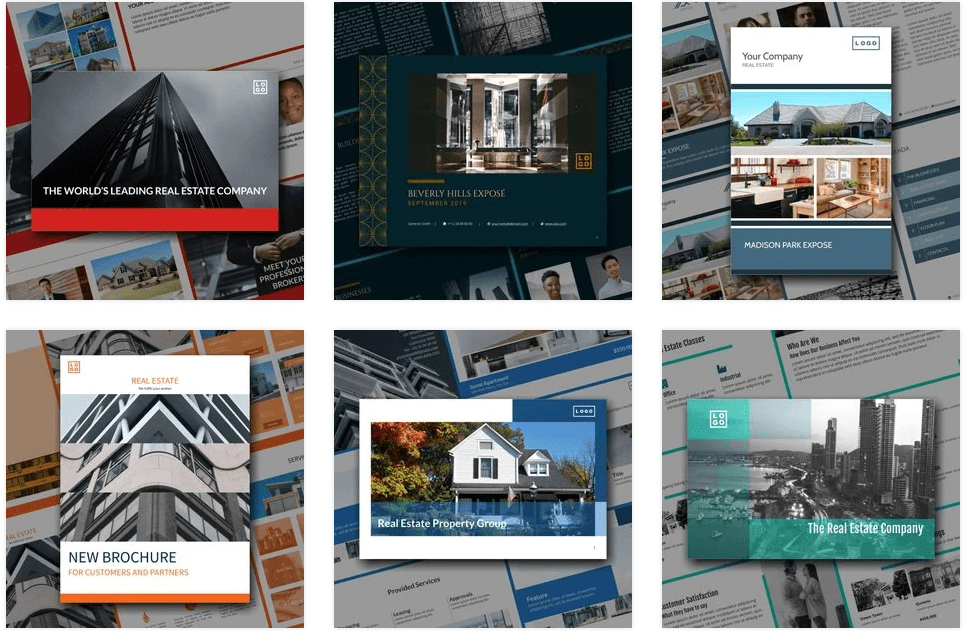 Source
Whether in print or digital, real estate brochures are essential to promoting your business and listings in 2023.
Here are our top picks for real estate brochure templates that you can use right now to leave a lasting impression on your prospects.
If your go-to is a digital AND print marketing approach, do not worry. Xara Cloud automatically handles bleed and trim marks, as well as conversion to a CYMK color space.
Your real estate marketing materials will be ready for print in minutes. It's that simple.
Go to real estate brochure templates!
Real Estate Business Card Templates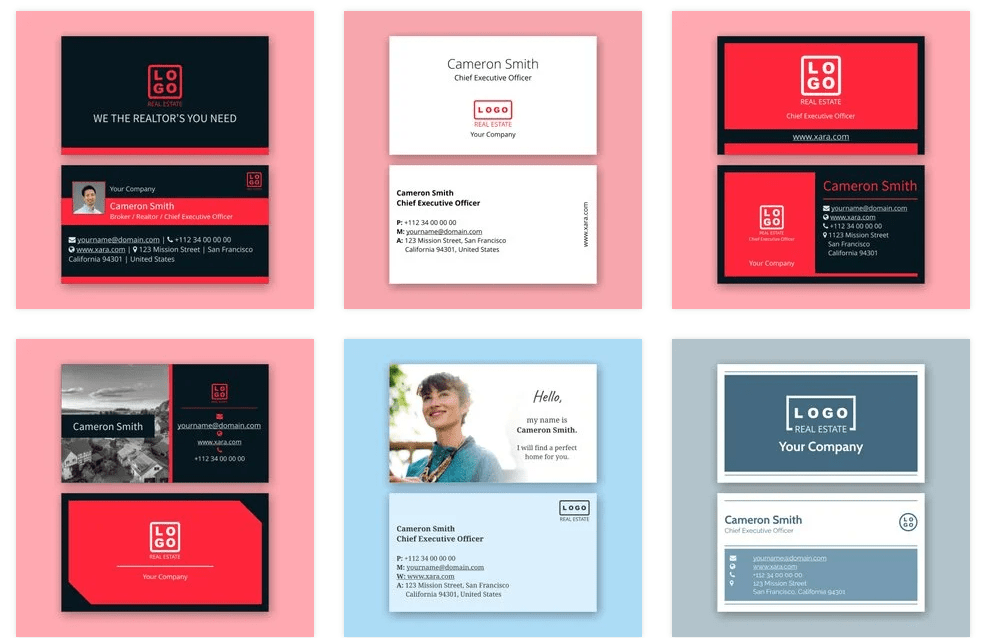 Source
Regardless of your business, the business card is handy material for establishing your brand and staying top of mind! And with our templates, you can quickly design business cards that embody your brand's identity!
Looking for a business card that reflects your quirky and friendly personality? This might be it!
Is luxury real estate your niche? Check out this template!
Or is your business focused on commercial real estate? Here's a great template!
Add your brand colors, logo, and fonts, and customize them to make your brand's identity and unique value proposition shine through.
Real Estate LinkedIn Templates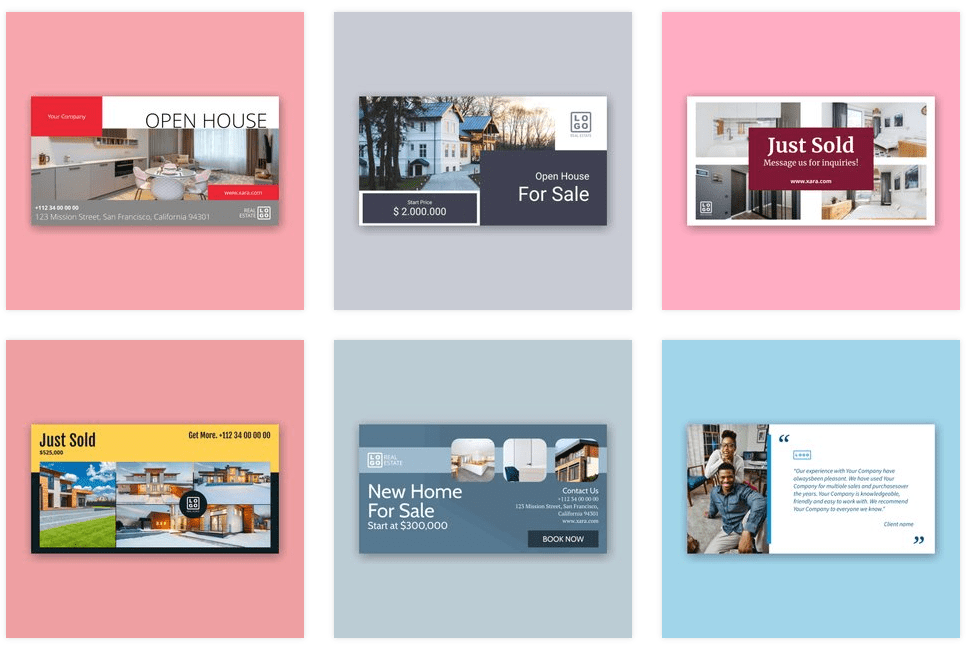 Source
Often an overlooked social media platform, LinkedIn can be a game-changer for your real estate business!
And whatever you post – whether it's testimonials, property listings, or real estate tips & trends – each post has to showcase your brand while also evoking professionalism.
With our intuitive editor and design templates, creating eye-catching posts is a piece of cake!
These are just a few templates you can use to create marketing materials for real estate. Go to Xara Cloud to check out many more categories and templates!
Give Your Real Estate Marketing Materials a Makeover With Xara Cloud
The future is full of opportunities for real estate agents with the right mix of marketing materials and strategies.
Local market conditions, buyer preferences, inflation rates, and business competition create great uncertainty. Even so, you can prepare yourself to face these challenges by arming yourself with the right real estate marketing materials.
Promoting your business and engaging with potential clients is essential to the success of your business! And what better way to impress than with good-looking marketing collateral?
Creating fresh marketing materials for real estate is intuitive and easy with the Xara Cloud editor. Sign up now and start designing marketing collateral that gets your listings sold!